We use affiliate links. If you buy something through the links on this page, we may earn a commission at no cost to you. Learn more.
Product Requirements:
Device:
Toshiba e800/e805 Pocket PC
Piel Frama is now offering flip cases for the Toshiba e800 series Pocket PC.
These soft leather cases are available in black, tan and a black/tan combo.
Like the Brando case,
this one also has a removable belt clip post. However, Piel Frama uses a brass
post, which will probably not break as easily as the plastic post that the
Brando case uses.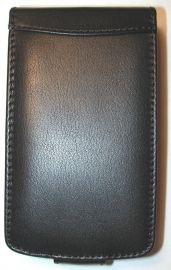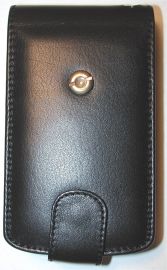 Perfectly lined up cutouts for every feature allow you to use the PDA without
requiring removal, except to sync or charge with a cradle.
Three business card slots, 1 large pocket behind them, and 2 SD card slots
are located on the interior of the padded and ABS plastic stiffened flip cover.
The flip cover is held closed with a non-magnetic snap, so storing credit cards
or other cards with magnetic strips, will not be a problem with this case.

The only thing I really don't like about the Piel Frama case is that the SD
card slots don't look as nice as the ones on the Brando cases. They hold the
cards fine, but they just don't look as 'finished'. Also, there's the fact that
there is nothing to keep the cards from touching the display while the cover is
snapped closed.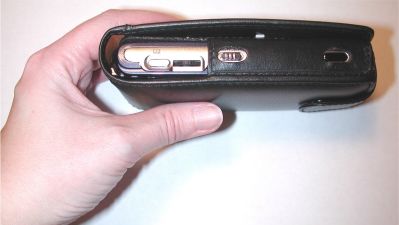 Never miss one of our posts again. Sent MON, WED, and FRI with the latest gadget reviews and news!
Piel Frama cases are made by hand, with a very nice look and feel. However,
at approximately $75, I don't think they are any better than the similarly
styled Brando case. The addition of the ID card holder and nicer styled SD slots
really make me like the Brando version better.
Price: 60 EUR (~$75.00 US)
Pros:
Removable brass belt clip post
4 card slots, 2 memory card slots
Cons:
Expensive