We use affiliate links. If you buy something through the links on this page, we may earn a commission at no cost to you. Learn more.
The RoadWired Cable Stable (Deluxe
Size) is an organizer designed specifically for all the cords, adapters, and
miscellaneous items that we all need to go along with our digital cameras, PDAs,
and other electronic devices. This folding case will probably prove most useful
for those with a lot of cords, as this is its primary purpose.
The case is made of 1050 Denier Ballistic Nylon — a rugged material that
seems to be RoadWired's fabric of choice. I have been dragging around a camera
bag made of the same stuff for about four months now and it is holding up very
well. The overall size is 10"L x 8"W x 2"D and it weighs in at 6 oz.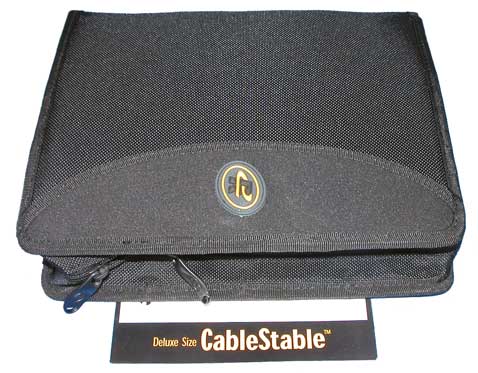 The design includes a heavy duty zipper with two pulls. The case flattens out
when empty and expands to accommodate it's contents. The padding is more than
adequate protection for the types of items it was designed to carry.

One side of the case contains yellow shock cords arranged to fasten down
large cords, adapters, etc. The other side has zippered mesh pockets for smaller
items. I found it relatively easy to organize the cables for my laptop and
digital camera. I even found a place for my wife's PDA accessories — with room
to spare.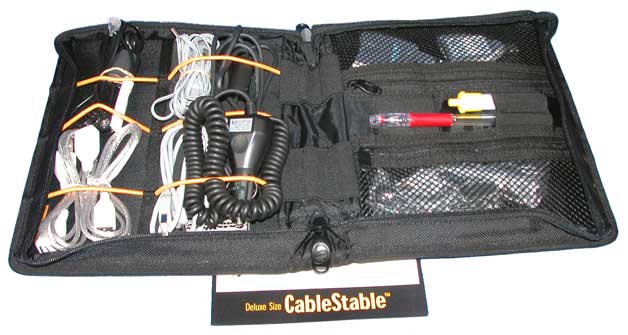 Gadgeteers with lesser cord storage needs might want to consider the Cable
Stable (Standard Size) — a smaller version weighing in at 5 ounces for $24.95.
Price: $39.95 Available in Titanium/Black,
Black/Black (as illustrated)
Pros: 

Well designed for cables and accessories
Easily stowed when empty
Cons: 
None significant
Product Information
Price:
39.95
Manufacturer:
RoadWired
Pros:

Well designed for cables and accessories
Easily stowed when empty

Cons: