We use affiliate links. If you buy something through the links on this page, we may earn a commission at no cost to you. Learn more.
Product Requirements:
Windows 95 or above, 5MB hard disk
space, One free serial port, CD ROM drive, 1996 or later foreign or
domestic vehicle – check list
here
When I was 15, I started taking Driver's-Education classes at my rural high
school. I didn't know when or if I would ever get a car of my own, but it
was imperative that I be recognized for being able to legally drive. Actually, I
had been driving illegally since I was about 12, but that was mainly down ranch
roads. What I wanted was to be allowed to drive through the middle of town
without fearing a underage driving ticket. I wanted to be able to drive my
little brother to school, to be able to get myself to and from various club
meetings or sports events. I wanted to be able to flash my driver's license as
identification when I wrote checks at the Adobe Mini Mart. I craved that
all-important piece of laminated achievement.
My parents had made it plain that if I wanted my own car, then I would have
to earn it. There was no four-wheeled surprise sitting under a red bow on our
front lawn the morning of my 16th birthday. What I got instead was a firm
admonishment that if I was going to be allowed to drive the family car by
myself, then I would have to keep my nose clean: no tickets, no wrecks and
absolutely no cruising the drag on Friday nights. I was granted my own
key to my mom's brand new

Toyota Tercel 4×4 Station Wagon. You had better believe that I decided then
and there that I would do nothing to jeopardize that trust; I was never going to
lose access to that key if I could help it.
Even though I was extremely careful, I still managed to get one speeding
ticket during that first year; to this day, I maintain that I was not speeding.
Needless to say, my parents grounded me from the car, but eventually they
allowed me to drive it again. Let's face it, having an extra driver in the house
is convenient – especially when you don't feel like making a quick trip to the
grocery store or Post Office. Unfortunately, it seemed like I could never live
that first ticket down. My mom seemed to really enjoy giving me grief about
driving safely and within the speed limit every time I would take the car out.
It's not as if the Tercel was some kind of hot rod, and I really was good about
obeying the speed limit. I can remember wishing there was some way I could prove
to her that I was a good driver, and that I wasn't doing anything stupid.
Short of making her ride with me everywhere, which defeated the whole idea of my
newfound freedom, there really wasn't a feasible way to do it.
Now that I have a 14 year old daughter of my own, I have a good idea of what
is coming up in the next couple years. Just like me, Sarah has had experience
driving down ranch roads. She has a basic grasp of driving skills that will be
refined when she takes Driver's Ed next year. But unlike me, she will have a way
to prove to her parents just what type of driver she is when we aren't in the
car, thanks to an ingenious product by
Davis, the
CarChip.
Were you aware that since 1996, every new car sold in the US has been
required to include a "Second Generation Onboard Diagnostics" (OBDII)? This "complex
set of computer control systems" was originally intended to "help
minimize pollution," but is now being used to "improve fuel economy,
measure overall engine performance, and [to] help identify specific
component failures."
Have you ever had a "Check Engine" light appear, causing you to rush to a
certified mechanic? Were you aware that once in the shop, a diagnostic test
would be performed on your vehicle by the mechanic plugging a reader into your
vehicle's OBDII port? How would you like to be able to gather that same
information and more, for yourself?
With the

CarChip E/X, you can.
Before I go much further, I should tell you that there are actually two
CarChip models. The first is the basic

CarChip, which records 75 hours of trip details including time and date,
distance, speed, idle time, hard accelerations and decelerations, as well as
engine diagnostic codes. The second model, the one I will be specifically
referencing in this review, is the CarChip E/X. The E/X records 300 hours of
trip details which contains all of the information gathered by the basic
CarChip. In addition, the E/X includes an accident log (what I would call a
hard-stop log) and the ability to monitor any four out of 23 user-selectable
engine parameters.
Think of the CarChip E/X as a removable disk that gathers information from
your 1996 and newer vehicle's onboard computer. By driving with the E/X in
place, information is constantly being gathered and stored. Not only can you use
the collected information to keep track of someone's driving style (in the Trip
Log Summary or Trip Log Report views), but you can also access other specialized
parameters of information. I'll cover all of the information gathered by the
CarChip E/X later in this review, but let's start by talking about the device
itself…
The CarChip E/X package includes the data logger module, software CD, serial
port download cable, and an AC power adapter.
Specifications for CarChip E/X:
Operating Temperature: -40º to +185ºF (-40º to
+85ºC)
Primary Power, Connected to vehicle: 12VDC, 25 mA
Primary Power, Connected to computer: 9VDC, AC-power adapter included
Backup Power: Internal battery, 10-15 year life in normal use
Memory: 512KB
Data Logging Capacity: 300 hours max., 42 hours min., depending on the number of
optional data parameters and the selected logging intervals
Time & Date: Accurate to +/- 2 seconds per day
Mounting: 16-pin OBDII connector
Computer Interface: Serial, DB9
Computer Cable Length: 5′ (1.5m)
Indicator Lamp: LED, flashes to indicate CarChip status
Dimensions: 1.33" x 1.875" x 1" (35mm x 48mm x 25mm)
Weight: 0.9 ounces (25g)
Full specifications can be found

here.
Hardware: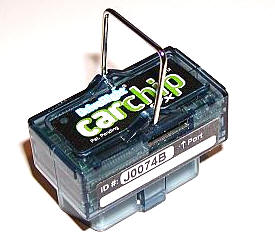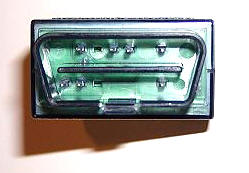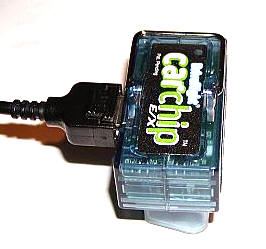 The CarChip E/X is a translucent blue plastic module that plugs directly into
your vehicle's OBDII port. It has a metal loop on the top that facilitates easy
removal from a vehicle's OBDII plug. There is a small data port on its side for
plugging into the download/power cable. If you are not sure where your car's
port is located, then you can check the
National OBD
Clearing House. While just about all 1996 and newer automobiles are
compatible with the CarChip, there are a few models that are not. Checking this

compatibility chart will ensure that the CarChip will work with your
vehicle.
Before installing the CarChip, you will want to set the time and date on the
unit. Unless you purchase the optional
USB
to Serial (DB9) cable, you will need to have a serial port on your computer
to accomplish this. Unfortunately, I don't have a one on my desktop so I had to
do all of the setup and software installation on Sarah's laptop – not
convenient!
Running the software will install the CarChip program and drivers onto your
computer. When you plug in the CarChip, you will be asked to assign a vehicle to
the CarChip.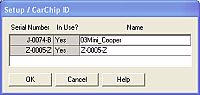 At this time, you can set up the parameters that you want charted – what will
comprise your "speed bands," braking thresholds, acceleration thresholds, the
time, and any of the 23 other parameters that the E/X model will track.
These additional parameters include: Vehicle Speed, Engine Speed, Coolant
Temperature, Engine Load, Intake Manifold Pressure, Air Flow Rate, Intake Air
Temperature, Timing Advance, Fuel Pressure, Fuel System Status, Short Term Fuel
Trim, Short Term Fuel Trim, Long Term Fuel Trim, Long Term Fuel Trim, O2 Sensor
Voltage, O2 Sensor Voltage, O2 Sensor Voltage, O2 Sensor Voltage, O2 Sensor
Voltage, O2 Sensor Voltage, O2 Sensor Voltage, O2 Sensor Voltage and Battery
Voltage.
Once you've set the parameters, you can also decide at what interval you want
them to be checked. Sampling can be done at 5, 10, 20, 30 and 60 seconds. All
that's left to do at this point is disconnect the CarChip E/X from the serial
port and plug it into your vehicle's OBDII port.
My OBDII port is located on the driver's side, to the left. I have a plastic
door that swings shut to keep the port covered.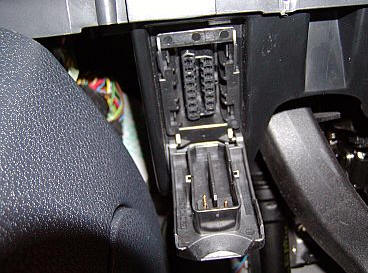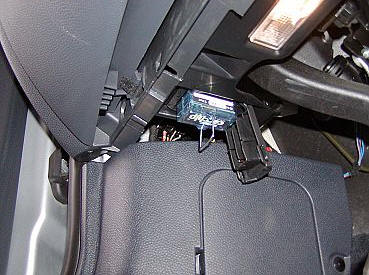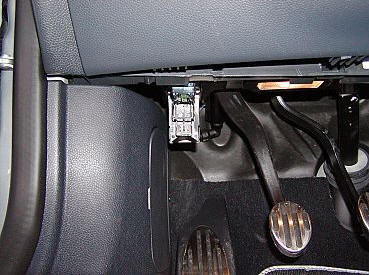 With the CarChip installed, you can drive as you usually do and basically
forget that it even exists…that is, until you are ready to look at the
information it has gathered.
I first installed the E/X in my car on December 30, 2003. Except for the week
Julie and I were at CES, it has remained in
the port gathering intelligence like a little spy. During the time that the E/X
has been in my vehicle, I did not have any "check engine" lights. But if one had
occurred, then I would have also had a record of the circumstances leading to
the error and to what the error regarded.
Today, I finally pulled the CarChip, so lets take a look at the records it
compiled…
Software:
After plugging the E/X into the serial port running from Sarah's laptop, I
opened the CarChip program. Once opened, I went to Menu/CarChip/Download Data,
and the new data was transferred.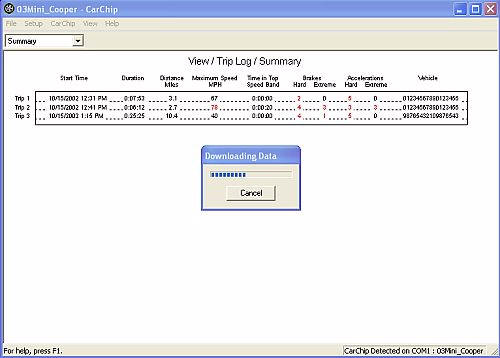 In all, I had 192 recorded trips. Let's talk about some of the different
views, and the way they explain the collected data.
Trip Log Summary – Shows the start date and time, duration, distance,
max speed, time in top speed band, number of hard braking events, number of
extreme braking events, number of hard acceleration events, and the vehicle ID.
Anything outside the parameters you have set for maximum MPH, braking or
acceleration will be shown in red.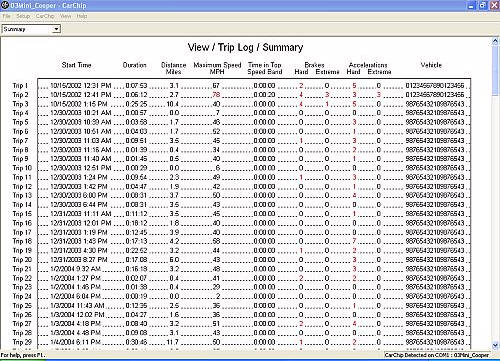 Trip Log Report – Shows the vehicle ID, CarChip data logger ID, start
time, end time, duration, time spent at idle, time spent in first speed band,
time spent in second speed band, time spent in third speed band, time spent in
fourth speed band, distance, average speed, maximum speed, number of hard
braking events, number of extreme braking events, number of hard acceleration
events number of extreme acceleration events, list of logged parameters (up to
four optional data parameters), comments. There is a Trip Log Report for every
single logged excursion. Hard brakes and hard accelerations are highlighted in
red. Had the set speed limit been passed, that number would have been shown in
red, also.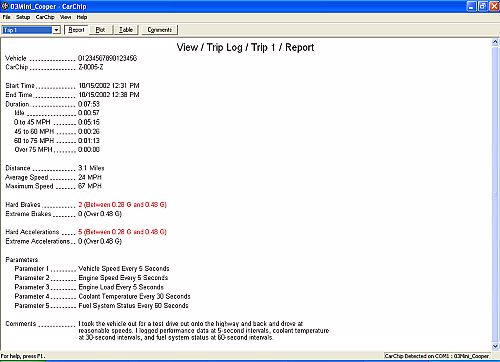 Trip Log Plot – Shows a line graph for the vehicle speed plus line
graphs for up to four optional data parameters.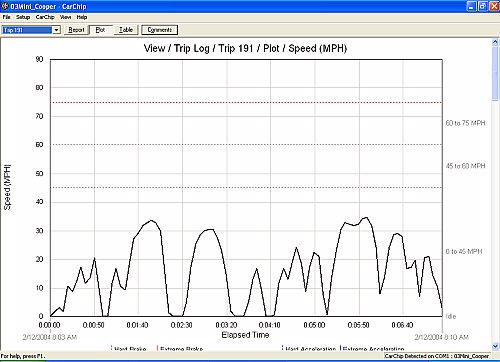 Trip Log Table View – Shows progressive snapshots taken every five
seconds of the trip. These include speed as well as up to four optional engine
parameters.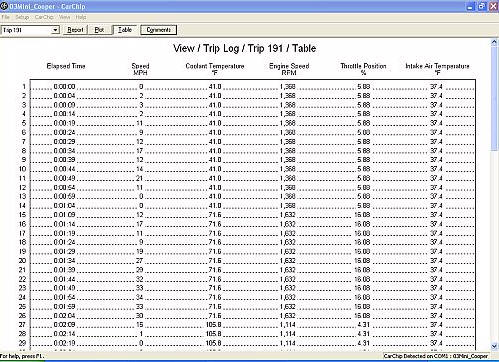 Activity Log Summary – Shows the date and time, CarChip ID and
description of event. This is where every insertion and removal of the CarChip
is recorded – so if you are monitoring someone's driving, they will not be able
to defeat this feature.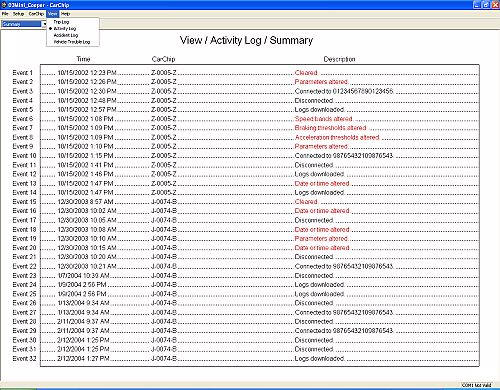 Activity Log Event – Shows the date and time, CarChip ID, description
of event and comments. Shows a description of each single event on its own page.
Accident Log Summary – Shows the date and time, CarChip ID and the
maximum speed in the log. Even though I have events listed, they weren't
accidents – they were hard stops. I should mention right here that both Steve
and I drive my car. In fact, I would bet that the vast majority of these can be
attributed to his size 14 foot. ☺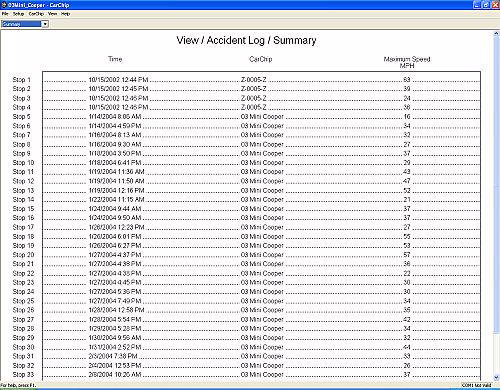 Accident Log Stop – Shows the date and time, CarChip ID, maximum speed
in the log and comments. Shows each individual hard stop on it's own description
page.
Accident Log Plot – Shows the date and time and a line graph of the
vehicle's speed for the 20 seconds prior to stop.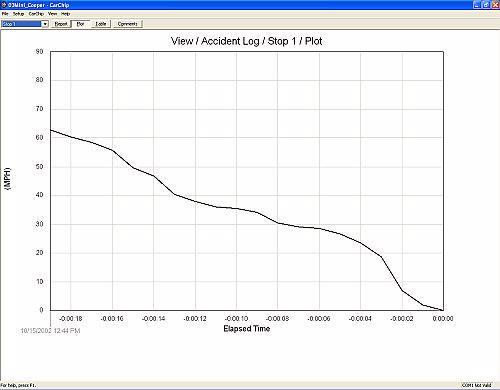 Accident Log Table – Shows the vehicles speed for each of the 20
seconds prior to the stop.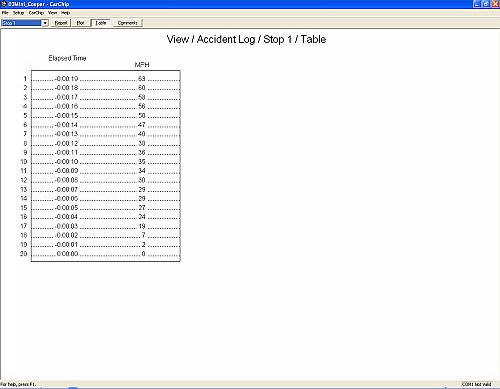 Trouble Log Summary – Shows the date and time, vehicle ID, trouble
code and problem description. Thank goodness I didn't have anything to display
in this screen.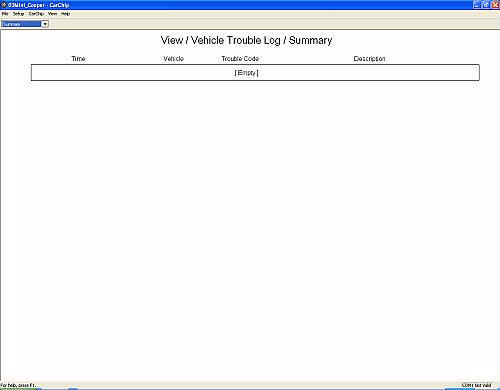 Trouble Log Problem – Shows the date and time, vehicle ID, CarChip ID,
trouble code, problem description, comments and the OBDII freeze frame info,
parameters of which will vary from car to car. If I had had a problem, I could
have actually cleared it myself and seen if it later reappeared. Those of you
who have made an appointment with a mechanic after an engine error only to be
told that nothing was wrong will appreciate this feature.
A detailed manual explaining exactly how to use the CarChip can be found

here.
Once you have downloaded all of your data to your PC, you can save it and
then clear the CarChip.

Now it is fresh and ready to be re-inserted in your vehicle for the next
month or so – or until you have a question that it can resolve.
The CarChip is such a great idea on so many levels. Not only does it give an
accurate snapshot of how your car is being driven, it also allows you to peek
under the hood and see how it is performing and why various engine errors are
occurring. I can see this device being used by parents of new drivers, people
with temperamental cars, enthusiasts who want to know exactly how their sports
cars are performing and by those who want to know how their car is being driven
when it is loaned to a friend.
Cars are a substantial investment, and in my opinion they can be the ultimate
gadget. Just as we run diagnostic tools on our PCs hoping to better understand
and tweak their performance, we now have the power to do the same on our
vehicles.
Price: $179
Optional DB9

Cable – $20
Pros:
Ability to track driving styles of household members
Ability to track up to four of 23 different engine parameters
Ability to diagnose and reset "check engine" light
Records 300 hours of trip details
Built-in accident log
Cons:
Does not come with USB cable

Product Information
Price:
179.0
Manufacturer:
Davis Instruments
Pros:

Ability to track driving styles of household members
Ability to track up to four of 23 different engine parameters
Ability to diagnose and reset "check engine" light
Records 300 hours of trip details
Built-in accident log

Cons:

Does not come with USB cable