We use affiliate links. If you buy something through the links on this page, we may earn a commission at no cost to you. Learn more.
Like many groups of electronics enthusiasts,  audiophiles can be very
opinionated about their hobby. When asking such a person to give you advice on
the best audio equipment, you may get more information than you bargained for if
you aren't an audiophile yourself. Me, I'm a music lover. But, I do not pretend
to be a music aficionado. Basically, I can differentiate between good sound
quality and great sound quality. But, I'm not so sure that I can hear a big
difference between a song file encoded at 192Kpbs and the same song encoded at a
higher quality bit rate such as 320Kpbs. I'm telling you this so that you'll
know where I'm coming from when I talk about the latest products to come across
my desk: Etymotic Research's ER-4P and
ER-6 earphones.
These earphones are not your typical Wal-Mart specials. They are earphones
for serious music lovers who have quite a lot of extra jingle in their pockets.
They are also like standard ear buds, these earphones actually fit into your ear
canals. Let's take a look…
 
ER-4P MicroPro Earphones
There are 3 different ER-4 models: B, S and P. The B model is optimized for
binaural recordings. The S model is stereo (preferred by musicians), and the P
model is the same as the S model, but with enhanced bass response and higher
sensitivity.
The word Etymotic means "true-to-the-ear". That is a very accurate
description of the sound quality that these earphones produce. The ER-4 line are
for people that demand and need the best. Although they work perfectly fine with
CD players, radios and MP3 players, they are really better suited for musicians,
recording engineers and audiophiles. I say this mainly because the ER-4's have a
price tag of $330. Ouchy!
I could tell that these earphones were something special from the moment I
opened the nicely sized plastic storage box. Arranged neatly were:
5′ cord with 3.5 mm stereo phone plug
1/4" stereo phone adapter plug
6 white flanged ear tips
10 black (13mm) foam ear tips
Filter-changing tool with 4 filters
Instruction booklet
Shirt clip
Carrying pouch
Taking out the ER-4P's, I was immediately struck by their robust
construction. Most earphones that you buy these days have thin wimpy cables that
feel very fragile. Not so with these. There are actually two twisted wires
coming out of each earphone. The main cable is also twisted and sheathed in
additional plastic, to make it thick and strong. I think it would take a lot of
abuse to break the wires in these cables.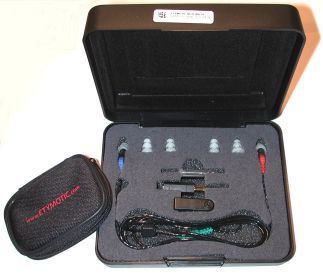 If you aren't scared away by the price tag, I'll have to tell you that these
earphones produce the best sound quality that I have ever heard. Listening to
music through the ER-4P's is a very enjoyable experience. Music is bright but
not too bright, and the bass response is surprisingly thumpy. The P in the model number stands for Power. These earphones can be used with low powered audio devices without needing an amplifier. I actually found that I could turn the sound down a fair amount on my iPod while using these earphones. How do they
produce such great sound? Here are the tech specs:
Frequency response re nominal: 20 Hz to 16 kHz +/- 4 dB; 50 Hz to10 kHz +/- 2
dB
1 kHz sensitivity: 109 dB SPL for .2 Volt Input; 107 dB SPL at 1mW
Impedance: 27 Ohms nominal
Maximum output: 122 dB SPL
Maximum safe continuous input: .75 V RMS
Acoustic polarity: + Electric = + Acoustic
Transducer Type: Dynamic
If you're like me, those specs really don't mean much. All I know, is how
they sound when they are in my ears. That's the main feature of the Etymotic
earphones, they fit inside your ears. By doing this, they virtually eliminate
most external background noise (20-25 dB isolation), allowing you to get the
best sound possible.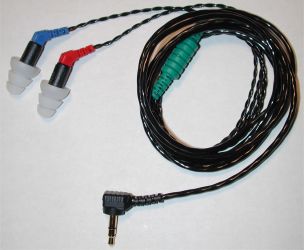 The isolation factor makes these earphones great for use during flights,
while at the dentist, at a noisy sporting event, etc. I tried them out during a
4hr flight from Indy to Las Vegas and found that they blocked out most of the
engine noise of the plane. Wearing them does take some getting used to though. I
found them to be somewhat uncomfortable after wearing them for a long period of
time (longer than 60mins). Although the tips are made of soft plastic, not
everyone will be able to handle the sensation of placing them deep into your
ears.
A cool feature of the ER-4's is the fact that the tips are removable. Besides
coming with 2 extra sets of plastic ear tips, 10 black medium sized foam ear
tips are also included. These are soft spongy form fitting tips that are similar
to the earplugs that are used in loud working environments, or for sleeping. If
you don't find the plastic or foam tips to be comfortable, you can even order
specially molded inserts for your ears.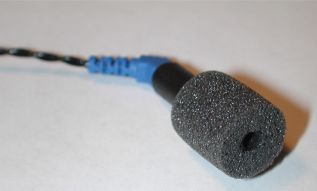 These earphones also have replaceable filters. The filters can become clogged
with earwax after time (can you say eew?!). Several filters and a special tool
to facilitate removal is included.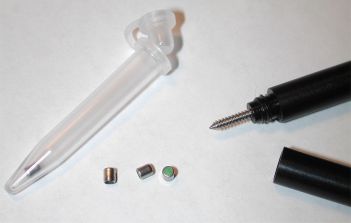 I think these earphones are the top of the line as far as construction and
sound quality. If money is no object, and you don't mind the in-ear style, the
ER-4Ps could be an audiophile's dream come true.
 
Price: $330.00
Pros:
Fantastic sound
Replaceable ear tips and filters
Solid construction
Cons:
In ear style may be uncomfortable for some
Expensive
ER-6 Isolator Earphones
If you can't shell out the big bucks for the ER-4Ps, the Etymotic ER-6
earphones are priced more in line with medium end consumers. Like the ER-4s,
these are also in-ear style earphones. I found them to be even more isolating
than the ER-4s though.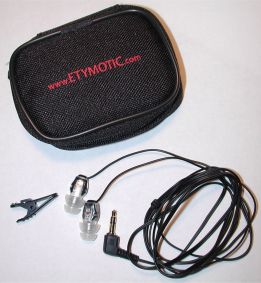 Instead of 3 flanges on the ear tips, these only have 2. For me, this made
them feel more comfortable in my ears for a longer period of time.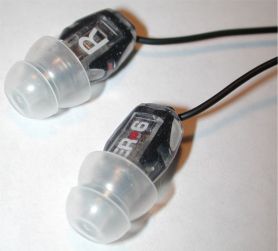 The ear tips and filters on this model are also easily removable. A special
filter removal tool, 1 extra set of filters and a set of foam tips are included.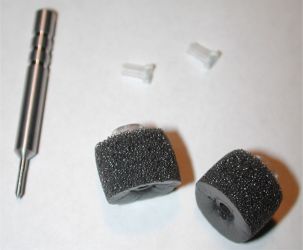 The sound quality of the ER-6s are great. Not quite as 'realistic' as the
ER-4Ps, but still very good. Like the ER-4s, they are great for flights and
other noisy situations. I tried to use both of these earphones at work, and
home, but the felt too cut off from my environment. So, for me, I would probably
only these isolator type earphones for flights.
Construction of these earphones is more in line with typical ear buds.
The ER-6s are an affordable set of earphones for the music enthusiastic that
desires total seclusion from noise and other distractions. I'm definitely
keeping this set in my travel gear bag.
Price: $139.00
Pros:
Great sound / isolation
Comfortable
Replaceable ear tips and filters
Cons:
In ear style may be uncomfortable for some
Product Information
Price:
139.0
Manufacturer:
Etymotic Research
Pros:

Great sound / isolation
Comfortable
Replaceable ear tips and filters

Cons:

In ear style may be uncomfortable for some