We use affiliate links. If you buy something through the links on this page, we may earn a commission at no cost to you. Learn more.
Product Requirements:
Complete list of compatible PDAs
here
Just when I thought I had seen it all, at least in the area of screen
protection, a box with several samples of the
Martin Fields Overlay Plus Screen
Protector showed up at my door. There was nothing in the product packaging
to let me know that the protectors were any different than the standard, gentle
adhesive, long-lasting versions I have grown used to testing. All of the now
familiar claims were present: Washable, High Scratch Resistance, Reusable, UV
Protection, and Crystal Clear. Even the price was comparable to the
others of this type that I had previously reviewed.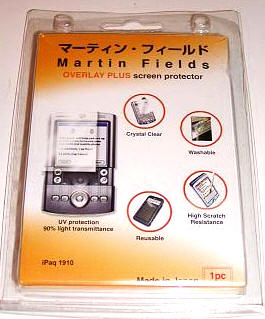 It wasn't until I actually installed an Overlay on my Tapwave Zodiac that I
realized that this is the clearest adhesive protector I have ever
used. When I say clear, I mean crystal. There is no hint of even the
slightest glare-reducing frost effect that I have grown used to with other
long-lasting adhesive protectors. There is no "paper feel" texture to add
opacity to the protector. In fact, the best way to describe a properly installed
Martin Fields Overlay is like this: brand new screen. Seriously.
In fact, the Martin Field is so smooth and clear, that just as with any naked
screen, you will notice fingerprints and smudges more so than you would if a
slightly textured protector was installed. I am going to list this as a con, but
it is certainly no deal breaker.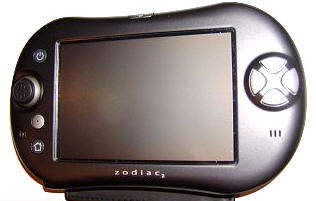 So how does one properly install the protector?
Grab an ID or credit card from your wallet and lay it to the side. Next, give
your PDA's screen a thorough wipe-down, using your favorite method. Mine
is to spray a lint free sunglass cloth with
kleer screen laptop & computer screen cleaner.
Once you have a totally crud-free screen surface, peel the protective plastic
cover back from the Overlay by about 1/4". Line the exposed edge of the
protector with the edge of your PDA's screen,  then use the card to
squeegee any bubbles from under the Overlay as you pull the protective plastic
from under the protector. The plastic cover will be separating from the
underside of  the protector, and you can hold it out of the way with your
finger as your thumb guides the overlay. I promise this is easier than it
sounds.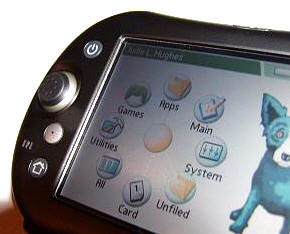 If after application you find that you have a bubble or two, it's no problem
to remove them. Simply take a 2.5" piece of clear tape and affix a good portion
of it to the protector on the side you need to lift up. The Overlay should
separate from your PDA's screen with no trouble, but if it is being a bit
stubborn you can help it along with the tip of a fingernail. Once again,
squeegee with the card as you lay the protector back down – bubble free. You can
use this same lifting method if you notice a piece of lint under the protector
after application. Once you have the protector peeled back, simple take another
piece of clear tape and touch the sticky side to the lint affixed to the
protector, then lay the protector back down…and viola, a perfectly
applied, perfectly clear screen protector.
☺
I had honestly thought that I would never see an adhesive protector that was
comparable to my favorite non-adhesive, the
G2. The only difference that I
have discerned between the Martin Fields and the G2 is that the former uses a
gentle adhesive, whereas the latter uses none and is held in place by the edges
of the plastic which surrounds the PDA's screen.
If the Martin Fields continues to hold up under regular use as it showing
promise to, then I would imagine that it will last a minimum of nine months to a
year…possibly longer. For the price, I can't imagine a better protective
measure that one could take to insure the long life of their PDA's screen.
Now there is a screen protector for everyone: For those that abhor any
adhesive touching their PDA's screen, they can stick to the G2. But for those
that are more comfortable using an adhesive protector, there is now an equally
clear choice. Vive la différence!
Price: $12.99 for one
Pros:
Crystal clear protection
Gentle adhesive
Easy to install
Long lasting
Cons:
Screen is so smooth you may notice smudges/fingerprints more
Product Information
Price:
12.99
Manufacturer:
Overlay Plus
Pros:

Crystal clear protection
Gentle adhesive
Easy to install
Long lasting

Cons:

Screen is so smooth you may notice smudges/fingerprints more