We use affiliate links. If you buy something through the links on this page, we may earn a commission at no cost to you. Learn more.
By now, I think everyone knows that I am using the Tapwave Zodiac as my Daily Driver. While there are many things about this PDA that I absolutely love, of course there is always room for improvement. This is where certain developers really shine. Today, I want to tell you about a program that has made my Zodiac experience even better.
Even though I have grown to like the Zodiac's built-in launcher, it still bugs me that I can't jump to certain applications with the touch of a hardware button. Enter Hi-Launcher, by RNS (Radoslaw Nowak Software). From any application, I can touch my seldom used function button, which I have remapped through Hi-Launcher to be my action button. This activates a customized launcher, complete with sub-folders that I created, from which makes I can quickly and easily switch between applications without having to revisit the Home screen of the built in launcher.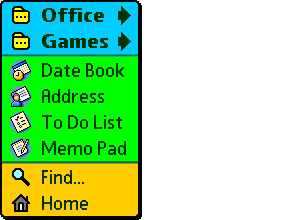 This is convenience at its best. Hi-Launcher is an elegant solution that can be as simple or as complicated as you customize it to be. While it seems to have been created with my Tapwave in mind, Hi-Launcher works beautifully on all Palm OS3.5 and higher. Hi-Launcher uses 116K.