We use affiliate links. If you buy something through the links on this page, we may earn a commission at no cost to you. Learn more.
Product Requirements:
Will power most portable cassette
players, radios, CD players, MiniDisc players, hand-held games, keyboards,
calculators, and many other battery operated appliances
One of the joys of having a teenager is that when we go on trips, she likes
to keep herself entertained with her own collection of portable electronic
devices. Whether Sarah is listening to her favorite CDs or playing on her
Gameboy, one thing is for certain – we go through AA batteries like no one's
business. That's why when I saw the
Portable Mini Car
MP3 / CD Adapter avaiable from Merconnet,
I knew that this could be a match made in heaven.
It wasn't that long ago that I reviewed the
NextBase SDV17-A DVD with integrated
LCD (also from Merconnet), and since it didn't come with an in-car adapter,
I was pleased to learn that this multi-talented kit would also work with that
product.
In the box, you get the power adapter, a set of adapter plugs, and a cassette
audio adapter…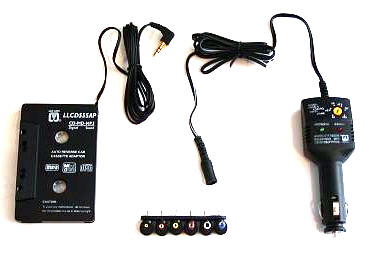 This adapter is a 1000mA regulated DC car converter that allows you to power
all sorts of portable electronics through what used to be known as a car
cigarette lighter, and is now generally called a "power point" in these
progressive times.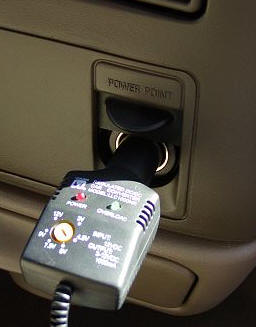 On the front of the adapter is a yellow dial that you can adjust to 3V, 4.5V,
6V, 7.5V, 9V, or 12V. The adapter also has reversible polarity which allows one
to "use it with products that have either a negative or positive center pin,"
to quote the packaging.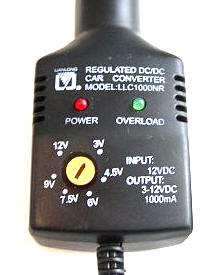 There are also six adapter plugs included that can be matched to the external
power supply jack on the device needing power.
For this review, I am going to test the adapter with my SDV17-A Tablet DVD
player. With any electronic device, there are a couple of steps and precautions
that you must take.
1. You need to determine the correct output voltage setting for the device
you wish to power. According to the adapters packaging, you can usually find
this information on the devices rating plate or by the number of batteries used
in the product (One AA = 1.5V). For my purposes, the Tablet DVD needs 12V.
2. Once the proper voltage is determined, then you adjust the selector switch
on the front of the adapter accordingly.
3. Then you determine the adapter plug that will best fit your device. If you
have an electric adapter, that can be the easiest way to compare the plug sizes,
or you can simply insert them until you find the one that best fits. Each
adapter plug has two prongs on it's rear to attach them to the adapter or that
can also be used for storage on the included strip when they are not in use.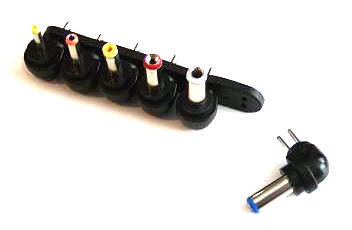 Each plug is marked with a + or
– symbol on the black rubber casing.
I am not sure if you can make it out, but there is a small
+ raised in the black plastic on this side of the plug…
4. Before you insert the prongs of the adapter plug into the power jack on
your device, you should check for reverse polarity. It is important to make sure
that you align the tip of the plug's positive or negative side in accordance
with the diagram near your electronic devices DC plug. On the Tablet DVD, it
looks like this…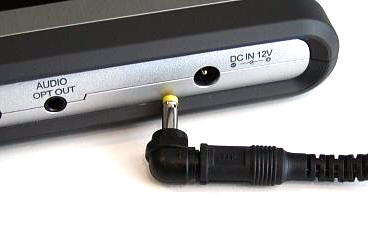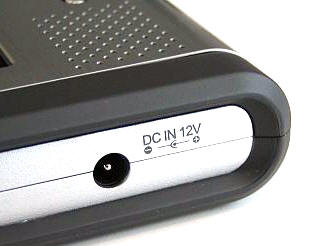 So I aligned the adapter plug so that it's positive side was on the flat side
of the adapter sleeve.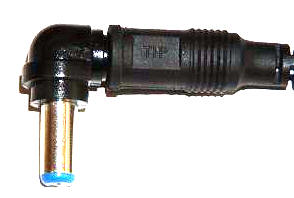 5. Next you plug it in…and wait to see if anything starts smoking!
Just kidding. ;0) But seriously, if the electronic device isn't working properly
then you need to disconnect it immediately, or you risk frying the device. The
most likely possibility is that you will have somehow reversed your polarity, so
check that and also make sure that you have selected the correct Voltage while
you are at it.
In both cases, the Portable Mini Adapter powered up the device and I managed
not to blow anything up.
☺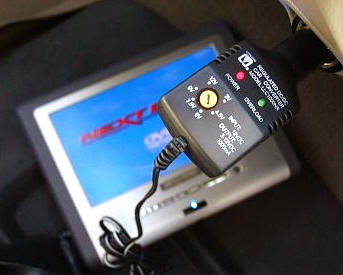 To finish off the package, a cassette adapter is included so that you can
play audio output over the vehicle's sound system.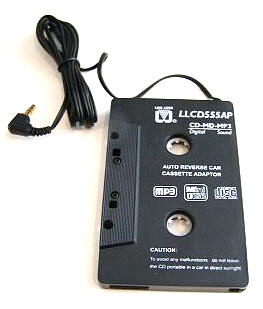 Granted, not every vehicle even has a cassette player anymore, but
consider it a bonus if yours does. Of course, it would have been even better if
the adapter had included an FM linker, such as the
Digiana (also by Merconnet),
but that would have driven the price up on what is a very reasonably marked
item. I know that most people complain about being able to hear the wheels
inside the cassette adapter turn while it is being used (because they are
obviously not cranking their sound loud enough), but I look at it as a trade-off
for the fact that the adapter will never need a single battery…the old "glass
is half full instead of half-empty" routine.
This adapter is such a handy item to keep in the glove box of any vehicle.
You never know when you might need it, and it is always better to be prepared.
At this price, you can keep one in every car.
Come to think of it, the
Portable Mini Car
MP3 / CD Adapter would be a stocking stuffer for anyone currently going
through AA batteries at an alarming rate. I know that there isn't much time left
before Christmas, but then…this would make a great birthday and "just because"
gift, too.
Price: $12.50
Pros:
Inexpensive
Multiple Voltages and multiple adapter plugs allow for use by multiple devices
Comes with a cassette adapter so that you can hear audio over vehicle's sound
system
Cons:
None
Product Information
Price:
12.5
Manufacturer:
Merconnet
Pros:

Inexpensive
Multiple Voltages and multiple adapter plugs allow for use by multiple devices
Comes with a cassette adapter so that you can hear audio over vehicle's sound
system

Cons: