We use affiliate links. If you buy something through the links on this page, we may earn a commission at no cost to you. Learn more.
How many of you can remember the year when Trivial Pursuit took the world by storm? I know it's telling my age, but I can remember 1984 very well.
I was a junior in high school, Ronald Reagan was president, Mary Lou Retton won 5 medals in the LA Olympics (which had been boycotted by the USSR), Band Aid released "Do They Know it's Christmas," I had Madonna hair (yes, really), and the following movies were playing at the theater: The Karate Kid, Splash, Ghostbusters, Beverly Hills Cops and Gremlins!
If you love trivia and you have either a Palm or Pocket PC, then you have to take a look at the new Trivial Pursuit game that has just been released by Handmark. Just as with the board game, you have to answer questions correctly after rolling the die and landing on color tiles that correspond with different categories. Unlike the board game, you can actually have fun when playing the game by yourself. If you are feeling social, then up to six people can play – either via bluetooth or Infrared…or you can be old school and pass your PDA back and forth. ;0)
As with other licensed Handmark games, the graphics are stunning and true to the original.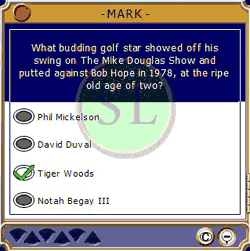 The gameplay is smooth and fun, and best of all – if you have a 320×480 screen, then the game will fill your screen. You can play in either classic mode (board game style) or Flash Mode – a rapid-fire game where the person that answers their questions correctly (and quickest) gets to the top of the "ladder."
While playing, I was pleasantly surprised by how current the questions are – there was even one asking about which member of Norway's Parliament was busted while playing a game on his PDA during their debate on Iraq this January (hint – look at my diary entries for that month).
Trivial Pursuit on your PDA is FUN and with over 16,000 questions, you shouldn't have a problem satisfying your trivia jones. :0)