We use affiliate links. If you buy something through the links on this page, we may earn a commission at no cost to you. Learn more.
Fans of wireless networking (otherwise known as WiFi, 802.11b, or g) will
probably have heard the term Warchalking before. For those of you
that are unfamiliar with this term,
warchalking is the practice of marking a series of symbols on sidewalks and
walls to indicate nearby wireless access points. When these symbols are seen by
savvy users, they can use their WiFi enabled PDA or laptop to connect to the
Internet wirelessly. This practice  was inspired by hobos during the Great
Depression, who would use chalk marks to indicate which homes were friendly to
them.
Warchalking, although useful, isn't a widely adopted practice and can not be
relied upon when a mobile user is searching for wireless access. The user could
always use their WiFi enabled device to scan for available access, but sometimes
that isn't quick or convenient. To help solve the issue of speed and ease of
use, handheld WiFi detectors have begun appearing on the market. Not long ago,
one of our readers reviewed the

Kensington WiFi Finder. To say that he was less than impressed with it would
be an understatement. Today I'll be reviewing another detector: The Smart ID
WiFi Detector.
I didn't become interested in this product genre until I saw the exact
detector in use this fall during the 2003
Mobius event.
One of our activities involved a scavenger hunt in downtown Seattle, WA. Lucky
for our team, Peter Rojas of Gizmodo had
this gadget with him, and used it to find a WiFi hotspot that we could take
advantage of, for the trivia portion of the hunt. After seeing the Smart ID
detector in action, I contacted
ThinkGeek.com and asked for a sample to review.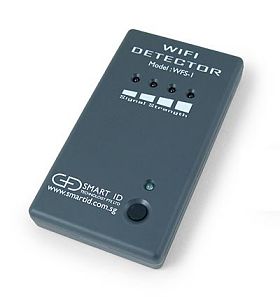 The device is small and very pocketable. Made of plastic, it is approximately
4 x 2.25 x .5 inches, and is powered by 2 AAA batteries, which are included.
The front of the detector has 4 red LEDs in a line across the top, one green
LED and a detector button. To utilize the detector, you simply press the button.
The green LED will light up to let you know that the batteries are working, and
that it is looking for a WiFi signal. The 4 LEDs at the top, will pulse to alert
you to the presence of a WiFi signal. The more red LEDs that are lit, the
stronger the signal. It couldn't get any simpler than that!
Signal detection is instantaneous. Once you press the button, if you only see
the green LED and no red LEDs, then there are no WiFi signals (within 500ft
outdoors, or 150ft indoors) nearby. This device will detect both 802.11b and
802.11g signals. In addition to WiFi, it will also detect Bluetooth and
microwave signals. Don't worry about mistaking the different signals though,
when the device detects Bluetooth or a microwave, the LEDs will glow steadily
instead of pulsing.
During my testing, I was able to detect the 802.11b access point in my
basement, from outside in my yard, the WiFi network at my day job, some WiFi
signals while driving around the town of Bloomington, IN, my Tungsten|T's
Bluetooth signal from a maximum distance of 3 feet, and my running microwave
from about 20ft.
Bottom line: The Smart ID WiFi Detector is fast and easy to use. It's much
more convenient to use it to look for a nearby WiFi signal, then to open your
laptop or PDA. With this device, you press a button and receive instant
feedback. No waiting. About the only info that it doesn't give you, that would
be helpful, is if the detected signal is open (unsecured), or closed. But as is,
the Smart ID WiFi Detector makes a fun geek tool.
Price: $27.99
Pros:
Simple to use
Fast detection
Cons:
Can't show if a detected network is open or closed
Product Information
Price:
27.99
Manufacturer:
Think Geek
Pros:

Simple to use
Fast detection

Cons:

Can't show if a detected network is open or closed