We use affiliate links. If you buy something through the links on this page, we may earn a commission at no cost to you. Learn more.
NEWS FLASH: High fashion isn't just for the pretty people
anymore. With the
Dockers
Mobile Pant for men, Burton's iPod and

Minidisc jackets for snowboarders, and the
Laks USB watch,
geek chic seems to be the in thing these days. I'm happy to announce that sharp
dressed geeks now have an additional outerwear option with the
SCOTTeVEST Version Three.0 Limited
Edition leather jacket.
I've been interested in the SeV line of technology enabled jackets since
their first vest
was introduced in 2001. I reviewed that first version and although I was
impressed with the concept, I wasn't very impressed by the style. One year
later, Judie reviewed a
newer version
of the vest which included removable sleeves. This past summer, I was fortunate
enough to review their
latest
version, and totally fell in love with the fleece liner. Since that review,
the sporty and comfy fleece jacket has become an excellent every day jacket for
me.
A few weeks ago Scott Jordan, CEO and founder of SCOTTeVEST, asked if I would
be interested in reviewing the Version Three.0 Limited Leather Edition jacket. I
told him that I didn't think it would be a good idea for me to do the review
because I'd probably end up wanting to keep the jacket. With a $400 price tag, I
knew I wouldn't be able to justify it. ;o) He talked me into it though, so
here's the review…
It's important to point out from the start, that the Version Three.0 Limited
Edition Leather jacket is not a mass produced coat. It is really something
unique. With only 400 of these jackets made (200 remain as of this writing),
buyers will be happy to know that it would be a rare thing indeed to run into
someone with this same great jacket.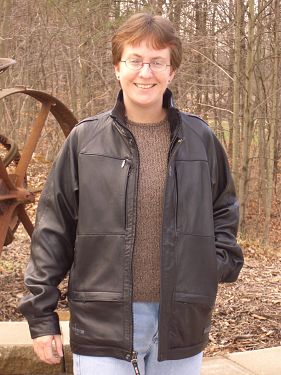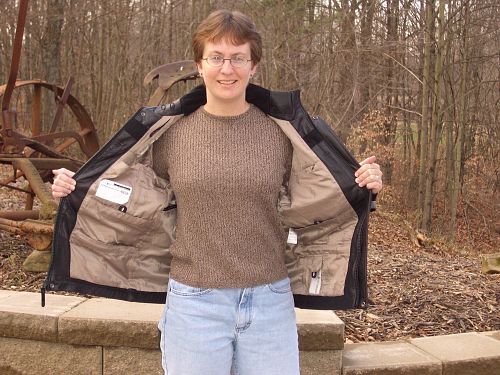 Made of Napa lambskin leather, this jacket has to be the softest leather
jacket I have felt in my life so far. Like a Lay's potato chip, you can't just
touch it once. It's almost like you are compelled to tell people "feel my
jacket"…
Like SeV's previous versions, this jacket has pockets galore. 28 individual
pockets to be exact! The layout is very similar to current Three.0 Version
jackets, so I'm not going to go into super detail about each pocket, what it can
hold, and its location. You can check out the previous reviews and the SeV
website if you want specifics.
Let's start with the exterior. Each side has a breast level vertical zippered
pocket that is large enough to hold a wallet, PDA, etc. All of the pockets are
connected via the PAN (Personal Area Network) system of small openings. The PAN
allows you to route wires from devices such as phones, PDAs and MP3 players
throughout the jacket. Both exterior sides also have a waist level zippered
pocket and of course, two deep zippered hand pockets.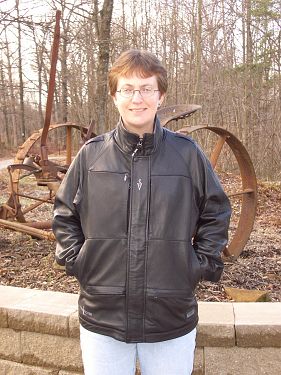 The right side of the jacket has an additional pocket near the shoulder area.
Inside is a pull out ID holder with a see through vinyl window.
A heavy duty nylon zipper allows you to close the jacket completely up to
chin level. A leather flap can also be snapped over the zipper. A SCOTTeVEST
logo is embroidered on the outside of this flap.
There are only two things about this jacket that I wish were different. The
first thing is the collar. The collar used on this jacket is a 3" stand up
collar. Actually, all SeV jackets have stand up collars… I would rather have a
flat fold down collar. Since I prefer to keep my hair short, I find that the
collar is constantly in my hair line which drives me nuts… I realize that this
is a personal preference, but hopefully, SeV will offer this as an option in the
future. As it is, the collar on this jacket is comfortable and soft. The
exterior is all leather, but the interior is partially made of a knit material.
Little elastic loops along the bottom of the collar allow you to thread your ear
bud wires through them.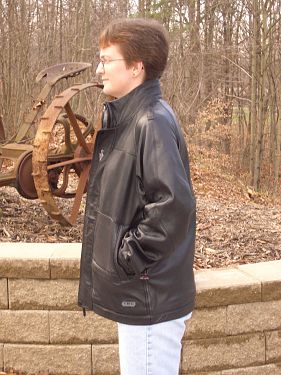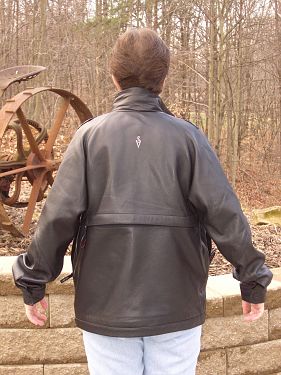 The back of the jacket has a large zippered pocket that is spacious enough to
hold magazines, and even a laptop computer if you so desire. I can't imagine
actually wanting to carry around a laptop in your jacket, but if you want to,
you can. As you can see, another SeV logo is sewn into the middle back shoulder
area.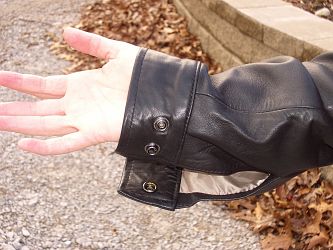 The sleeves have two metal snaps on the cuff so that you can adjust the fit
to your wrist. I should also mention that the sleeves on this jacket are not
removable.
The biggest difference between this jacket and previous SeV's (besides being
constructed of leather) is that the interior is made of a silky nylon instead of
mesh. I love this difference. Although you can not see the objects in the
pockets through the material like you can with the other jackets, this material
feels more robust and snag proof. Not to mention the fact that it just plain
looks great with all the little SeV logos (not visible in pictures) in the
material.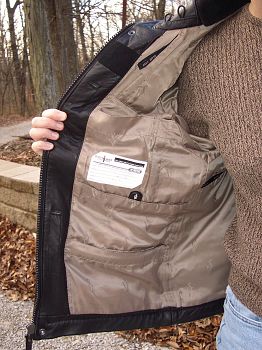 The interior on the right side has a ton of storage. Along the zipper area is
a small pocket for ear buds, and two pen / stylus slots. 3 other zippered
pockets and one Velcro'd pocket are also located on this side. An owner's label
sewn into the lining.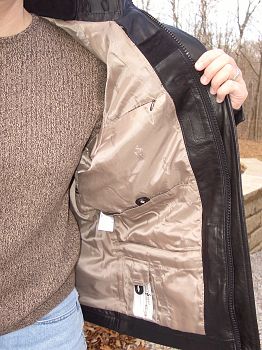 The left side has a matching ear bud basket and pen / stylus slots. There is
a zippered pocket at the top which reveals an eye glass cleaner cloth attached
to an elastic band. Below it is a large Velcro'd pocket which matches the one on
the other side of the jacket. The bottom most pocket has a zippered closure and
inside it is separated by a Velcro wall. This is called a PIP (Pocket in Pocket)
pocket. If you need to start a large object, you can open the wall to enlarge
the area. On the outside of this pocket is a small see through compartment that
is sized perfectly for credit cards.
In addition to the collar, the only other issue I have with this jacket is
with all the logos. I can understand that branding is very important, but I
think there is a point where it's just too much. Not including all the logos on
the jacket lining, I counted 15 (I probably even missed a couple) in other
locations on the jacket. I don't mind the ones on the lining, the embroidered
ones on the exterior, or even the ones on the zipper pulls… But I don't care
for the TEC (Technology Enabled Clothing) badge thing on the outside or the very
large Leather Edition Three.0 SeV embroidered logo at the bottom front.
Besides that gripe, I just totally love this jacket. It is soooooo
comfortable to wear. Even though it isn't a very heavy jacket, it was able to
keep me warm on my walk into work this past week, when the temps dipped below 25
degrees. I think the style compliments both men and women, and looks great with
either jeans or dressier clothes. The price may seem expensive at $400, but a
jacket of this quality is well worth it in my opinion. If you are a Gadgeteer
that wants to look great while carrying your gizmos and you have some extra
change in your pocket, then trust me when I tell you that the Version Three.0
Limited Leather Edition jacket will definitely earn you some cool points with
all your techno-savvy friends.
Price: $399.99
Pros:
Very stylish
Wonderfully soft leather
Pockets out the wazzoo
Cons:
Too many logos for my personal taste
Product Information
Price:
399.99
Manufacturer:
SCOTTeVEST
Pros:

Very stylish
Wonderfully soft leather
Pockets out the wazzoo

Cons:

Too many logos for my personal taste