We use affiliate links. If you buy something through the links on this page, we may earn a commission at no cost to you. Learn more.
Product Requirements:
Windows 98SE, Me, 2000 or XP with USB
port, 32MB of memory, Windows NT4 requires serial cable –
sold separately, Mac OS 10.1-10.2x
with USB port
As all of you are aware, there are basically two types of mobile phones
available. The first is the clam-shell, which covers every type of 
flip-phone known to man. The second is the candy-bar, which covers all of the
phones that don't fold in half in some manner. Sometimes, a candy-bar phone
coupled with a PDA screen can be better classified as a "brick," but that is not
the case with the new
Handspring
Trēo 600,
offered by Sprint PCS.
Initial impressions:
Included in the box are: the Trēo 600 Smart Device, AC charger, USB Hot-Sync
cable, slipcase, hands-free headset, synchronization software CD ROM (Windows
and Macintosh) and a "start here" guide (thick users manual).
I have to admit, I was pleasantly surprised when I pulled the Trēo out of its
box for the first time and and discovered that it was more phone-like than I had
thought it would be. After playing around with other PDA/phone combination
devices, I was expecting something more along the style of the

Samsung SPH-I330 or the Toshiba
2032SP. You know what I mean – a PDA that just happens to have phone
capabilities.
Of course, since it does have a built in thumb-keyboard, it might be more
realistic to compare it with the

Hitachi G1000 or even the original

Trēo 300 – which though small just never really did anything for me,
style-wise.
This new Trēo still looks like a PDA first, but it is thin and short enough
that it isn't completely awkward to hold up to your head. By leaning the top of
the Trēo against your ear and holding the bottom at a 45˚
angle away from your face, it is possible to talk on the Trēo without the
dreaded cheek-on-the-screen syndrome. Phone calls on the 600 were clear and easy
to hear in this manner. Of course, you can also use the included headset, which
I will talk about some more, later.
As I mentioned, the new 600 is definitely more candy-bar than brick. It is
comprised of a dark grey sparkly metallic plastic, coupled with a lighter grey
sparkly metallic trim, with a flash of chrome underneath the screen framing the
hot buttons. When I say "sparkly," it's to describe the way that the plastic
glints as it catches the light. The Trēo does not have a "flat matte" finish by
any means, but it is not necessarily flashy, either. This phone manages
to look pretty cool, even though it is loaded with nerdy features galore.
The 600 is taller in height, thinner in width and slightly thicker in depth
than a
Tungsten T. Here are some comparison shots…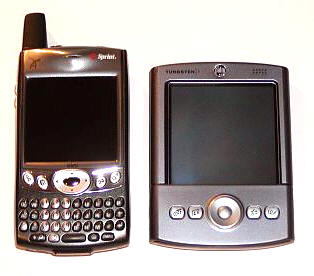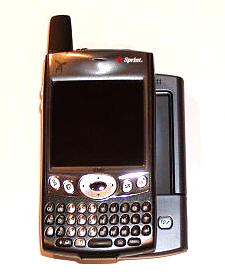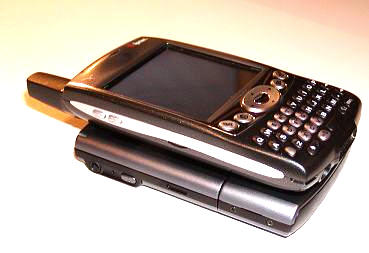 The plastic case is solid, easily passing our creak test. In fact, the only
creaking you might notice will be if you accidentally hit one of the keyboard's
buttons while flexing the case. The Trēo is so small it almost reminds me of
something from a science fiction movie. As you can see, this phone fits in my
hand pretty well. The buttons are placed so that one-handed operation is easy
enough to accomplish. I am 5'10", so my hands are a little bit larger than the
average woman's. However, most men's hands will be larger than mine, so the Trēo
may actually feel a little bit too small to some.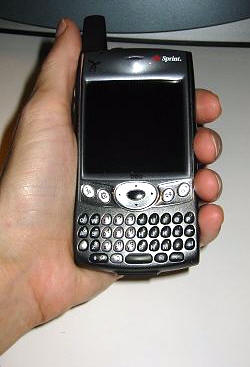 Does the hardware live up to it's appearances? Let's take a look…
Hardware Specs:
Processor: 144 MHz Texas Instruments OMAP (ARM)
Operating System: Palm OS v5.2.1
Memory: 32 MB (24 available to user)
Display:  160 x 160 pixels, 3375 colors (11.5-bit color, compatible with
16-bit applications) touch-sensitive LCD STN screen
Interface: USB (for HotSync® operation), Infrared
Input: Backlit QWERTY keyboard with dome-shaped keys, touch-screen
Dimensions and Weight: 4.4" x 2.4" x 0.9", 6.2 ounces
Battery: 1800 mAh Lithium Polymer, 3 hours charge time, with up to 4 hours talk time, 10 days
standby
Expansion: SDIO compatible SD/MMC slot
Band Type: 1900/800 PCS CDMA, Dual Band Digital. No Analog roaming.
E911 Emergency Location Capable: Includes embedded Global Positioning System
(GPS) chip necessary for utilizing the E911 emergency location services where
available.
TTY Services – TTY service requires network support.
Digital Camera – VGA Resolution 640×480, 0.3 mega-pixel with automatic light
balance
Speakerphone – Built-in, full-duplex
speakerphone capabilities
Sprint Vision Services available for this phone: Messaging, Web, PCS Business
Connection, Picture Mail, Ringers, Games, Screen Savers, & Voice
There are a lot of features to explore with this tiny package of dynamite, so
let's start with the front…
The front of the Trēo, from the top down,  features the small LED light
that will flash green when the phone is turned on and you have service. Next is
the ear speaker, and under that is the screen.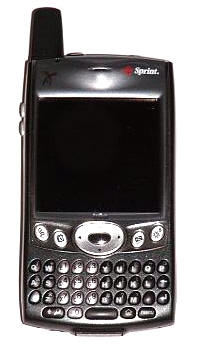 The screen measures 1.85" wide x 1.85" tall. It is considerably smaller than
the screen on a PDA such as the Tungsten T, but it doesn't "feel" too small in
relation to the size of the rest of the hardware. Worth noting is the fact that
there is no graffiti area.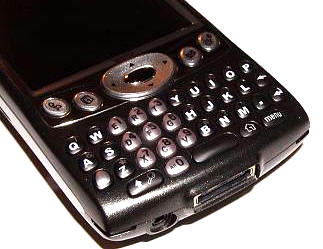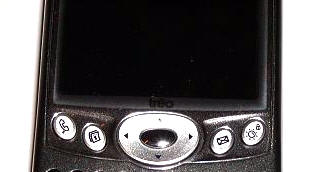 Under the screen is the traditional Palm layout: two buttons of either side
of a directional pad. In this case, the buttons are marked Phone, Calendar,
Messages, and a button with a sun/lock icon which operates a button that will either turn on the key-lock or turn on
and off the unit. Each of these buttons is re-mappable and worth
noting is that by pressing the Option button on the keyboard, you can also
launch a second assigned application.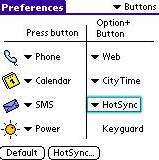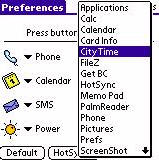 When the Phone screen is called up, the D-pad has four built in actions,
shown at the bottom of this screen…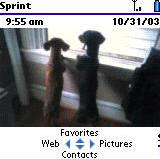 Pushing the D-pad to the left activates the Web, pushing to the right opens
the Pictures application, and the camera…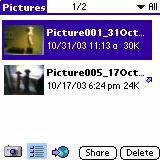 …pushing up opens favorite applications…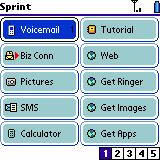 …and pushing down opens Contacts.
Next up is the thumb-keyboard. Through some experimentation, I decided that
the easiest way to securely hold the phone while using this keyboard was by
placing my pointer fingers on either side of the Trēo, with my thumbs on the
keyboard and my remaining three fingers of each hand behind the PDA, bracing it,
as it were.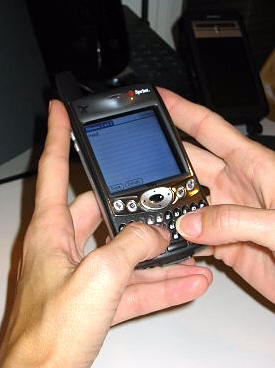 The buttons on the keyboard make a satisfying click as you hit them. they are
domed and light up when pressed. The black buttons glow blue where the white
letters and symbols are, and the silver buttons glow blue with the letters and
numbers in black. Note how the hard buttons and the directional pad also light up
with a bright blue glow
– slick!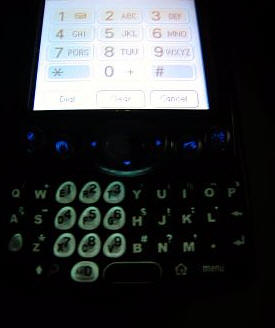 I have to admit that while the keyboard is manageable, I did have some
difficulty hitting the correct keys some of the time. I think that a man with
larger thumbs might have a problem. I would like to hear about other's
experiences with the keyboard, and see if my fears are founded.
Each button on the keyboard serves more than one purpose, since there is no
graffiti area. Through the use of the Option button, each letter/number key
offers up logical variations that allow you to create all of the symbols that
would have been avaiable through the use of advanced graffiti or the old pop-up
soft-screen keyboard, which is not included in this model.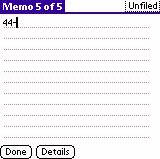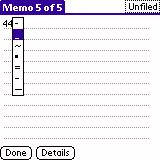 I'll be honest, it took me a couple of days to get used to not writing on the
screen, and I almost felt like I had given up some kind of control. After I got
the hang of the keyboard and the "hidden" keystrokes, things got a lot easier.
While I won't say that this system is completely intuitive, I will say that it
makes sense.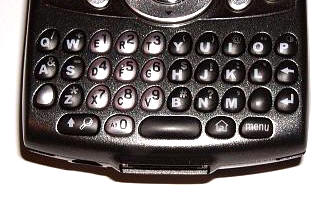 Because there is no graffiti area, the silk buttons that frame that area are
also missing. With that in mind, there are hard buttons at the very bottom of
the Trēo that correspond to the Find, Home and Menu buttons. The Find button
also doubles as a Shift key.
I admit that I miss graffiti even more than I thought I would, so if I were
keeping this unit, I would have to add an aftermarket program such as Jot or
Graffiti Anywhere.
The back of the Trēo features the lens for the 0.3 mega-pixel camera, the
speaker, and the reset button.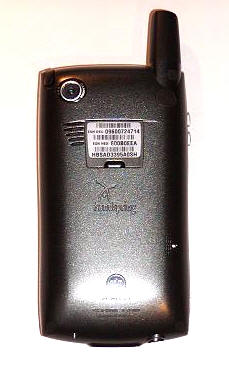 The camera is suitable for taking quick pictures
in good light that don't involve a lot of detail. Here you can see a picture I
took. While it certainly won't be winning any awards, it is definitely better than
nothing…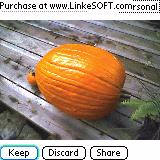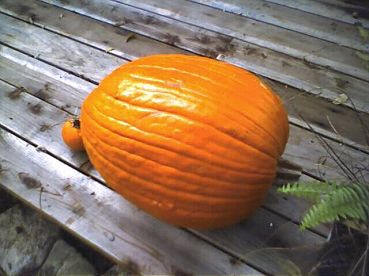 The built in speaker is great! It is plenty loud for just about every
application you can imagine, and best of all, when using the phone the speaker
allows full-duplex speakerphone capabilities. While making a call, it is very
easy to toggle between using the ear speaker or the speakerphone feature…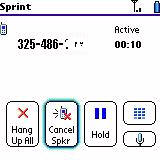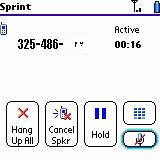 The built in speaker is so great that I added

Pocket Tunes and viola, I had a built in MP3 player with an
excellent speaker. Coolness! Of course, I had to add the low-resolution skin,
but that's okay…
The reset button requires the abnormally long pin found inside the stylus.
The left side of the Trēo simply holds a pair of volume toggle buttons…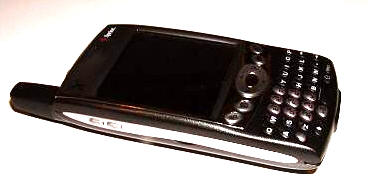 …and the right side is bare.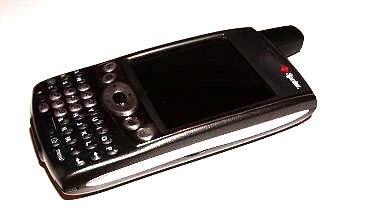 The bottom of the 600 houses the microphone, the power/hot-sync port, and the
head-set jack.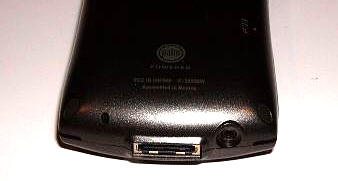 The top of the Trēo houses the stylus silo, the ringer switch – which allows
you to toggle all system sounds on or off, the infrared port, the SD/MMC card
slot, the power button, and the stubby, non-telescopic antenna.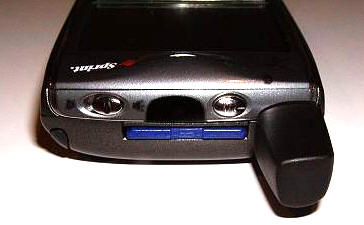 Let me save you a little bit of time right now, and tell you that when you
insert the SD card, it goes in with the print side of the card facing towards
the back of the Trēo. ;0)
The stylus is a simple, but better than average metal and plastic affair. The
barrel closest to the tip unscrews to reveal the reset pin.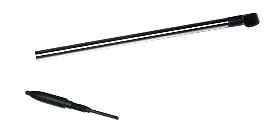 The screen is 160×160 resolution, which is acceptable for a phone. Since the
Trēo is designed to look more like a traditional PDA than a phone,  I would
have been more impressed had the resolution been 320×320, as would befit any
higher end PDA. Be that as it may, the screen is bright and the display is fine.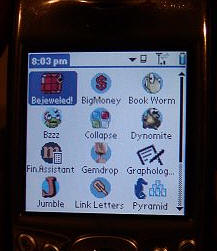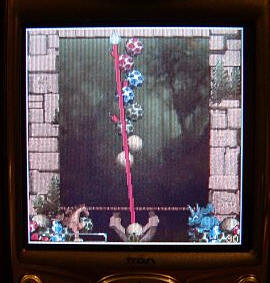 Instead of including a cradle, the Trēo 600 comes with a travel sync and
charge cord that is actually quite convenient for use both at home and on the
road. It comes in two pieces that plug into each other so that if you don't need
the sync portion, you can carry just the charge portion. As an even greater
convenience, there is a dedicated synchronization button on the sync cable that
plugs into the sync/charge port.
A nylon slipcase is included for protection, and while it won't be winning
any design contests, it does manage to protect the PDA/phone.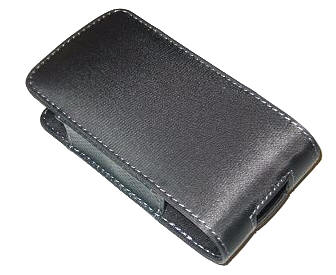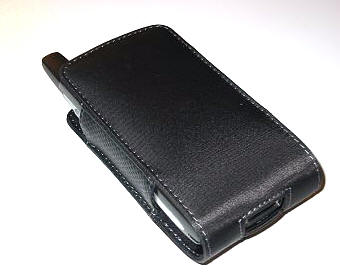 The Trēo uses enhanced polyphonic ringer sounds, which means that you can
have great sounding ring tones (as well as a vibrating alert), instead of the
shrill ringers that so many mobile phones still use. You can also download
different ring tones directly from Sprint.
If you are in an area that supports Caller ID, then you can see numbers of incoming calls in
areas supported by Caller ID. If stored in your Phone Book, you'll also see the
caller's name.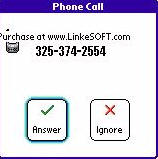 It is easy to check your recently made and incoming calls, you just have to
hit the phone button and the center button of the  5-way D-pad.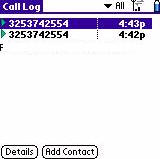 It is also easy to tell when you are using wireless minutes, the little
arrows above the signal strength indicator will both be green. When you are
offline, the arrows are grey…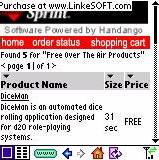 The wired headset consists of an ear piece, a plastic unit that contains a
microphone and headset button, and at the end of the wire, the headset jack. The
button can be used to answer incoming calls, answer call-waiting calls, switch
between two active calls or join the calls in a three way conference call. You
can also use it to hang up a single call.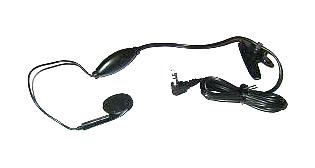 The Trēo has many good things going for it on so many levels. My experience
with it has been largely positive, though I do wish that the screen would have
had a higher resolution. Nobody's perfect, right?
With that said, let's take a look at the included software…
Sprint Software
Phone –  Including Palm OS Contacts, Favorites & Dial Pad.
This feature is cool because you can either show the regular dial-pad, or you
can use a picture you have taken as wall-paper.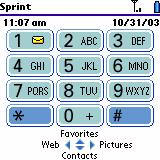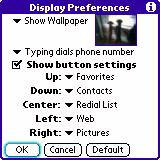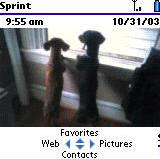 Picture Mail – Allows you to take a picture, upload it to the Sprint
server, and then deliver it in an email to a contact.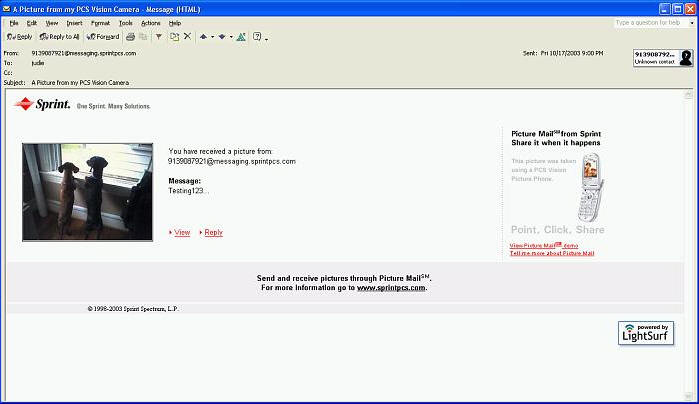 Once your contact receives it, they can download it, print it, resize it, and
rotate it. Pretty cool service, huh?
Blazer Browser – Access to most Web sites. Check news, stock quotes,
corporate and Internet email – all in full color at PCS Vision speeds. Obviously
this is not the worlds best screen for browsing, but in a pinch it is "mejor
que nada."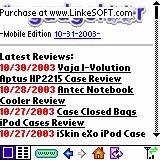 PCS Business Connect – "Accesses real time e-mail and more."
When you register, you
will get the first three months for free, after that it is $5 a month, with
normal air charges applying
SMS –  Doesn't work yet, but should be fun when it does…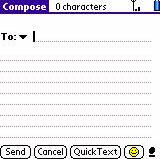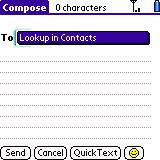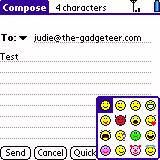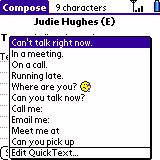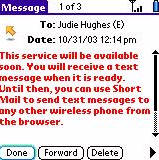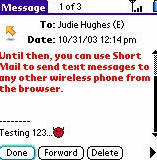 Palm™ Organizer Applications
– All of the standard applications are here, including…
Address
Calendar – This is the Datebook+ which has long shipped with
Handspring units, which is essentially
Datebk3 by
Pimlico Software. The
best thing about this particular version is the ability to create "floating"
events. Get this, you can enjoy a number of polyphonic alerts when an alarm goes
off. Pretty cool for a Palm. ☺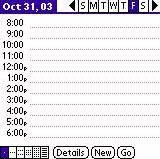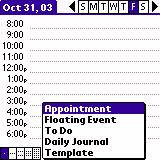 Calculator: The included Handspring calculator is quite nicer than the
basic Palm Calculator, see for yourself…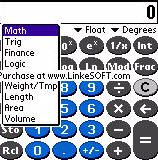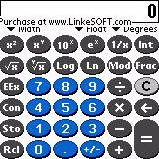 Memo Pad
To Do List
City Time: Shows the time in five time zones…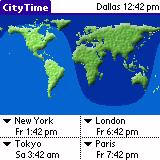 Value Added Software –
When using the installation CD, you are offered the choices of "Install
synchronization software," "Register for PCS Business Connection" (to access
real time e-mail and more), "Register now to receive your free gift" (one
of two free
software applications), "Accessorize your Trēo" (cases chargers, cradles and
more).
Well, ordinarily this is when I would start ragging about how all of the
included software titles (except for maybe one or two) were not included
for free, but were shareware. The Trēo 600 doesn't come with any
shareware, nor any extra freeware (other than the one free title you get for
registering), so…I am not going to say a word. Well, I will say two:
Bah Humbug!
On the plus side, Sprint has some free downloadable software that you can
access through the Software soft button.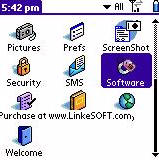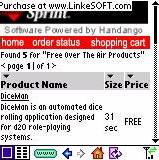 Conclusion:
The Trēo 600 is a compact PDA with a somewhat easy to use qwerty keyboard.
People who like the style of the

Sony TG50 CLIÉ might be willing to trade the lack of 320×320 resolution for
the addition of PCS cellular services. This is an almost ideal solution for
those that need to stay in touch while out of the office, or for those who work
in an environment where 802.11b networking is not an option. The subscription to
PCS Business Connect should make this device as

Blackberry-ish as possible, while using (what I consider to be) a better
OS. I am far more tempted to buy this convergent device than I thought I would
be, heck reading eBooks on it is even a decent experience because the D-pad is
so responsive. If you like thumb key-boards and if you live in an area with good
PCS coverage, then this might be the PDA/Phone combination for you.
You can view the online user's guide

here.
You can view Sprint PCS coverage and plan information

here
Price: $599.99
Pros:
Built in keyboard
Current OS with 24MB usable memory
Excellent screen for a phone, decent screen for a PDA
Polyphonic ring-tones and alarms
Quality feel and heft
Very tight, top-notch construction
Expansion slot
Built in Speakerphone
Keyboard lights up when in use
MP3 playback is possible with an aftermarket program
Cons:
SMS does not work yet (Sprint Network's fault – not Trēo's)
No graffiti option
No analog roaming
Keyboard may be too small for larger thumbs
Product Information
Price:
599.99
Manufacturer:
Handspring
Pros:

Built in keyboard
Current OS with 24MB usable memory
Excellent screen for a phone, decent screen for a PDA
Polyphonic ring-tones and alarms
Quality feel and heft
Very tight, top-notch construction
Expansion slot
Built in Speakerphone
Keyboard lights up when in use
MP3 playback is possible with an aftermarket program

Cons:

SMS does not work yet (Sprint Network's fault - not Trēo's)
No graffiti option
No analog roaming
Keyboard may be too small for larger thumbs