We use affiliate links. If you buy something through the links on this page, we may earn a commission at no cost to you. Learn more.
Product Requirements:
Device:
Original and newer iPod models
After Judie and I attended

TECHXNY, we were able to count the interesting booths and products that we
saw on just one hand. The Case Closed
Bags booth happened to be included in that count. This company, which is
female owned and operated, doesn't sell products that are out of the ordinary or
super high tech. They sell laptop bags. But what makes their products fun, is
the fact that they aren't your standard run of the mill black or brown leather
bags. Instead, they have created bags with funky designs and wacky names. You
can buy bags named Steve, Neal, Teddy and more. In addition to their laptop
bags, Case Closed also has a line of iPod
cases. It is these products that I am going to talk about today.
Designed for both the original and newer iPod models, these cases are
available in two styles and several colors. I was sent a case from the Sheldon
collection, and the Clarence collection. Both styles come with a detachable
black plastic swivel belt clip.
The Sheldon cases are fabric covered rigid cases that have elastic sides.
Inserting and removing the iPod from this case is easy, which is a good thing
since you'll need to remove it in order to place it in the dock. However,
removal is not necessary if you plan to connect the iPod via a firewire cable
only. The top controls are also easily accessible while in the case.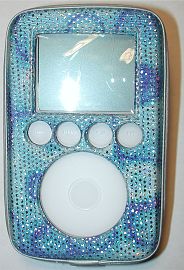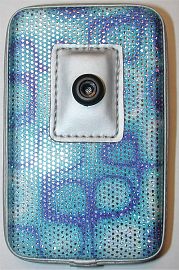 The front of the case has individual cutouts for the navigation buttons, and
a large circular cutout for the touch wheel. It is not a problem accessing the
buttons and touch wheel through these cutouts since they line up perfectly.
A clear vinyl window protects the LCD from scratches and smudges.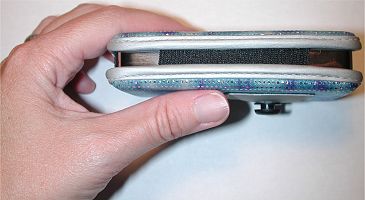 I was sent the Miami Geo case, which is made of a blue fabric with tiny
sequins embedded in it and silver piping along the edges. The sequins sparkle
different colors as light hits the case. Think disco ball, and definitely
feminine.
Never miss one of our posts again. Sent MON, WED, and FRI with the latest gadget reviews and news!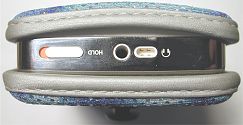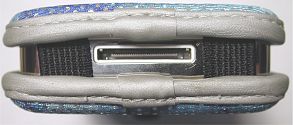 The case offers good protection from scratches, and mild abuse. It's hard to
say how well it would protect the iPod from a long drop, but I would guess that
it might do a pretty good job due to the fact that the device is pretty much
completely enclosed while in it.
The Clarence cases are half Sheldon, and half vinyl. While the back of the
case is rigid and fabric covered like a Sheldon case, the front is a thick clear
vinyl holster with cutouts for the various user accessible features. I found
that inserting my 30gb iPod into the holster was an exercise in frustration. No
matter how hard I tugged and cussed and pulled, I was never able to actually
snap the holster closed. In the end, I even had to cut my iPod out of it because
it was too tight! And in doing so, I accidentally marred the plastic when I slid
the scissors under the vinyl. Needless to say, I am VERY unhappy!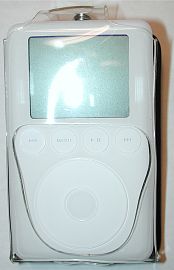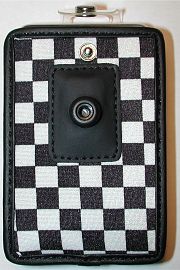 Although the Case Closed website states that the slim case line is compatible
with all of the newer iPods, I tend to think that the Clarence cases are only
for the 10 and 15gb models. They really need to update their site… That said,
if they would make a slightly bigger version for the 30gb iPod, I think it would
make a nice slim case.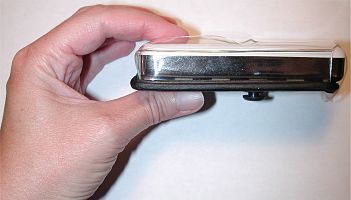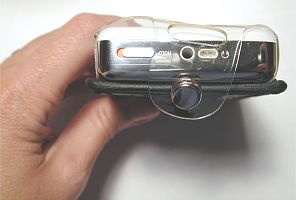 Both the Sheldon and Clarence cases have a black plastic belt clip post
protruding out of the back side of the case. I personally don't care for belt
clip cases, and would appreciate the option of purchasing one without a clip.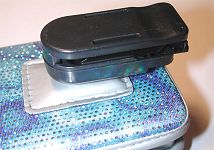 Even though these cases are inexpensive, they are well made and a nice
alternative to all of the boring leather iPod cases already on the market.
Although geared mainly towards women, there are a few colors that I think all of
you men out there might be able to appreciate too. Either way, Case Closed Bags
is an interesting company with interesting products.
Price: $19.99
Pros:
Fashionable
Inexpensive
Cons:
Clarence cases won't fit the 30gb unit… BEWARE!
Not available without a belt clip
Product Information
Price:
19.99
Manufacturer:
Case Closed Bags
Pros:
Cons:

Clarence cases won't fit the 30gb unit... BEWARE!
Not available without a belt clip