We use affiliate links. If you buy something through the links on this page, we may earn a commission at no cost to you. Learn more.
Product Requirements:
A laptop computer
It's no secret that laptops can crank out some heat. This fact is never so
obvious as when you are either working with a laptop while it sits directly on
your lap, or when a laptop is your main computer and it sits on a desk running
most of the day. In both of these situations, your legs are generally underneath
the laptop, and it doesn't take long before you will feel the heat building. As
uncomfortable as that heat may make you feel, one can only imagine what
it is doing to the laptop.
CPUs produce heat. Even though most laptops will use a slower processor than
their full size desktop counterparts, they are still little heat factories.
That's why laptops have built-in fans. Unfortunately, many manufacturers put
these fans on the bottom of their laptops, which makes for particularly
ineffective cooling when the laptops are resting on anything.
Some of the symptoms of an overheating laptop can include: spontaneous
reboots or shut-downs, locked or hung programs, and of course – the blue screen
of death. Obviously at the very least this can be frustrating, but there is also
the unseen damage that is occurring to your CPU. Simply put, the fans are there
to keep it cool for a reason. If they are blocked and the CPU isn't cooled, it
will overheat and could eventually fry.
In our home office, we have three laptops that are running most of the day,
every day. While my Fuji stands in an Oyster
Dock and it never seems to get hot, Steve and Sarah's laptops sit on their
desks, with their "rear ends" raised on rubber risers. Sarah doesn't seem to
have a problem with heat buildup, but then her laptop has a fan on its side, But
Steve has complained a few times about how hot his legs were getting through the
desk. After hearing him complain about the heat the other night, I mentioned
that he might like to try out this laptop cooler I had in my queue.
To be honest, I hadn't even pulled it out of the box yet – so for all I knew
it was just another laptop-desk type product that was designed to lift the
computer up to allow better air circulation.
As we unwrapped the
Notebook
Cooler by Antec, it became evident
that this wasn't the typical passive cooling device. This was instead, a
portable cooling system that featured twin fans and an aluminum base to better
direct heat away from the laptop.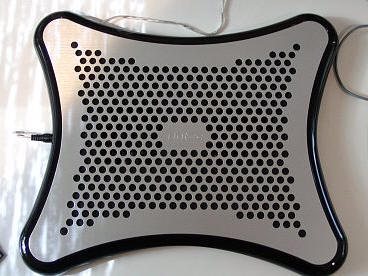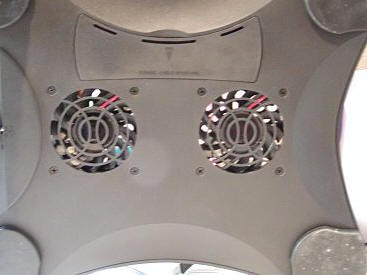 The Notebook Cooler is composed of a smooth black plastic base with a
perforated aluminum topper. It measures 13" wide by 11.2" tall x 0.85" thick,
and weighs 1.6 pounds. It should easily fit in most laptop bags when you are
traveling.
Never miss one of our posts again. Sent MON, WED, and FRI with the latest gadget reviews and news!
Flipping the cooler over reveals the two 70mm "double ball-bearing"
fans that once turned on, will quietly whirr the heat away from your laptop at a
rate of 2500 (avg.) RPM, producing 31.6 CFM of airflow.
The removable portion that you see on the upper edge of the underside, is not
a battery compartment. It is instead, a place to stow the 30" USB power cord.
Since most laptops come with no more than two USB ports, Antec designed their
USB plug so that it could allow another to piggyback into it.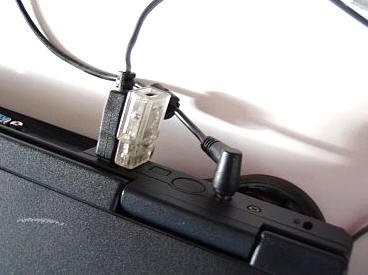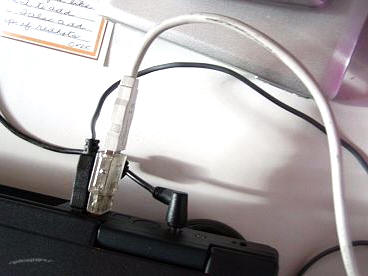 There is an on/off switch on the left side of the cooler right next to where
the power cord port is loacated, and a green light glows when the fans are
running.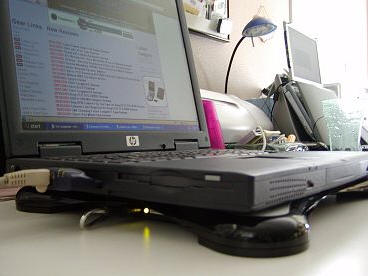 The fans run quietly, at about 25.9 dB(A). You can use this
comparison table
to see where the this cooler ranks – which is somewhere between rustling leaves
(20 dB) and a quiet whisper from three feet away (30 dB). Yes, there is a slight
whirring sound when the fans are running, but it is not obnoxious. It is best
described as "white noise."
As you can see in the following pictures, the Notebook Cooler will raise your
laptop up by almost an inch. Depending on the type wrist rest your laptop
employs, this will probably not affect your comfort once you get used to the
height difference. I asked Steve if this new height bothered him at all, and he
said it did not.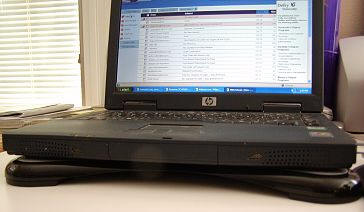 While the aluminum base and the fans are attracting the heat away from your
laptop, the CPU is free to do it's job – unencumbered by heat stress. You are
free to get your work done (or surf your favorite sites) without suffering from
hot flashes. This is a win/win situation.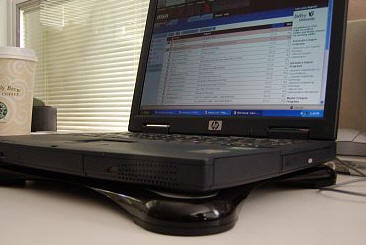 The Notebook Cooler looks good, does it's job, and doesn't cost an arm or a
leg. It may save you costly repair bills and wasted time spent in frustration
after untimely crashes and lock-ups. This seemingly simple device is actually an
elegant solution for one of the most common problems that plague laptop owners.
If your laptop has a fan on its bottom, and you aren't doing anything to help
better circulate the hot air it is dispelling, then I think it would be worth
your while to take a look at this product. 
Price: $39.95
Comes with a three year manufacturer's warranty
Pros:
Portable
Quiet
Does what it says it will do
Excellent warranty
Cons:
None
Product Information
Price:
39.95
Manufacturer:
Antec
Pros:

Portable
Quiet
Does what it says it will do
Excellent warranty

Cons: