We use affiliate links. If you buy something through the links on this page, we may earn a commission at no cost to you. Learn more.
You might say that I am into the import scene…
No, I am not attempting a remake of

Fast and The Furious on the deserted stretch of road near my house, I have
never owned a car with neon tubes of any kind, and the only time I use Nitrous
is when I am having oral surgery.
Still, I have owned my share of some "performance"
oriented autos from the Land of the Rising Sun, and I have spend more Sundays
that I can remember waiting hours for my chance to speed about some cones in a
parking lot (Solo
Racing).
With winter approaching and some serious maintenance
needed on my '95PEP Miata – I welcomed the diversion of some new Micro RC cars
to play with.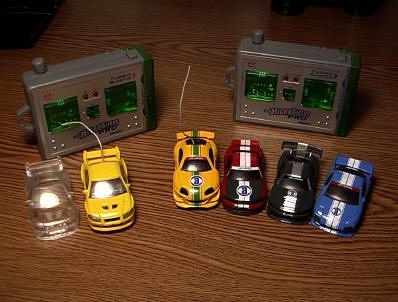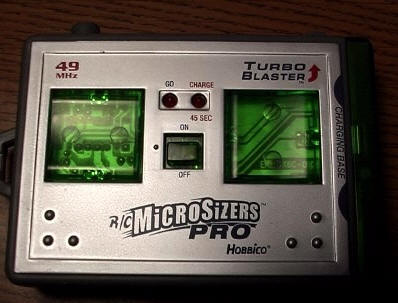 I was sent two different sets of
Microsizers from
Hobbico.  As Julie did a very
through

write-up on the basic cars a while back, I will be focusing on the replica
bodies that accompanied these little runners.
Sure, little cars like these were all the rage last
Christmas, and many knock-off are to be found in discount bins in stores
everywhere – but are the originals still worth your gadget time???
Microsizer Auto Modellista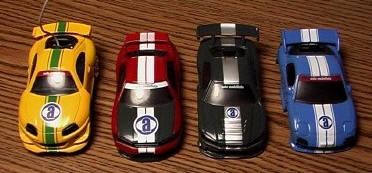 The
first stop in our automotive survey is with a four-body set inspired by the
video game Auto Modellista.  Though I have not played the game, it would
seem that it has been almost universally panned by critics (at least, the four
reviews of it that I read…don't shoot the messenger).


Anyway, with a single controller and chassis, you have your choice of four
different covers from the cel-shaded diversion: an RX-7 (How I miss that car), a
Supra (another modern classic), and two versions of the Skyline (previously
unavailable before the Infinity G35 made it across the pond…).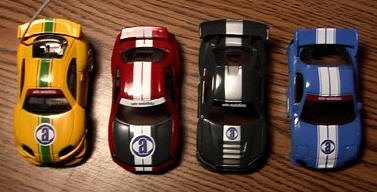 For
those in the know, the Microsizers are the US versions of the
BitChar-G, and (with the exception of some
coloring changes on the controller) are identical to their Japanese brethren.

Price: $27.99 (from

Table Top Racers)
Pros:
Four cars in one
Race anywhere – impress your friends
Cons:
None
 
Microsizer Mitsubishi Lancer
Some of you out there might think
of the Lancer as the economical little compact that one might sing a little
Barenaked Ladies…(now I have it in my
head…like Harrison Ford I'm getting

Frantic – no!!!) but to those die-hard few Americans that have been
following the World Rally Championship for years are grinning ear-to-ear now
that the Evolution has finally arrived.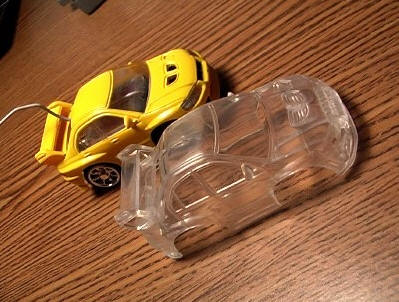 With a price tag slightly lower
than the turbo-charged, all-wheel-drive beast, this smaller version not only
fits in the palm of your hand, but comes in a standard yellow body plus a
bonus clear shell.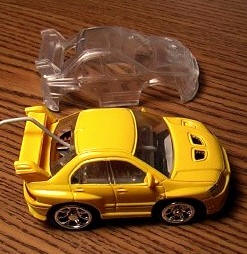 Why?  I have no idea…
I remember when see-through plastic was all
the rage with electronics (Remember the tricked Powerbook from

Hackers???)…this might be the case.  Also, I did a few years working in a
hobby shop, and the larger R/C cars that we sold there had clear lexan bodies
that were painted on the inside.  Trend or customization option – the choice is
yours.
Price: $19.99 (from

Table Top Racers)
Pros:
Some of the fun at less than .1% of the full-size price
Clear body – it means what you think it means
Cons:
Not All Wheel Drive
 
Product Information
Price:
19.99
Manufacturer:
Microsizers
Pros:

Some of the fun at less than .1% of the full-size price
Clear body – it means what you think it means

Cons: