We use affiliate links. If you buy something through the links on this page, we may earn a commission at no cost to you. Learn more.
As you can imagine, Julie and I see all sorts of laptop and gear bags in all
sorts of styles and flavors. Obviously, some of them are better than others.
Some of them have redeeming features but they aren't quite ready for
prime-time, and some…well some are so bad that we send e-mails back and
forth to each other discussing the various features that guarantee that that
particular bag will wind up in the bottom of our respective junk closets.
The bag I want to tell you about today will never have to fear being
relegated to the bottom of anyone's closet. It utilizes a well thought
out design that actually delivers the features that many of us are looking for
in a laptop bag: protection for our electronics, lots of pockets, quality
construction, and good looks. I am talking about the
BooqPaq3, by
Booq (pronounced like Luke). To
take the "good looks" thing a step further, this back is somewhat
personalizeable, with the addition of you choice of
BP3 Shell. Obviously, I
am getting ahead of myself, so let's start at the beginning.
This is the BooqPaq3, which is avaiable in black, navy or gray, and we will
call the BP3 from here on…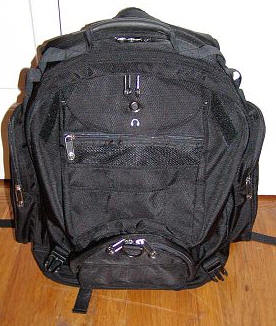 With just a quick once-over, it is evident that this is a higher-end backpack
model. The first clue is from the materials used in its construction –
weather-resistant 1680D ballistic nylon. This material is tough, dirt and stain
resistant, and should be virtually indestructible. The BP3 measure approximately
17" tall x 14" wide x 6" deep. Empty, it weighs about 2.9 pounds.
There are lots and lots of zippers on the front of this bag. Each heavy duty
zipper is capped with a metal and rubber custom pull that says "booq" and
displays the "b with a swirlie" that makes up their logo.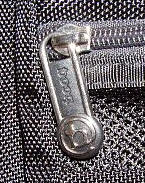 With so many zippers, there are as many and more accompanying pockets, so
let's start with the ones on the front…
We'll do something different, and begin at the bottom, which is where we find
a sunglasses sized pocket that stays shut with a Velcro patch. Before anyone
utters a word about the Velcro – let me say now that there are only a couple of
places where this ornery stuff is used, and when it is used, it is in small
quantities.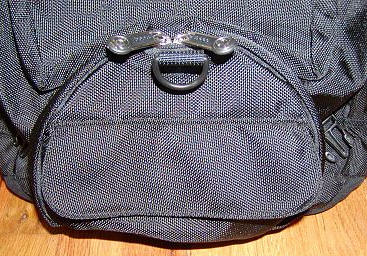 With that said, this pocket would be perfect for sunglasses if it had been
lined in a soft nappy fabric. If you are carrying anything else there, then what
it is lined in won't matter to you. This pocket might also be great for a
folding head-phone set.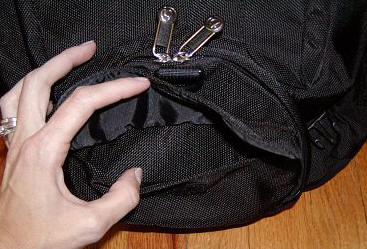 Moving up, let's look at the dome shaped pouch that closes with double
zippers. Inside this spacious compartment, is an open webbed slash pocket along
the back wall. This compartment is perfect for small loose items that need to be
kept where they can be easily accessed. The outside of this compartment has a
hanging D-ring, that you could clip something to, if so inclined.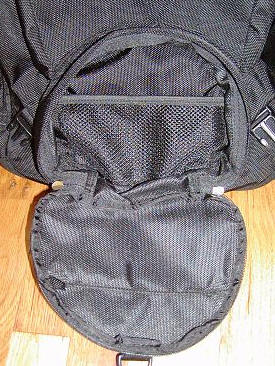 Next, is a slash pocket that has been sectioned into four small open
compartments. I could see storing memory cards or other such small items here,
though the open top of the pocket would make me nervous about putting anything
too valuable there. Above this are is a 8" wide x 3" tall open slash pocket,
followed by a zipping 8" wide x 5" tall mesh pocket.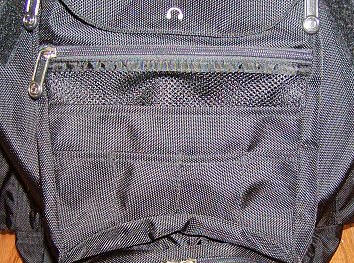 Next is a 8" wide x 7" tall x 1.5" deep zippered pocket that would be perfect
for your CD or MP3 player. In fact, it is designed so that you can run your
head-phone's cord through the metal grommet in the flap that covers the zippers.
The flap is held in place with a small patch of Velcro, one of the few (but well
placed) instances it rears its ugly head.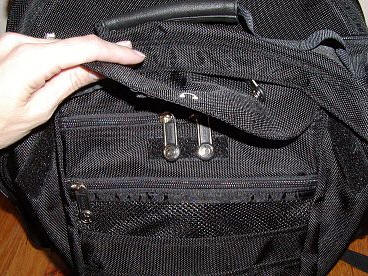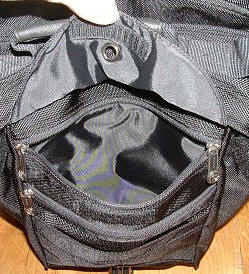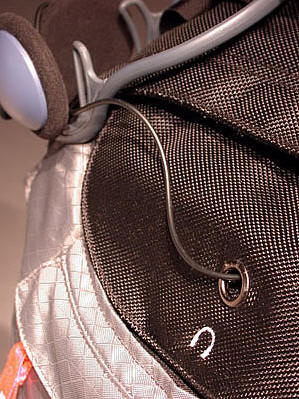 Picture on right courtesy of the Booq website
Now let's move to the BP3s sides for a moment. Each side features a 9" tall x
4" wide x 2" deep zippered pocket that can hold either a water bottle or other
assorted "stuff." Both sides are identical.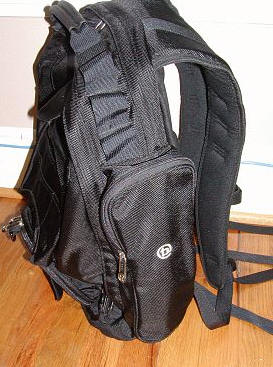 The right side of the BP2, behind the pocket, hides a zipper that secures a
huge pocket that is as deep as the back of the pack. This is a great spot for a
magazine, or airplane tickets that you need easy access to, but want to keep in
a secure area.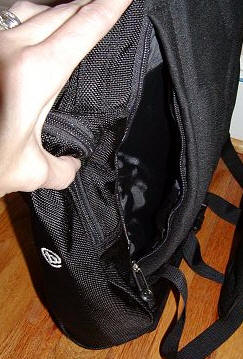 The top of the bag has a padded handle. In a perfect world, this handle would
be even more substantial, but as it is, it is better than many I have reviewed.
On either side of the bag's handle are three loops formed out of nylon webbing.
These loops remind me of the shotgun shell holder's on an outlaws bandolier, but
they can obviously be used for other purposes – like holding head-phones when
they aren't in use (but they are plugged in), or holding small canisters.
Actually, the more I look at them, they look like they could hold the canisters
35mm film comes in.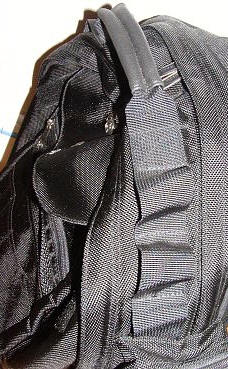 The back of the BP3 is a tough, padded turtle shell fashioned into the "b
with swirlie" logo. It looks great, and when the pack is loaded, it feels
great against your back, too. The shoulder straps are wide and padded, and
extremely adjustable. There are straps to secure and balance the pack across the
waist and sternum. Personally, I never use these. But if you like them, they are
there.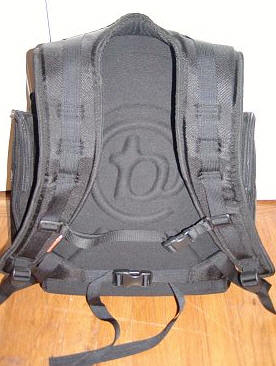 Let's go back to the top of the bag for just a moment. When looking at this
area, you will recall that there are two double sets of zippers. The set to the
rear unzips to reveal a padded area suitable for even the largest laptop. This
area measures approximately 17" tall  x 12" wide x 2.5" deep and is
finished in a soft loopy fabric (this material would work very well in the
pocket I want to use for sunglasses, hint hint).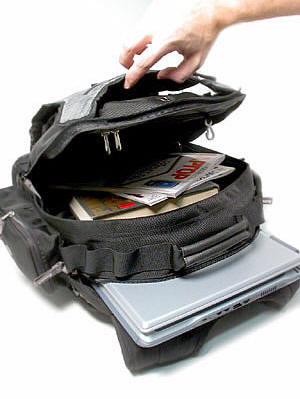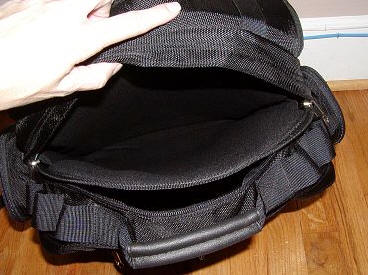 Picture on left courtesy of the Booq website
While I can see putting a naked laptop in this section (because of  its
decent padding), for added piece of mind, you might want to pick up a

Laptop Sleeve. These are cases which have been made to fit various sizes of
laptops; they perfectly cocoon your laptop and keep it safe from all angles. The
sleeves sized 12 through 15 can fit inside the BP3; I was sent a
PowerSleeve 15, which can
also be carried by itself as a mini-bag, when not in the BooqPaq3. This sleeve
features the coolest removable strap on either side – due to its clever design,
you wouldn't even know that it was a shoulder bag when the strap is gone.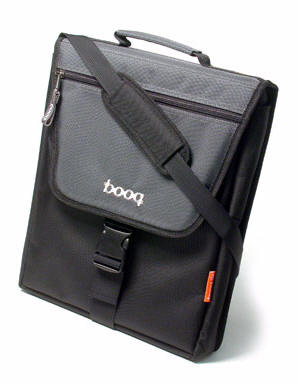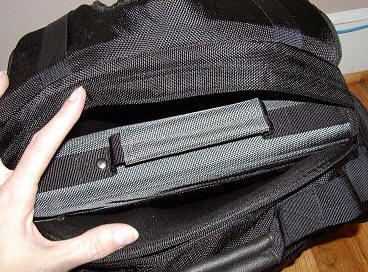 Picture on left courtesy of the Booq website
Hint: If you are going to want the added protection of the
sleeve, your best value would be to get the
BP3 System, which
includes the BP3 and the correctly sized sleeve for your laptop.  You also
get a FonePaq (cell phone
case) and PDApaq (PDA
case),  which can be attached to the BP3's shoulder straps.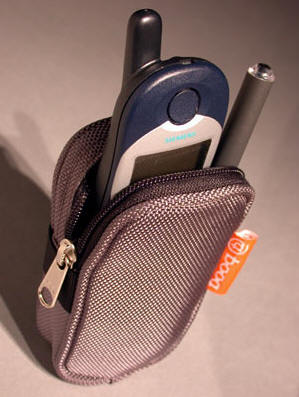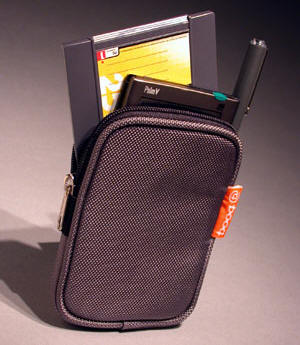 Pictures courtesy of the Booq website
The forward set of zippers open into the main compartment of the BP3. This
area measures approximately 17" tall x 12" wide x 2.5" inches deep, and is a
great place to stow any books or other larger loose items that need toting. On
the wall that makes up the front flap, there is an organizer section, which
contains…
…an 8" wide by 6" deep zippered mesh pocket. Attached to the mesh  is
a gusseted flap pocket, which stays closed with Velcro. There is also a plastic
clip for holding your key-ring.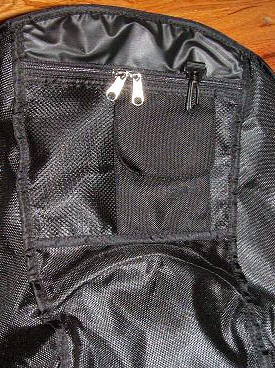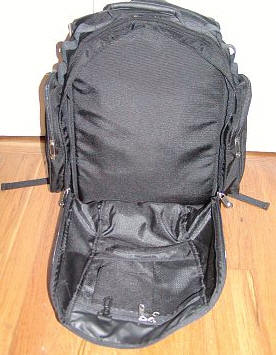 But wait…there's more!
Remember I mentioned that this bag was
somewhat personalizeable? With the addition of the
BP3 Shell, an externally
clipped and Velcroed pocket, you can add a touch of flair to what might
otherwise look like a plain backpack. The BP3 Shell is available in grey, khaki,
black or orange rip-stop nylon, camouflage nylon, or leather-look (PVC-based)
material; my bag came with the camo version.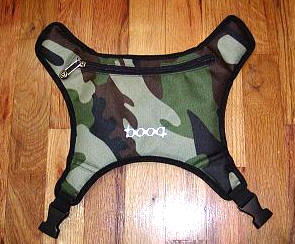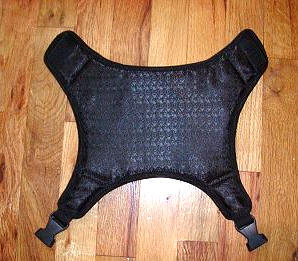 This shell attaches to the two plastic clips on the bottom front of the BP3
and to the two strips of Velcro near the top of the front side – which I bet you
didn't even notice until I pointed them out.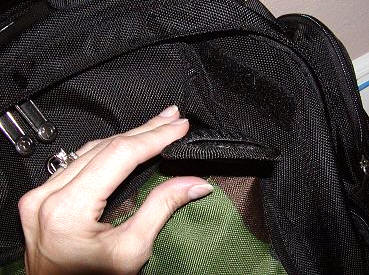 The rear of the shell is thickly padded and the  front is thick material
(which may depend on the model you get). The zipper on the front opens to reveal
an 8" wide by 4.5" deep pocket. If the padding had been on the front side, I
would have said this was a perfect pocket for a PDA or cell-phone, but otherwise
– it is a great spot for small items that you are not particularly worried about
crushing.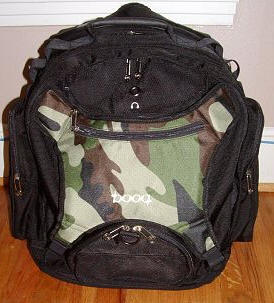 A definite benefit to attaching the BP3 Shell to your bag is that it provides
padding protection for any MP3 or CD player (or PDA, for that matter) that you
put in the pocket it covers.
This bag can hold an amazing amount of "stuff, " I get a backache just
looking at this picture…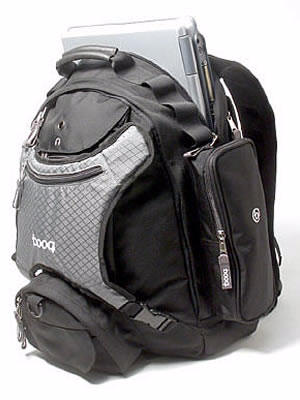 Picture courtesy of the Booq website
The BooqBag3 is an amazing backpack that is just about perfect
for those that prefer this style gear bag. The one suggestion that I have for it
(lining what I call the sunglasses pocket) can't even be viewed as a con,
neither can it's judicious use of Velcro – in fact, the places they used it are
so appropriate they should be an example for other bag makers. The BP3 is made of quality materials.
It has plenty of pockets for all of your
gear, offers plenty of protection for your stuff,  looks great, and it
might just be the perfect backpack.
Price: $119.95 for the
BP3 (Comes with BP3
Shell). $34-95-$44.95 to add a

Laptop Sleeve that will fit inside, or $159.95 for the
BP3 System (includes one
12-15 series sleeves)
Booq products come with an excellent warranty, which you can read about
here.
Pros:
Extremely well made of quality materials
Lots of pockets
Lots of padding
Looks great
Judicious use of Velcro – it's only where appropriate (yes, that is
possible!)
Cons:
None
Product Information
Price:
119.95
Manufacturer:
Booq
Pros:

Extremely well made of quality materials
Lots of pockets
Lots of padding
Looks great
Judicious use of Velcro - it's only where appropriate (yes, that is
possible!)

Cons: