We use affiliate links. If you buy something through the links on this page, we may earn a commission at no cost to you. Learn more.
One of my biggest peeves when hauling gear is the cheesy strap that so many
manufacturers will include with an otherwise well made electronic product or
bag. It is almost as if the shoulder- strap is an afterthought.
Of course, if you are only carrying a single bag for a short distance, then
you might not be concerned if its strap digs into your shoulder or tries to
slide off once or twice. But what if you are schlepping several expensive
cameras and a bag carrying your laptop computer and several other expensive
gadgets? What if your job or hobby requires you to do this on a regular basis
for extended periods of time? If that is the case, then it would be in your best
interest to replace the manufacturer's inferior shoulder straps with a product
that will be more comfortable and that will also stay put.
Al Stegmeyer, the
inventor of the UPstrap, was a photographer
that was "desperate to keep his cameras and bags from slipping off his
shoulder." His original invention, the first generation UPstrap, was "a
piece of bike tube glued to a slippery but beautiful camera strap."
Since the original version, five years of development and improvements have
gone into the final product. There are now three different styles available.
Each model features a flexible rubber shoulder pad which appears to be molded
around a heavy duty nylon strap. The shoulder pad has small circular "grippy
nubs" all over its front and back sides. The pads are thick and substantial. The
black nylon straps are adjustable, and they end with the appropriate attachments
for the type of electronics/bags they were made to support.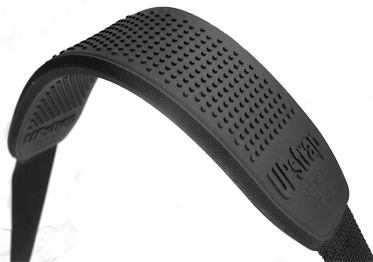 Picture courtesy of UPstrap website
Without any further ado, lets take a look at the three available styles…
This smaller model is best for digital and film cameras or camcorders and
binoculars that weigh under 2.25 pounds. The shoulder pad is 1" wide and can be
worn comfortable on the shoulder or slung around the neck. The strap itself is
almost 0.5" wide. The only caveat with this otherwise very comfortable
strap is that so many digital cameras these days only come with a single small
wrist lanyard hole – your camera will have to have two strap holes or slots in
order to use this improved strap. Unfortunately, my

Olympus is the type that only has the single small lanyard hole. I am hoping
that in the future a model might be made that takes these type cameras into
consideration.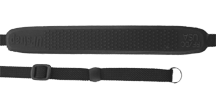 Picture courtesy of UPstrap website


SLR:
This model is best for digital and film cameras or video cameras and spotting
scopes that weigh over over 2.25 pounds. This model is similar to the RF/DC, it
has the same size strap, but it uses a much wider shoulder pad – almost 1.75".
As with the previous model, it requires equipment with two strap holes or slots
for proper attachment. This is an ideal strap for those that are hauling
heavier/bulkier equipment – the type that seems to always want to slide right
off your shoulder.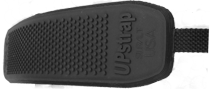 Picture courtesy of UPstrap website



LT:
This model is for any laptop or camera bag that has two loops on either end.
It is made to comfortable support from 2.5 – 20 pounds without falling off your
shoulder. The pad on this model is the same size as the SLR, but the nylon strap
is much wider at 1". This is the perfect strap to use if you bought the ideal
gearbag, but the included strap was not up to snuff. In fact, I wish that this
strap had come with the RoadWired
Podzilla bag I reviewed not long ago. That otherwise perfect bag comes with
an anemic strap which I have since replaced with this one. What a difference
the right strap can make!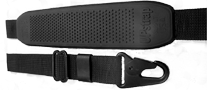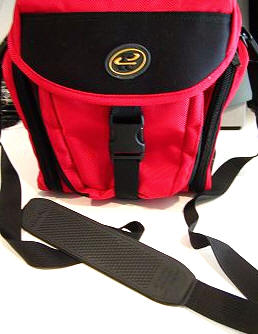 Picture courtesy of UPstrap website
The UPstrap is a brilliant product for those who are sick and tired of having
to readjust their straps constantly. While no strap will make a heavy load
lighter, the UPstrap can at least make such a load more comfortable to carry. If
you have a lot of shoulder-strapped gear that needs lugging, then you should
take a look at this product.
Price: $29.95 each, or $75 for a

3-pack which includes one of each style
There is a 30-day money back guarantee if you are not completely satisfied
Pros:
Well made
Secure and comfortable
Excellent replacement for inferior equipment and bag straps
Cons:
Expensive

Product Information
Price:
29.95
Manufacturer:
UPstrap
Pros:

Well made
Secure and comfortable
Excellent replacement for inferior equipment and bag straps

Cons: