We use affiliate links. If you buy something through the links on this page, we may earn a commission at no cost to you. Learn more.
Product Requirements:
Device:
PC running Windows 98/2000/ME/XP (Windows 2000 and XP require admin rights to install)
or Mac OS 9.1 or higher/Mac OS X, v10.1.2 to v10.2.6 (Mac OS X requires admin rights to install)
With the release of three new PDA models, this sure has been a busy month for Palm. We've already taken a look at the Tungsten|T3, their high-end offering, as well as the Zire 21, their entry level device. Today we will take a close look at Palm's middle child: the Tungsten|E. Like all middle children, they receive some hand-me downs from their older siblings. Does the TE get enough of these hand-me downs to make it a great device? Or is it destined to become the Jan Brady of PDAs?
Hardware Specs:
Processor: 126MHz Texas Instruments OMAP 311 ARM Processor
Operating System: Palm OS software version v.5.2.1
Memory: Total 32 MB (28.6 MB available)
Display: TFT color display with backlight, 320 x 320, 65,000 colors
Interface: USB (for HotSync® operation), Infrared
Dimensions and Weight: 4.5 x 3.1 x 0.5in, 4.6 oz. (including stylus)
Power: 120VAC, 60Hz
Battery: 840mHa Lithium-ion polymer rechargeable battery (internal – non user removable)
Expansion: SD card slot (Secure Digital), supports MMC and SDIO cards
Impressions:
Included in the Tungsten|E's packaging is the handheld itself, USB HotSync cable, AC adapter, leather flip cover, installation CD-ROM, and instruction manuals.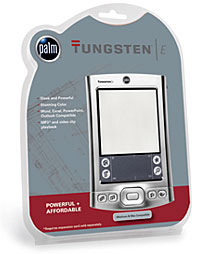 The plastic see-thru packaging, lets you know right away that the TE is a product that has value as one of its top objectives. Just looking at the PDA through the package, I was sure that it was going to be a light weight and cheap feeling device. I'm happy to report that I was wrong on both accounts.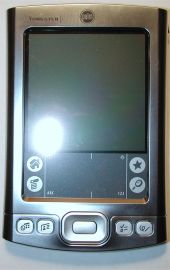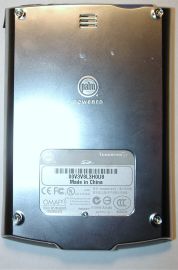 Although not quite as svelte and sexy as the popular m515, the new Tungsten|E does look like a cross between that now out of production series of m500 devices and the Zire 71. It has a nice shape and weight to it that makes it comfortable to hold and use. It is a very solid device and passed the Gadgeteer Creak Test with flying colors.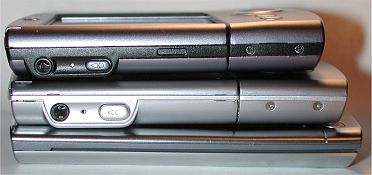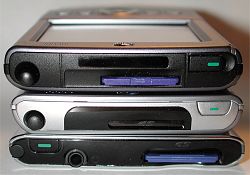 Top to bottom: Tungsten|T, Tungsten|T3, Tungsten|E
The outer shell of the TE appears to be made of chrome metal. I'm not 100% sure, but I think it is actually plastic. I do know that the outer surface is very slick and unfortunately, shows finger prints and smudges very prominently. Eck.

The application and 5-way navigation pad layout are a combination of old versus new styling. The app buttons are flat and square like the buttons on the Zire 71. They are easy to press and have excellent tactile feedback. The 5-way nav pad on the TE is very similar to the same nav pad on the T3. The TE's button is more square in shape though. Just as I said in my T3 review, I don't care for this new button style. Although it has adequate tactile feedback when you press it in the left or right directions, the feedback is lousy when you press it up or down. I don't think avid game players will like it at all.


The left side of the PDA has a thin slit that can accommodate the included leather flip cover, while the right side has the stylus silo. See, I told you it reminded me of the m500 series devices. I actually like this flip cover much better than the one included with the T3. This one lays flat. The included stylus is similar to the same ones included with the m500. It has a metal barrel, and plastic ends. The top end unscrews to reveal a reset pin.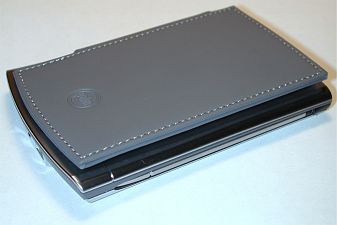 The reset switch is located on the back of the PDA, along with the speaker holes. The speaker on the TE is ok, but not near as deafening as the one on the new T3. I would say that it is about 75% as loud.
The top of the TE has the power button, IR port, SD slot and earphone jack. The IR port seems pretty weak; the maximum distance that I could get between the TE and T3 for beaming contacts was only 2.5 feet. On the other hand, sound quality through earphones is GREAT! Maximum volume levels will make your ears bleed. I typically set the volume to less than 25%.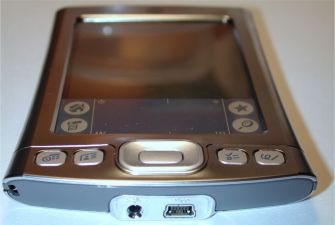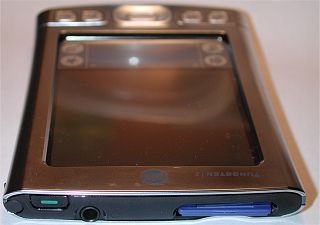 The bottom of the TE has the AC adapter connector and the USB cable connector. Nope, no Universal Connector here folks… This is probably my only major complaint about an otherwise great PDA. I don't get it Palm, if you call your connector 'universal', then why isn't it used universally throughout your product line? As it is, you will be unable to use all of the great accessories that are already on the market. Those people that were planning to upgrade from previous models that did employ the universal connector, won't be able to use their keyboards, sync / charge cables etc. This is very disappointing if you ask me.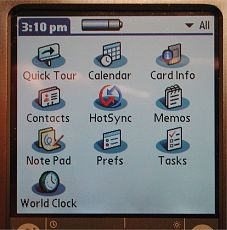 On a more positive note, the TE's display is excellent. It is bright and crisp and has vivid colors. It's just too bad it isn't a 320 x 480 display with a soft input area though… If it was, this would be a kick-ass PDA given the form factor and all. Oh well, I guess we just can't have everything, can we?
System performance is fast. Not as blindly fast as the T3, but very snappy all the same. Battery life appears to be quite good as well. A typical user should be able to get a couple of days work out of this PDA before needing to charge. Of course, if you use the TE primarily to watch videos or listen to MP3s, you'll need to charge much more often.
Let's take a look at the software bundle now.
Software Specs:
The Palm OS version on the TE is v5.2.1. This version includes quite a few updates that Palm users have been waiting a long while for. The applications included in ROM are:
Core Functions
Contacts – This used to be called Address Book, but the name has changed to better match the same PIM applications in Microsoft Outlook. I think Palm realized that a large percentage of their user base syncs with Outlook and not their own desktop application. Some of the changes in this new version of Contacts include the addition of a website field, instant messenger name field, work and home addresses, and a birthday field with a reminder option.
Calendar – Of course, this used to be called the Date Book. Some of the new features include an updated Agenda view that looks very similar to the Today screen on a Pocket PC. It lists your upcoming appointments, Tasks and Email info. Events can now be categorized, categories have their own color bullet next to them in the date view, and you can add a location for an event. Also, events can now span midnight.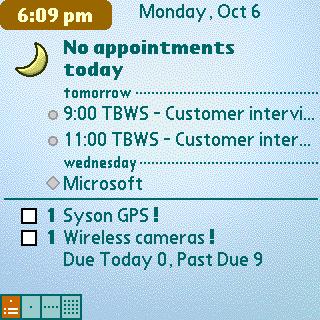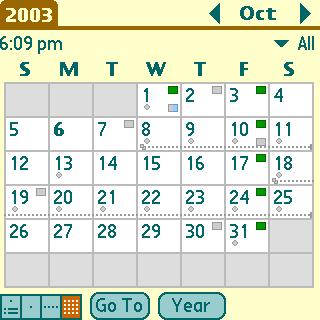 Tasks – Was the To Do List application. Not much has changed with this application except for the addition of alarms per task and the ability to view by due and past due settings.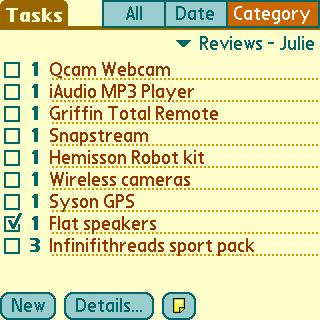 Memos – Was Memo Pad. Can I get a drum roll please? Ok everyone, hold on to your hats… Are you ready for this? I'm warning you, this will come as a shock… Palm FINALLY fixed the 4k size limit on memos! Wheeeeeeeeeeeeeeee! Better late then never right? Other than that major change, the Memo application (not sure why they didn't name it Notes to match Outlook) remains unchanged.
Hotsync, Note Pad, and World Alarm Clock – Remain unchanged from previous OS versions.
Card Info – Displays data about the SD memory card in the slot.
Missing from the core apps is a file manager and a backup / restore app. Come on Palm! Also missing from the core apps is the Expense application and the basic Calculator. The Calculator has been replaced by the PowerOne calculator which is installed on the first HotSync.
Bonus Software (included on CD)
The TE comes with a very nice software bundle, and with 28mb of memory and an SD slot, you should have plenty of room to install everything you are interested in. The freebies include:
Adobe Reader – PDF file viewer.
Palm Reader – My favorite e-book reader!
Phone Link, Dialer, and SMS – Mobile phone apps.
VersaMail – Latest version allows you to view Word and Excel attachments (up to 5mb in size).
Handmark's PDA Money, MobileDB and Magic Dogs card game.
Kinoma – Video player. I'm still not as impressed with Kinoma as I am Media Player on the Pocket PC. I don't care for the fact that I have to convert the movie to a different format before being able to play it. Kinoma movies are still not as smooth as MPEG movies on a PPC.
Photos – Slideshow application.
RealOne – MP3 player. Does the job, nothing fancy.
Documents-to-Go – Word, Excel and PowerPoint viewer and editor that can read and write native files. No more conversions are needed.
powerOne Calculator – Installs on first HotSync and takes the place of the built-in calculator.
Kinoma Producer – Desktop application that allows you to convert your favorite home movies and animated videos – MPEG-1, QuickTime, AVI – to a format you can view on your handheld.
Conclusion:
Overall, I'd have to say that the Tungsten|E is a solid PDA that gives you a good value for your money. The TE really has a lot going for it, for both newbies and people upgrading from older Palms. Of course as the 'middle child', it is missing a few things that some of the other Palm models have. But, if you don't need a Voice Recorder, Universal Connector, LED alarm, Vibrating alarm, Bluetooth, Camera, or HotSync cradle, then the TE's great screen, snappy performance and nice form factor might just make it your next 'main brain'. Even if it's not for you, I think the Tungsten|E will be very popular this next holiday buying season.
Price: $199
Pros:
Gorgeous screen
Good system performance
Good price
Cons:
Lack of Universal connector
Lack of file manager application
Product Information
Price:
199.0
Manufacturer:
Palm
Pros:

Gorgeous screen
Good system performance
Good price

Cons:

Lack of Universal connector
Lack of file manager application