We use affiliate links. If you buy something through the links on this page, we may earn a commission at no cost to you. Learn more.
Product Requirements:
Designed for the classic iPAQ
3600/3700/3800/3900/500 series PDA, but can be used with any PDA with the
majority of it's buttons on the front panel,  that needs the ultimate
water-resistant/crush-proof/dust-proof case ever.
When I am sitting at my desk, about to begin working on another review and sipping yet
another Starbucks latte, it is easy to forget that there are those who do their
work in some of the harshest conditions imaginable. There are those that work
where it is always wet or always dusty; places where the threat of dropping
their PDA or having it crushed is more than a distinct possibility. Obviously,
the typical "Corporate Joe" does not fit into this category and just as
obviously, this case was not meant for that type of user. This case was meant
for surveyors, military men in the field, geologists, ship's captains, rock
climbers, construction workers, factory supervisors, geo-cachers, archeologists,
dog-sledders in Alaska, river-rafters, dock workers, livestock feedlot workers,
modern day explorers, cross country truckers,
oil & gas company field workers, etc., etc…you get the idea.
For some of those that work in the occupations I listed, a product like the

OtterBox Heavy Armor 2000 Dry Box PDA
Case might suffice. But there are those that need even more
protection, and those whose PDA is so customized that it won't even fit
into the Armor 2000. It is for these select few consumers that the OtterBox Armor
3600 was created. Simply put, this is the

humvee of
PDA protection.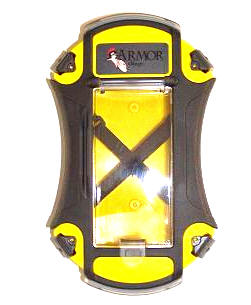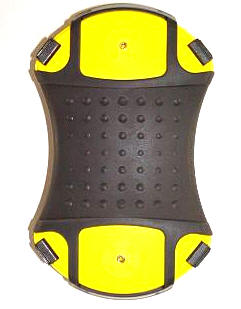 Measuring a whopping 8.75" tall x 5.2" wide (at the widest spot) x
2.4" thick and weighing in at 1.06 pounds for the basic (unaccessorized) case,
and being able to hold up to a 1.125" thick PDA  – the Armor
3600 is quite substantial. Considering the type of abuse that this case is made
to withstand, this is most definitely a good thing.
The exterior of the case is composed of thick bright yellow plastic (it's
also available in black) overlaid with grey rubberized gripping material, which
is mainly concentrated throughout the middle section.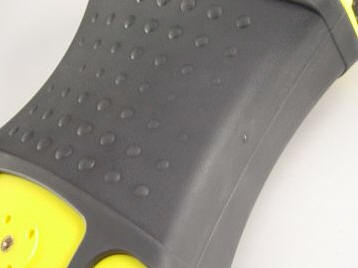 There are four hinged locking snap tabs that clamp the case shot at each
corner. For added security, there is a hex wrench and screws to keep the locking
tabs down.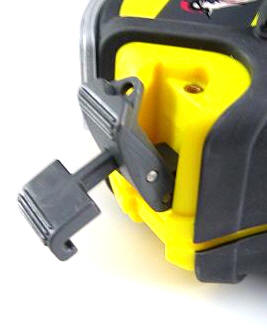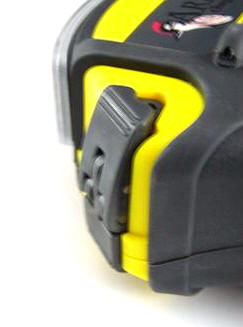 Never miss one of our posts again. Sent MON, WED, and FRI with the latest gadget reviews and news!
There is a hinged clear plastic protector on the front of the case. When
opened, it reveals the recessed area which has an additional gasketed protector
that allows direct access to the PDA's screen and front buttons.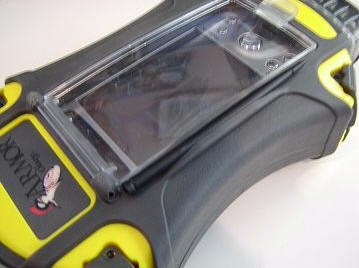 The PDA's front panel will be the only area accessible when in the case,
so I recommend using only a PDA that has the majority of it's
buttons in this area. Here you can see the
HP iPAQ 5455, which works better than
most PDAs might in the Armor 3600.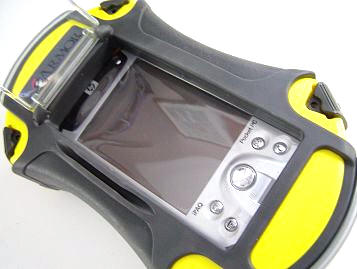 The top of the case has a removable clear plastic portal, perfect for
Infrared beaming – as long as your IR port is on the PDA's top…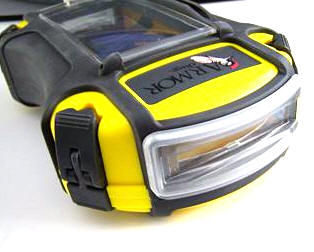 …and the bottom of the case has the same portal, though it can be replaced
with a couple of useful connectivity accessories.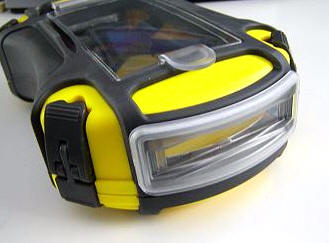 Due to the airtight design of the case, there are quite a few steps involved
in installing or removing a PDA. It  isn't exactly feasible to do a quick
PDA insertion or removal, but then the people that need this type of case will
value its protection over mere convenience.
What exactly does the Armor 3600 offer? According to the website:
PDA is easy to use through recessed, clear plastic screen
It has portals for Printer, GPS, or other cable connections
It is waterproof, dustproof, and airtight
It is crushproof
It includes a secure stylus holder on the outside of the case
It includes an adjustable Velcro hand strap which is easy to use with
gloves
So without further ado, let's install my iPAQ and conduct a series of
unscientific tests to see if the Armor 3600 lives up to all of its claims!
Installation:
Installation takes a couple of steps, but it isn't difficult at all. First,
you unlatch the front of the case from the rear, laying the front half before
you.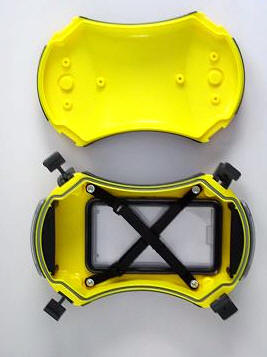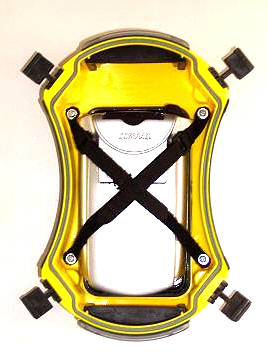 You  next unlatch the Velcro suspenders, and after checking that the
clear plastic screen protector is firmly gasketed in place, you position your
PDA so that all of the screen and the buttons will show…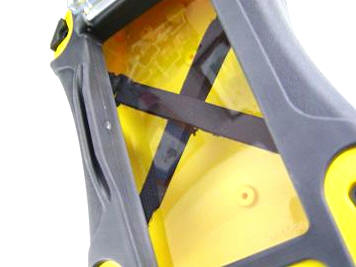 You may have to slide it around a little bit until it is centered exactly
where you want it.
Next, you remove the compressed foam backing from its clear plastic
wrapper…and watch it expand!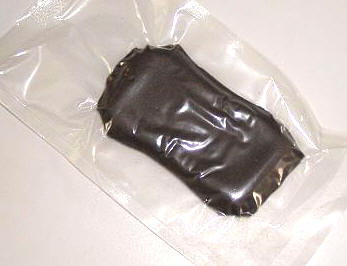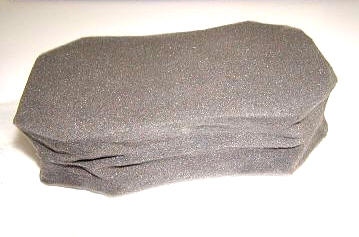 Then you position the expanded foam over your PDA to keep it in place. I must
say that I am impressed with the addition of the suspenders and foam. One of the
problems I had with the

OtterBox Heavy Armor 2000 was that I
had to resort to using cotton balls to perfectly position my PDA, so this is a
much more finished product in my opinion.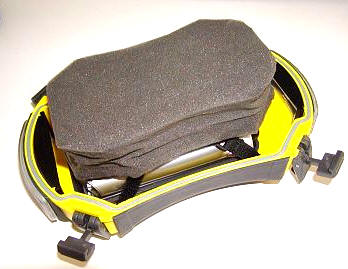 Next, you
place the back half of the case on top of the front, and latch it all down.
After
completing these steps,  may find that you have a slight bulge under the
screen saver from excess air being trapped in the case. This can also happen if
you have a temperature or pressure change. When this occurs, all you have to do
is "burp" the case by releasing a latch on the case and allowing the air to
escape. Then re-latch the case and you are good to go.
Your PDA is
now snug as a bug in a rug. ☺

So what about all of the claims that Armor 3600
makes? Let's take a look at them one by one…
PDA is easy to use through recessed, clear plastic screen:
This is absolutely true as long as you are using a PDA with all of the major
buttons on the front – such as the iPAQ that I show here. You can easily write
on your screen, tap on buttons, and access your joy-pad for easy scrolling
through data.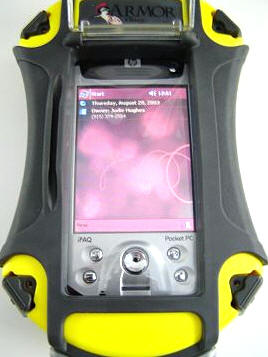 Eventually, the gasketed screen cover will become grooved and worn,
especially if you are doing a lot of data entry with a stylus. When this
happens, you can
replace it.
On the iPAQ, you will not be able to access the voice recorder/volume button
when the PDA is in the Armor case. Depending on which PDA you use, your mileage
may vary.
It has portals for Printer, GPS, or other cable
connections:
Both the top and bottom clear plastic windows are removable…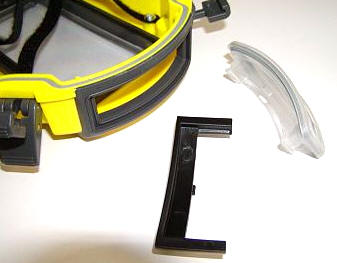 …which allows you to add a
Through the Box
Connectivity Kit – which enables different cables for items such as power,
syncing, GPS, etc., to pass through the box to your PDA.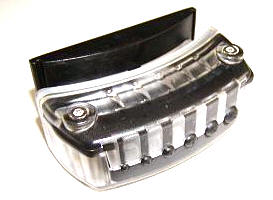 There is also a
Through the Box
POD Kit – which allows you to customize your own connections. This will be
pretty handy if you never want to remove your PDA, not even for syncing
or charging. There is also a
Serial POD Kit which
will be available in October 2003 for allowing 9-pin style accessories to be
used with your PDA.
I received the Through the Box Connectivity Kit, which you can see here.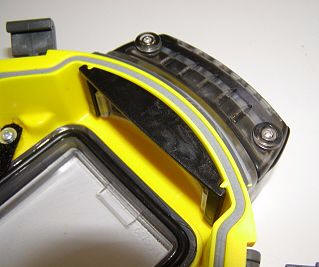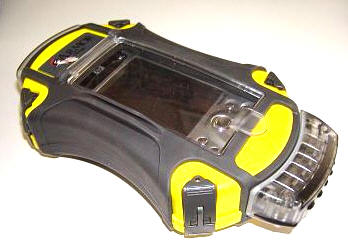 A hex wrench is included so that you can open it and add or subtract cords as
needed. Rubber plugs block the unused ports.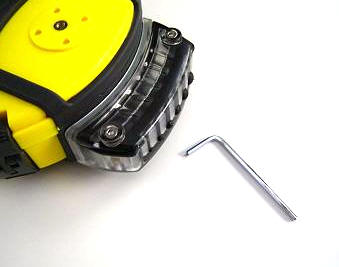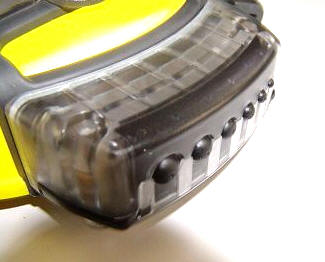 The Connectivity Kit adds about 1.25" to case's length when installed – not
counting the length of any trailing cords, of course..
It is waterproof, dustproof and airtight:
The entire Armor 3600 case is gasketed and sealed. While it is not designed
for underwater use, it is certainly extremely water resistant. Here you can see
me taking crazy chances with my $700 iPAQ. Once again, I am trusting an Armor
case under running tap water, and once again, you can see that my trust is not
misplaced.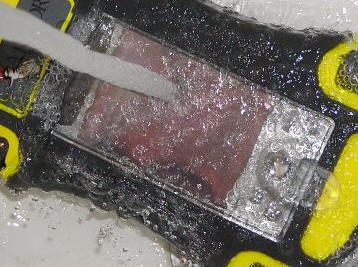 It is important to always keep your gray gaskets clean and free from debris.
If they get dirty or corroded, obviously the water-resistant properties of the
case will suffer.
Due to the same properties that make this case waterproof, it is also
dustproof and airtight. By the way, the Armor 3600 also floats…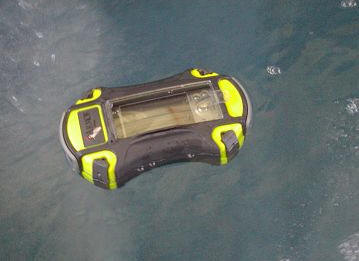 Here is the Armor 3600 floating in our hot tub
It is crushproof:
Here you can see Steve standing on top of the Armor 3600 with my iPAQ inside.
He weighed 205 this morning.
I would drive his Bronco on top of the case, but even though it would
be fun, that might be a bit of over-kill.
As you can see, this case can withstand a significant amount of pressure.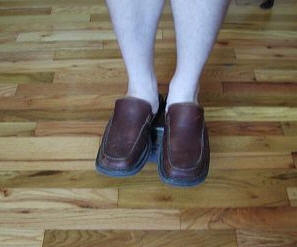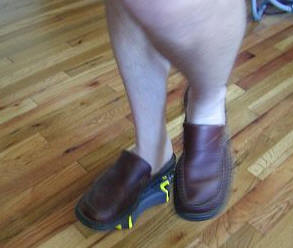 It includes a secure stylus holder on the outside of the
case:
The grey rubber stylus holder does indeed tightly grasp various sized
styli…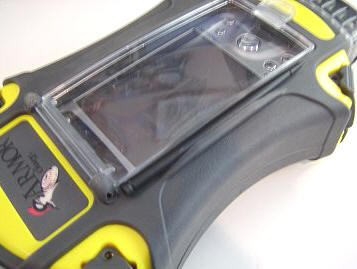 It includes an adjustable Velcro hand strap which is easy
to use with gloves:
It is easy to affix the hand strap – you just use the included hex screws and
wrench to attach the plastic holders to the female receivers on the back of the
case. Here you can see the Velcro hand strap and then my hands wearing gloves
inside it. The strap is adjustable for whatever size hands will be using it, and
yes – it is very easy to use with gloves.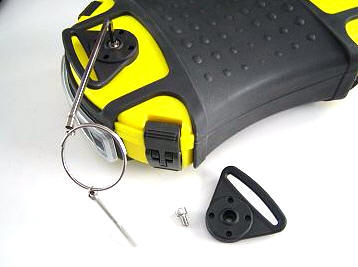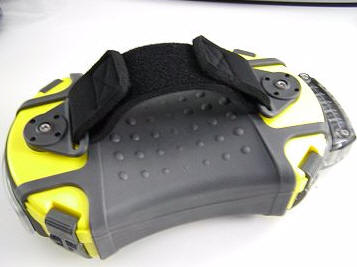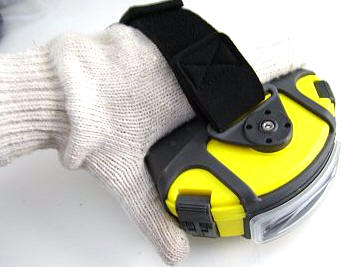 As a matter of convenience, if you need your PDA to be
accessible at all times, I would highly recommend getting the
neck lanyard kit. This
kit comes with a plastic piece that attaches to either of the female receivers
on the back of the Armor 3600 with a hex screw.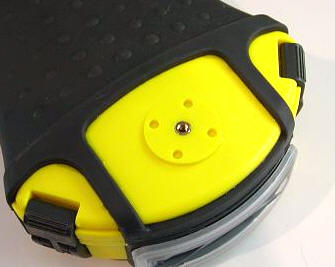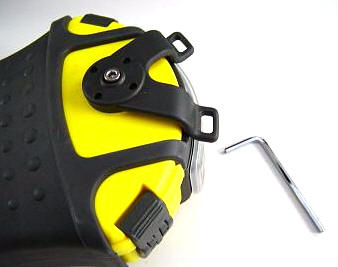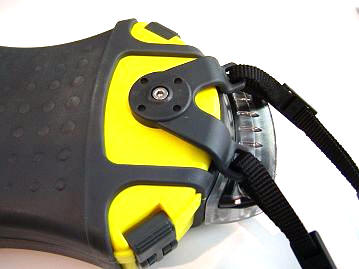 I recommend that you attach it to the bottom of the PDA case, so that when
worn around your neck you can pick your PDA up for easy viewing.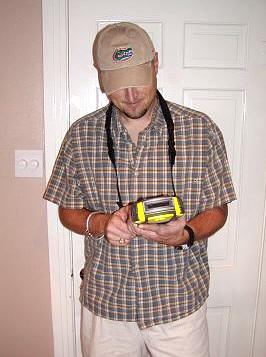 The adjustable neck strap is very padded and has two quick releases on either
side for those times when you are wearing a snowsuit or some other extremely bulky
article of clothing which prohibits easily slipping it over your neck.
With this accessory, your PDA is right where you need it at all times. Very
convenient!
Well as you can see, the Armor lived up to all of its claims…but
what if you happen to be using a larger PDA, such as an iPAQ with a PCMCIA
sleeve which won't fit inside the regular Armor 3600?

This is when you need the
Deep Box Kit…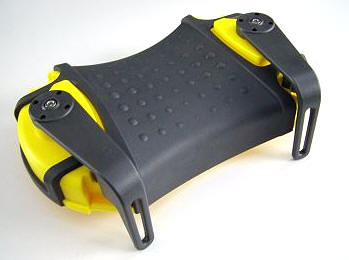 When you add this bad boy, the Armor 3600 becomes
8.75" tall x 5.7" (because of the side hand strap holder brackets) wide x 2.9"
thick and weighs 1.4 pounds – but you can use your PDA with just about any thick
sleeve. The interior dimensions with the Deep Box Kit are listed as 1.65", so if
your PDA with sleeve is about that size, then you should be all right.

Here are some quick thickness measurements of the
iPAQ with various (unmodified) sleeves, so that you can get an idea of whether
you would get away with just the regular or if you will need the Deep Box Kit.

Naked  iPAQ:
0.63"
iPAQ with CF sleeve: 1.05"
iPAQ with PCMCIA sleeve: 1.33"
iPAQ with Dual PCMCIA sleeve: 1.8"
According to the Armor site, their Deep Box Kit will fit
Dual Expansion
Sleeves, unfortunately I no longer have mine to test it with.

The Deep Box Kit has a slightly different method of
securing the hand strap. Instead of it just being on the back, it comes to the
side off of two plastic brackets. Because there is no "right side up" when
attaching the Deep Box Kit, either a righty or a lefty can comfortably use this
strap. I show it attached here for a right-hander, but it would be just as easy
to turn the back "upside-down", which would make it perfect for a lefty.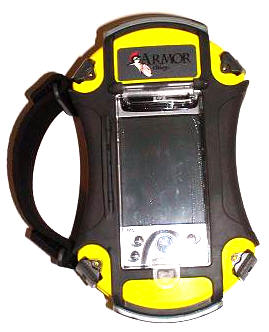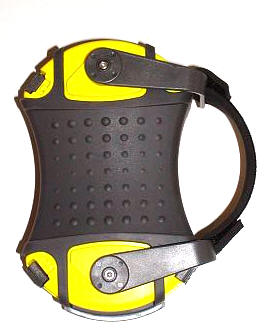 Well, there you have it. This is the PDA case I would want if I was going to
spend a month in the wilderness, or if my daily routine made a jungle look tame.
No, this case isn't for everyone – but for those that need it (and you know who
you are), this is the one you have been waiting for!
You can buy the Armor 3600 directly from
OtterBox, or from other retailers.
Price: $99 for case,
accessories are extra.

Available in midnight black and fluorescent yellow
Detailed Instructions for
installing PDA in case are here
Unconditional
Lifetime Guarantee
Pros:
Rugged, waterproof/dustproof/crushproof  protection for your PDA
Many accessories to make case work for your unique needs
Cons:
It's big and expensive – but if you need it, that won't stop you
Product Information
Price:
99.0
Manufacturer:
OtterBox
Pros:

Rugged, waterproof/dustproof/crushproof protection for your PDA
Many accessories to make case work for your unique needs

Cons:

It's big and expensive - but if you need it, that won't stop you