We use affiliate links. If you buy something through the links on this page, we may earn a commission at no cost to you. Learn more.
Product Requirements:
Device:
NetLink Requirements:
PC running Windows 95, 98, ME, NT, or 2000
Free serial port
Internet access for offloading data via NetLink
Both runners and fitness walkers alike will appreciate this product from
FitSense.com.  The FS-1 Speedometer
Watch is like a pedometer on steroids. It uses a small wireless module that
attaches to your shoe to tell you how far you've traveled, how fast, how many
calories you've burned, and can even keep track of your heart rate with an optional
heart rate chest strap. And if all those features weren't enough, you can upload
your stats to the internet through a wireless pod that you connect to your PC.
Want to hear more? Read on…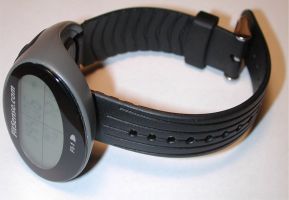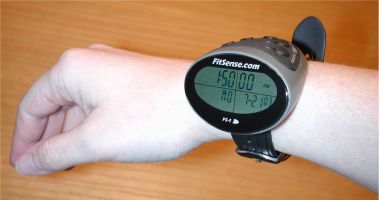 When you first see the FS-1, you are struck by its unique design. It's quite
big (2.0 x 1.6 x 0.6 inches) as far as typical watches go, but the display is large and
very easy to read. Even though the watch is large, it only weighs 1.8oz (50g).
It is shaped in such a way that the display points out to the side of your wrist
instead of pointing up. This makes viewing the display easier while you're
running or walking, as you won't have to bring your arm up and pivot it to read
it. Instead, you can easily view the display while you are normally pumping your
arms up and down during exercise.
The watch is powered by 1 CR2032 coin cell, that has a typical battery life
of 3 months. These type cells are widely available at most stores that sell
batteries, usually for less than $2 each. FitSense is nice enough to include 2
extra batteries with the watch. The FS-1 is made of plastic and the band is
a flexible rubber material. Luckily the band has holes the whole length of the
strap. So, it will fit almost any sized wrist. I found the watch to be
surprisingly comfortable. However, I wouldn't personally wear the FS-1 as my
everyday watch, only because it 'sticks out' too much figuratively and
physically.
The display on the watch is divided into 4 quadrants for easy viewing and the
top of the watch has 5 buttons. Don't worry, operation is very simple as most of
the buttons only have one function. The Mode button allows you toggle through
the seven main modes. Time mode gives you a standard watch display with
time of day, seconds, day of the week and date. Sped mode is the
mode you'll be in most of the time while you're walking or running. In this
mode, you'll see your speed, calories burned, activity time, and distance
traveled. Log mode displays data from the last 28 runs or walks. Odom
mode shows the total distance and calories burned. Comm mode allows you
to learn new sensor IDs (foot pod and heart strap). Calb mode is the mode
you use to first set up the watch with your stride info. And finally, the Alrm mode
gives you the ability to set an alarm.
The Select button toggles between pace and speed displays while in the Sped
mode and is used to accept values and advance through fields while setting up
the watch.

The Light button turns on the back light for 3 seconds.

The Split button is used while in Sped mode to freeze the screen and record a
manual split in your daily chart.

The Stop/Start button starts and stops the chronograph in Sped mode.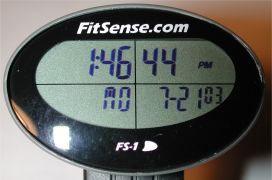 Before you can start using the FS-1, you must calibrate it. At this point you
need to attach the food pod to your shoe. This is a small plastic blob with a
button on top and an elastic band attached to it. You slide the elastic band
under several shoe laces and then secure it to the hook on the opposite end of the pod. It's so
light, that you can pretty much leave it attached all the time. The little
button top lets you turn it on and off for use. One press turns it on, and two
presses turns it off.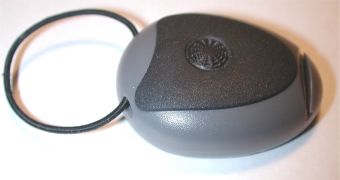 As you know, everyone walks/runs with a different stride and speed. You can
calibrate the FS-1 by walking a known distance, or by using a treadmill. I ended up using
the treadmill option which supposedly, isn't as accurate.
Once calibrated, you're ready to start using the watch. Doing so is very
easy. Just put on the watch, put the foot pod on your shoe, press the button on
the foot pod, press the mode button on the watch to change to Sped mode and
start walking / running. Easy huh? As you're walking, you can check your speed
and distance traveled at any time by looking at the face of the watch.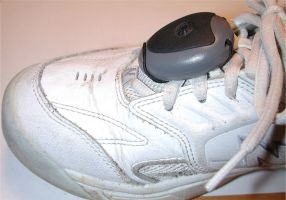 While you're walking / running, you can see all the information that you need
in Sped mode. You get the actual MPH that you're traveling, time that you've
been walking / running, distance traveled, and calories burned.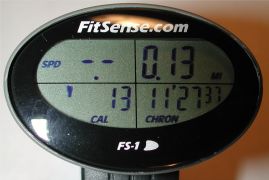 Whenever you stop, the speed indicator changes to -.- till you start moving
again. The watch can record 0 – 99.9miles and 2.5 to 20.0 mph. So, if you want
to use this watch for walking, you'll have to at least walk 2.5 mph. I tested
the watch walking only (I don't run), and noticed that I had to get the
treadmill going at least 3mph before the watch started registering that I was
moving.
With the Pro version of the watch, you can log up to 28 sessions and 85
splits. You can then use the optional NetLink to offload the data to a free
account on the FitSense webpage. The NetLink is a wireless receiver for your PC.
Unfortunately, is uses a serial port instead of USB. Even so, it was simple to
setup and I had no problems using it. The free software to communicate with the
link is available on the FitSense site. Once you plug the link into your PC, and
install the software, you're read to go. The link doesn't even require a
battery. All you do is press the mode button on the watch till you are in the
Comm mode and then you can transfer your information. It is quick and easy.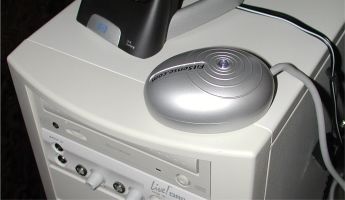 You can use the software to easily set some of the features on the watch,
such as time, date, alarms and distance alerts. Once you transfer the watch data
to the web, can view your workout data by speed, pace and calorie graphs for
day, week, month and year. This is great information for someone really into
walking and running.





Chick on thumbnails to view full-size images.
There is a nice program for your PC that you could use to view the data
instead of uploading it to the web. This program is called CrossTrak. It's
available from FitSense for $39.95.
I found the FitSense watch amazingly easy and fun to use. Although I'm not a
runner, I found it really useful for tracking my walking to and from work. I
always park at the farthest point from the office, so I can get some exercise. Using the FitSense, I found out that walking back and forth several times a day
gives me at least 1 mile of activity.
Although this watch isn't exactly inexpensive, it is sooooooo much better
than a cheapo pedometer. I've tried so many of those that it is not even funny.
The FS-1 gives you instant and accurate information that the other solutions can
not give. If you want to get serious about your walking or running regimen, then
definitely give this product a 2nd look.
Price:
Trainer: $119.96
Pro: $139.96
Pro + NetLink $187.46
Pro + Heart Rate: $187.46
Full Package: $224.96
Pros:
Very easy to set up and use
Makes walking and running more fun
Great display
Wireless
Cons:
Netlink is not USB
The non-web version of the data viewer costs extra
Expensive