We use affiliate links. If you buy something through the links on this page, we may earn a commission at no cost to you. Learn more.
Product Requirements:
Device:
Laptop Computer – either PC or MAC that conforms to
following: can open to a full, open-face position and laptop body from base to
top measures less than 1 1/2" thick. The following computers do not meet this
specification: Toshiba Satellite 2430, Compaq Presario 1200, the white/"ice"
iBook (note: the older "clamshell" iBooks ARE compatible), the 17" Powerbook G4
(note: the 15" Powerbook G4 and G3 series ARE compatible)
I've been writing product reviews for some time, and I have to admit that
every now and then I can get a little bit (excuse me while I search for a
politically correct word here…) jaded with regard to some of the items
that are in my queue. I'm not just talking about things like cases and styli,
either.
There have been times when I've received a product that was essentially
billed as the gadget equivalent to professional boxing's "great white hope,"
complete with review blurbs proclaiming the same on the side of the packaging,
only to find out after using it that some promoter had been a bit overzealous
with the hyperbole.
Today, I am going to tell you about a product that actually lives up to, and
in my opinion even surpasses, the hype.
As most of you know, I use a

Fujitsu Lifebook P2110 as my everyday PC. What I give up in speed is more
than made up for in portability and the convenience of being able to take my
entire desktop with me every time I take a trip. However, some of the things
that make my laptop so perfect for traveling make it a little bit less than
ideal for serious daily use. For instance, there is the fact that when I am at
my desk, I invariably wind up hunched over looking down at the screen. After a
while, my shoulders really do start to hurt!. Then there is the fact that I have
worn the "O," "P," S," "A," and "U" letters completely off of the built-in
keyboard's keys, and seriously damaged all of the remaining keys'
letters. I am not much of a touch typist, and even though I have a five fingered
system – I need to see my letters on occasion. I had thought about adding a
keyboard to my laptop, but I decided that it would just take up too much room on
my already cramped desk. So I was silently suffering, like a martyr, but now I
no longer have to.
A couple months ago, Julie sent me a link to a website with a product devoted
to people who use their laptop at a desk. While I thought the product looked
interesting, I didn't understand how extraordinary it was until I actually
received mine. In the space of just a few days, it has become utterly
indispensable to me – I keep asking myself how did I get along without it
before?!
This product is the Oyster
Portable Computer Docking
System.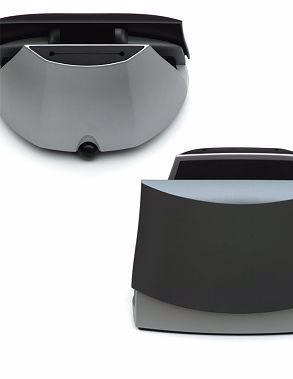 Picture courtesy of the Oyster web site
The Oyster is available in Shell White, Shark Black, and two-tone Oyster Grey
– which is the color I received.
Taking it out of the box, my initial thoughts were how solid the dock felt
and how heavy it was. Comprised of heavy duty plastic, the Oyster has a large
weighted base and back, with a 1.5" wide slot for holding your opened laptop.
The front panel of the Oyster slides up and down, so that you can hide such
unsightly things as your laptop's hinge or an under-screen status bar you don't
need to see.
Inside the Oyster is an externally powered four port USB hub. Accessing this
hub for setup is simple: You pull out the rubber cord guide on the back of the
unit, then undo two Phillip's head screws.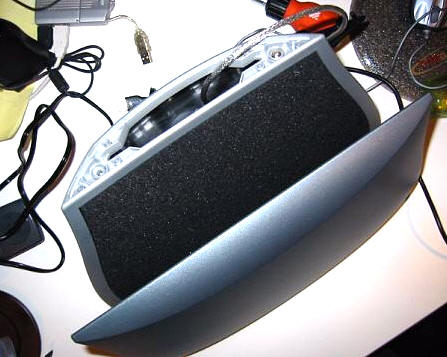 This allows you pull up and off the back portion of the Oyster, revealing the
hub and an area to wind any and all excess USB cords.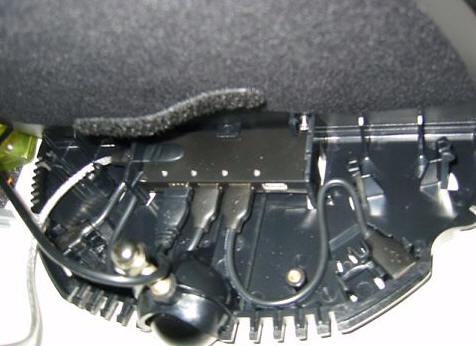 I plugged my new Belkin keyboard and my mouse into the two internal ports.
The other two ports are accessible from the outside of the Oyster, so they are
perfect for peripherals that might need to be attached and unattached
occasionally. I use these ports for my printer and PDAs other than my CLIÉ.
While I was inside, I plugged in the AC adapter to the side of the USB hub so
that it would not rely on power from my notebook. Detailed instructions on how
to do all the steps I have recounted are
here.
Once I had my mouse and keyboard hooked up, I set my laptop into the dock.
The slot, for lack of a better word, that holds the laptop is lined in a very
soft padded material – so there are no worries about scratches or other laptop
damage. Since the top and both sides of my laptop are still exposed, I have easy
access to my CD/DVD drive on the left and the PCMCIA drive, headphone jack,
FireWire port on the right.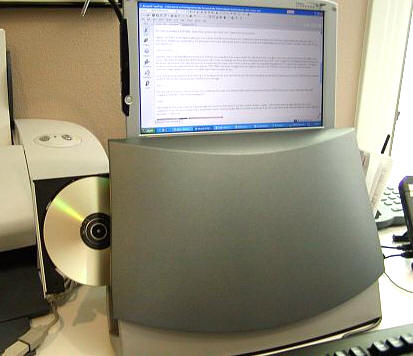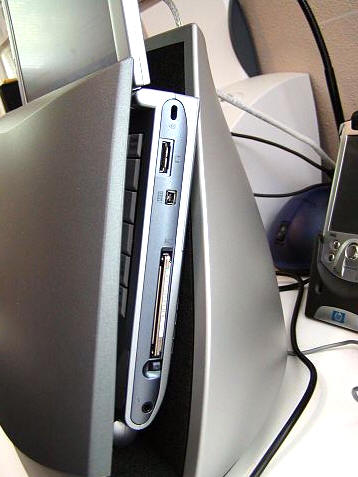 The back side of my laptop, which is now the "top" is where my AC power cord,
Ethernet (when I am not using wireless) and my CLIÉ's USB port are located. I
linked the USB cable coming from inside the Oyster to my remaining port.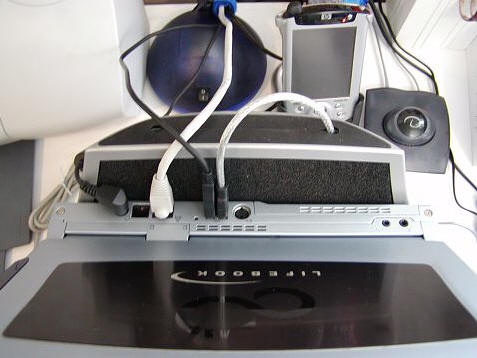 This view is of the back of my laptop while in the Oyster,
with the screen folded down
After sliding the front of the Oyster up to hide the hinge and bottom bar of
my laptop, I now have a perfect desktop computer – with a monitor that I can
angle whichever way is most comfortable for me. No more looking down – except
when I need to check my typing! With my new full-size keyboard, I .am able to
save what was left of my key's letters for when I will most need them – on the
road.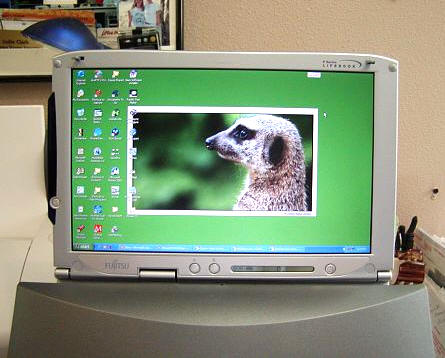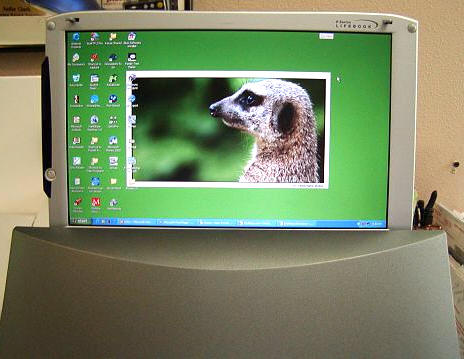 Here is how my complete setup now looks…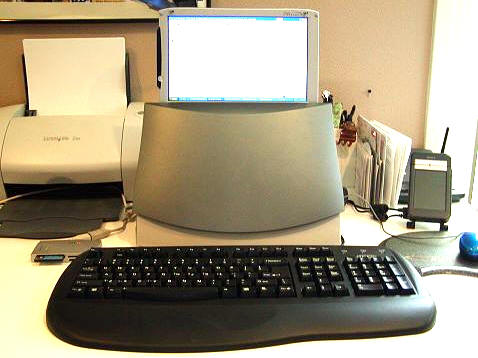 The best thing about the Oyster is how it keeps me from hunching my
shoulders. But there are so many other things about it that impress me: the
organized way that it manages my laptop, mouse, keyboard, printer and the PDAs
that each take their turn at the extra USB port in the back. The Oyster allows
my laptop to truly be a desktop – yet also allows it to retain all of the
portable features that I have to have. I can not recommend the Oyster highly
enough!
Price: $199
Pros:
Allows laptop become a true desktop
Easy access to all ports and drives while laptop is in dock
Eases shoulder strain by moving your to eye level (no more slouching!)
Laptop remains completely portable
Allows you to use a full-size keyboard and mouse without taking up too much desk
space

Cons:
Expensive
Depending on the location of your speakers, the dock can muffle the sound
Product Information
Price:
199.0
Manufacturer:
Oysterdock
Pros:

Allows laptop become a true desktop
Easy access to all ports and drives while laptop is in dock
Eases shoulder strain by moving your to eye level (no more slouching!)
Laptop remains completely portable
Allows you to use a full-size keyboard and mouse without taking up too much desk
space

Cons:

Expensive
Depending on the location of your speakers, the dock can muffle the sound