We use affiliate links. If you buy something through the links on this page, we may earn a commission at no cost to you. Learn more.
Product Requirements:
Device:
Dell Axim X5 Pocket PC
The InnoPocket Metal Deluxe Case is a
molded Aluminum case lined with Neoprene. It has a very clean design and is just
barely larger than the Axim it is designed to carry. It will even slip into the
soft case provided by Dell.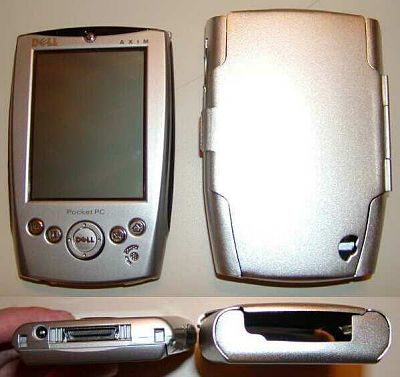 The neoprene lining provides enough grip that there is little danger of the
Axim falling from the case when you have the cover open. The neoprene is ~ .020"
thick. There are also two metal spring clips on the inside back of the case,
near the bottom, that match up with the little "feet" on the battery. These help
to hold the Axim in the case.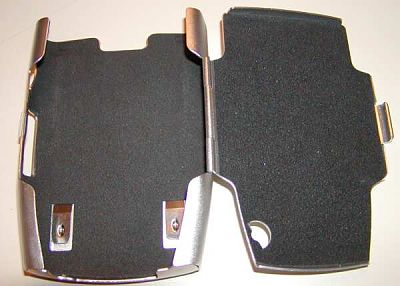 The cover is hinged on the right hand side. The hasp on the left side is a
simple friction-type mechanism. There is a small plastic catch on the body of
the case which the hasp "snaps" onto. The hasp adds very little to the outside
dimensions of the case.
When twisted, the case does have a little bit of flex, and the cover will
"pop" against the edges it mates up to. If enough force is applied it is
possible to bend the sides of the case.
There are cutouts in strategic locations that allow the user to access the
expansion ports, stylus, jog button, etc.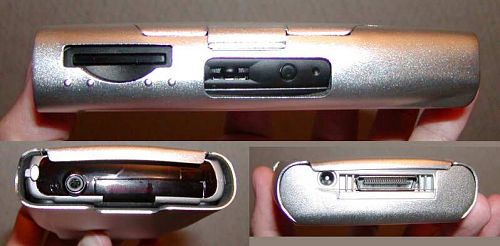 The Axim has to be removed from the case to be placed in the USB cradle, but
insertion and removal from the case are quite easy.
After handling the Axim, the case first seems to have a slick feel to it. I
kept feeling as though it was going to slip from my hand. I have yet to drop it
though. I think the impression is due to the Axim having the rubber side panels,
and the InnoPocket case being Aluminum only. There are a few dimples on both the
right and left side to help provide some grip.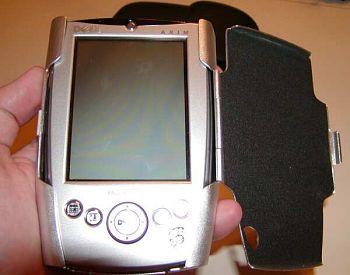 My overall impression of the InnoPocket case is a very positive one. The Axim
is held securely, and I'm able to access all needed controls. The aluminum
construction facilitates easily slipping it into and out of a pocket, without
the worry that keys, etc will damage the Axim. The one gotcha here is the data
port on the bottom. There is the potential for something to get wedged into that
and cause problems. I've not yet experienced any problems though.
The InnoPocket Metal Deluxe is a solid, stylish and functional case for the
Axim.
Price: $34.90
Pros: 

Adds little bulk to the Axim
Offers good protection
Functional
Cons: 
Some users may not like the way the cover hangs off to one side
while using the Axim
No room for a spare battery
Product Information
Price:
34.9
Manufacturer:
Innopocket
Pros:

Adds little bulk to the Axim
Offers good protection
Functional

Cons:

Some users may not like the way the cover hangs off to one side
while using the Axim
No room for a spare battery