We use affiliate links. If you buy something through the links on this page, we may earn a commission at no cost to you. Learn more.
Product Requirements:
Device:
A PDA with a touch-screen
Surplus PDA has come out
with a 4 in1Stylus that has most of the features I look for when I consider a
desktop replacement stylus. Comprised of clear plastic with a rubberized grip,
the 4 in 1 resembles the old-timey BICs that we all used to covet in high
school.

There are, as the name implies, four tips to this multi-pen: black, blue and 
red medium ballpoints, along with a grey stylus. The 4 in 1 scores points with
me because it is very comfortable in hand, having a nice thickness to the
barrel, yet is not too heavy. The ballpoint inserts are regular sized, not the
thin little half-cylinders that multi-pens will generally employ. The stylus tip
is slightly rounded and has no visible seams or other defects. It writes equally
well on PDA screens that do or don't have protective overlays.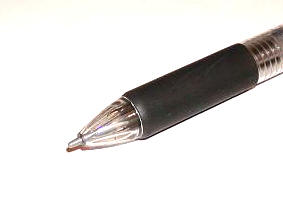 I have been using this stylus for the last month. It is extremely handy to
have the three different ink colors available, and given its larger size – 
its not easy to lose. The only way I could see to  improve the 4 in 1 would
be by adding a mechanical pencil to the mix.
If you have been looking for a multi-pen that will fit well in your hand,
uses full sized refills, and has a good stylus tip built in – and one that won't
break the bank, then you should take a look at this one.
Price: $TBA – This is a new product, prices and a
link should be posted soon
Pros:
Fits well in hand
Full sized ballpoint inserts

Cons:
None