We use affiliate links. If you buy something through the links on this page, we may earn a commission at no cost to you. Learn more.
I'm a gadget show off! I get endless pleasure when my co-workers walk by my
desk at work and ask "what's that?". This usually results in a short demo of
whatever product I happen to be playing with (I mean reviewing) at
the time. Usually this is an electronic gizmo, but sometimes it is just a funky
doodad. I am The Gadgeteer after all, and as such, I like to incorporate
unusual products in all aspects of my life.
Case in point: The QuikTop from
Sigma Automotive. This is a two piece plastic soda can spout / lid. I can
hear you all murmuring "who the heck cares about a product like this…" Well,
I'm sure you've wasted plenty of sodas by opening a can, taking a sip and then
putting it back in the fridge opened. Next time you open the fridge for a swig,
your pop is flat and nasty. In the past, I've resorted to molding a piece of
aluminum foil on top of the can, or securing a sandwich bag over the top with a
rubber band. Both of these solutions aren't the most elegant though.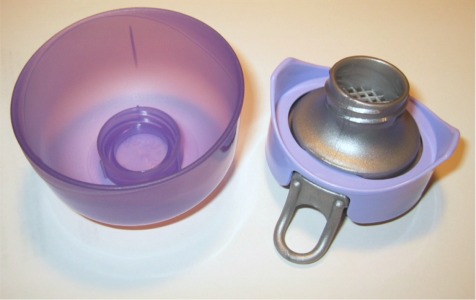 The QuikTop solves the flat soda problem while also adding a bit of fun. It
is comprised of a spout and a lid/cap. The spout portion has a flexible rubber
gasket on the inside which creates a secure hold on the top of the can. The
spout sticks up about an inch and has a grate on the inside that prevents bugs
(bees) from flying into your drink. A opening in the grate allows a straw to be
inserted.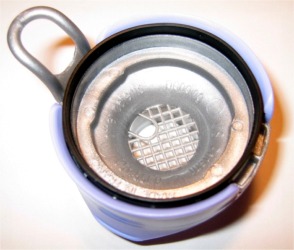 Snapping the spout onto the can is simple and quick. Removing it is just as
easy. By pinching the two 'ears' on the sides, the spout disengages
effortlessly. A plastic loop is attached to the spout which allows you to hang
your drink from your waist (who would want to that, I have no idea…).
The other part of the QuikTop product is the screw on lid/cap. The cap mates
with the threaded spout and when screwed on tightly, will keep your drink from
becoming flat. The cap can be used as a cup and can also fit on the bottom of
the can when it's not in use.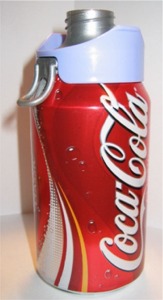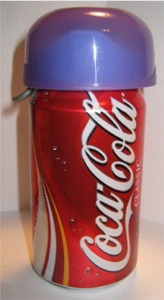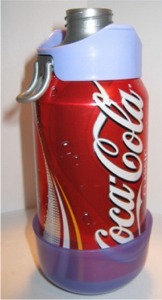 In practice, I found the QuikTop comfortable to drink out of and easy to use. I'll continue using
mine and will continue answering the occasional "what's that?" question when
someone new happens to see it.
Available from QVC. $17.71 for a set of 5.