We use affiliate links. If you buy something through the links on this page, we may earn a commission at no cost to you. Learn more.
Product Requirements:
Device:
A laptop computer with a USB port
As anyone who likes to work on their laptop in a darkened room can tell you,
the computer screen is not going to cast enough light on the keyboard to make
for easy typing. I suppose that there are some touch typists (like Julie) that
don't need the assistance that a well placed beam of light can provide, but
since I am a hunt-and-peck sort of girl, I need all the help I can get.
With that in mind, I have enjoyed using the
Nite·Key·Lite
by LapWorks.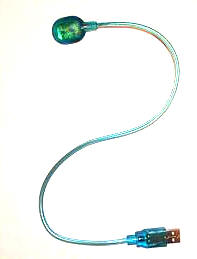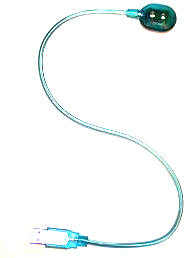 The Nite·Key·Lite is composed of a USB plug attached to a dome with two
bright LED lights. Everything is done in a jelly-blue iMac color scheme that
will appeal to almost everyone. The flexible tube that comprises the power-cord
body of the light is 14" long, which should make it suitable for laptops with
their USB ports either on the back or side.
My laptop happens to have its ports on the rear, and I was
able to easily bring the light to the side or directly over my keyboard.
The Nite·Key·Lite is an all inclusive, plug-and-play device. It draws minimal
power from your laptop's USB port; and the light itself is rated for up to 8,000
hours of use. The light is activated when you insert it in your USB port, and it
turns off upon removal. You can easily bend and flex the body of the light in
any needed position, which also makes it terrific for packing in your gear-bag.
My husband has already snagged this one from me. Summer is coming and already
our office seems to get too hot when we have its four 100watt ceiling
spot-lights on. With this gadget, we can actually keep the room cooler while
still surfing.
Some of you might remember that LapWorks is the company responsible for the
Laptop Desk that I favorably
reviewed last year. If you have been putting off placing your order for a
portable desk, then you can get a discount by ordering the desk and light as a
combo; consider it a "Road Warriors Special."
Price: $19.95, or $10 when purchased with a
Laptop Desk
Pros:
Flexible with a long enough cable for rear or side USB ports
Easily portable
Long-lasting LED bulbs
Cons:
None
Product Information
Price:
19.95
Manufacturer:
LapWorks
Pros:

Flexible with a long enough cable for rear or side USB ports
Easily portable
Long-lasting LED bulbs

Cons: