We use affiliate links. If you buy something through the links on this page, we may earn a commission at no cost to you. Learn more.
Product Requirements:
Device:
Macintosh: At least one available USB
port, Mac OS 8.6 or greater, Mac OS X v10.1.3 or greater
Windows: At least one available USB port, Windows 98/Me/2000/XP or greater
Not too long ago I reviewed a 4-way PCMCIA
card reader that I
thought was almost perfect. The only thing that would have made it any
better would have been if it could have accommodated Compact Flash cards.
Ultimately, I realized that that was not very realistic when talking
about something PCMCIA sized. But it looks like I may have found the next best
thing in the Keyspan
7-way Media Reader.
This card reader is pocket-sized, tough, and very portable. Granted, it is
not as small as an itty-bitty PCMCIA sized reader, but it is still travel sized.
Measuring a mere 4.0" (10cm) tall x 2.7" (6.9cm) wide x 0.6" (1.5cm) thick, and
weighing in at 2.2oz (63g), it will hardly be a burden if you decide to tote it
around with you in your gear bag.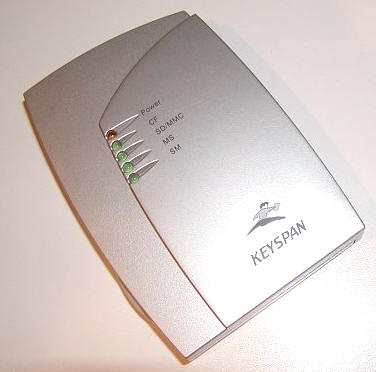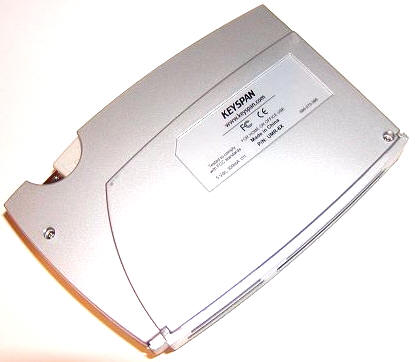 There are five lights on the top of the Keyspan, in this order: power: CF,
SD/MMC, MS and SM. The Keyspan draws all power from its USB plug and does not
need, nor does it include, a power adapter. When it is plugged into a USB port,
the Power light will glow orange. Depending on what type card you insert, a
corresponding light will glow on the front of the reader. You can insert more
than one card in the reader at a time – each card will show up as "Devices with
Removable Storage" on your computer.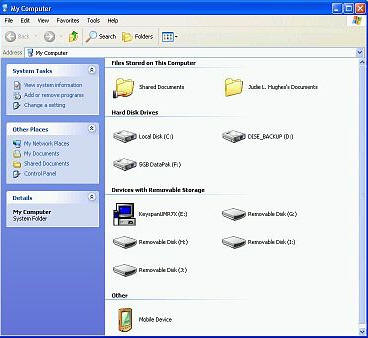 The Keyspan has been cleverly designed to accommodate the lifestyle of
either a desk-jockey or a road-warrior. Road-warriors will find that the attached
3.5" USB cable is short enough to fold back into a slot on the rear of the unit
when it isn't plugged in to a computer. There are no lose cables hanging about,
and the resulting package is quite tidy.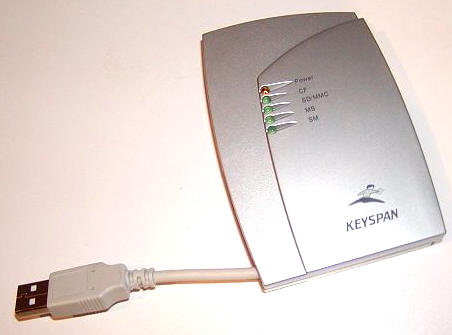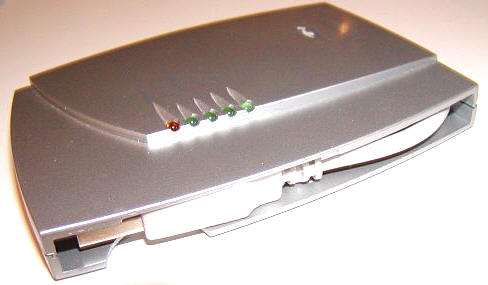 For those that don't need quite as much
portability, an adapter cable is included that adds an additional 40" to the
reader.
Never miss one of our posts again. Sent MON, WED, and FRI with the latest gadget reviews and news!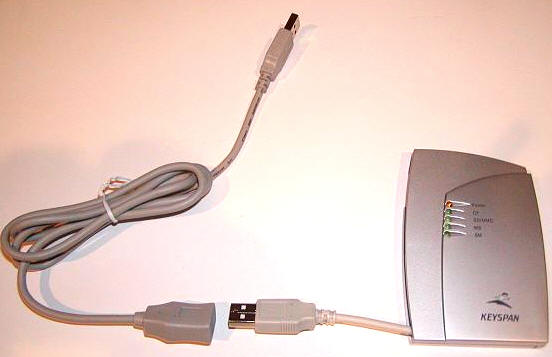 This unit is ideal for those that want the option of being able to
comfortably use this reader at their desk and when looking for maximum
portability, being able to carry just the unit by itself.
Fashioned of sturdy silver plastic, the Keyspan doesn't creak or flex when squeezed.
It appears to be very solidly built, and I suspect that with normal
use it will last for years.
What makes the Keyspan worthy of including in your gearbag is the fact that
it will not only read SD/MMC, Memory Stick and Smart Media memory
cards; it will also read Type I & II Compact Flash cards – which includes all IBM Microdrives™.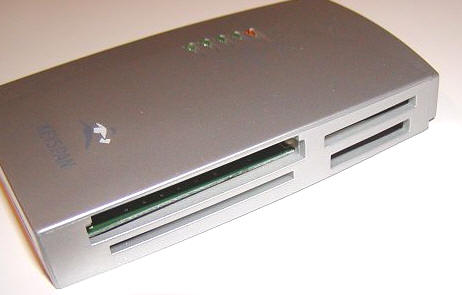 There are four slots on the front of the reader. The upper left is for Type I
& II Compact Flash cards, including the Microdrive™. The bottom slot is for
Smart Media cards. The upper right is for SD and MMC cards, and the lower right
is for Memory Stick cards.
A driver disk is included with the Keyspan reader, and you will need to use
it if you are running Windows 98, 98SE, or 2000 – without Service Pack 3.
Windows Me, 2000 (with the aforementioned Service Pack 3) and XP are "plug and
play." Likewise, if you are running Mac OS 8.6 to 9.x, you will need to install
the software. Mac OS 10.1.3 and greater do not require this step.
Those of you that are using Windows and don't need the drivers shouldn't be
too hasty to ditch the disk however, because it also includes ArcSoft Photo Base
software. If you don't already have a photo editor, you might want to give this
one a try.
Overall, I am incredibly impressed with this reader. I have it plugged into
my Keyspan Mini-Hub, which has
practically fused itself to the rear of my

Fujitsu Lifebook 2110 (or "mini-moi" as it is affectionately known). Because
of  the Keyspan's ability to read Compact Flash cards and the fact that my
Canon takes those, while my Olympus takes Smart Media – I will definitely be
toting this reader along when I take mini-moi and both my cameras on trips.
However, when I am home, the Keyspan 7-Way Media Reader has earned a permanent
spot on my desk – which is the highest accolade I can give any piece of gear.
Price: $49.00
Includes a 5-year warranty
Pros:
Portable and practical way to read all major memory card formats
Sturdy construction
Separate drives allowing for the viewing of multiple cards at one time
Cons:
None
"normal use" meaning that you don't use the Keyspan as
a bottle-opener or door stop. ;0)
Product Information
Price:
49.0
Manufacturer:
Keyspan
Pros:

Portable and practical way to read all major memory card formats
Sturdy construction
Separate drives allowing for the viewing of multiple cards at one time

Cons:

None
"normal use" meaning that you don't use the Keyspan as
a bottle-opener or door stop. ;0)