We use affiliate links. If you buy something through the links on this page, we may earn a commission at no cost to you. Learn more.
Product Requirements:
Device:
Windows PC 98, 2000, ME, XP or later
Judie's comments are in Black, Julie's are in
Blue and italicized
It seems like only yesterday that I got my first
Compaq iPAQ 3650. It was a gift from Julie, and it marked a milestone in my
PDA user experience. At the time, the 3650 was easily the most futuristic, most
expandable, and most exciting PDA available…and it quickly became my "daily
driver".
Actually, believe it or not, it's been about 2.5yrs
ago since the first iPAQ was introduced. I do remember it well as I plunked down
my hard earned cash for one of the first available units. It marked the
beginning of the Pocket PC drive towards smaller, thinner, sexier devices. I
know I loved it!  But it wasn't without it's deficiencies…
Granted, there were some areas that definitely could have used improvement. For
starters, there was a serious lack of storage. Since the iPAQ only came
with 16MB of Flash ROM and 32MB RAM, it was almost a given that even a
recreational user would need to add more memory. To do this, you had to purchase
an expansion sleeve that would accommodate whatever memory format you wanted to
use – as long as it was Compact Flash or PCMCIA. Eventually, sleeves came out with
dual PCMCIA and dual compact flash slots so that you could not only add
additional memory but even additional peripherals such as modems and GPS
modules. Obviously, these sleeves could add quite a bit of bulk to what was
normally a svelte device, but the added functionality made all of us loyal iPAQ
users giddy. To combat the sleeve-size issue, George Mosquera and
Whitney LuBean came
up with slimmed-down custom versions of the memory card sleeves, and many of us
jumped at the chance to own their handiwork.
iPAQ accessories were and continue to be the best
selling Pocket PC accessories on the market. People can't get enough of the
latest cases, sleeves, and iPAQ specific doodads. I have my share of those
products, including the original SilverSlider which I continue to use it with my
newer (even the 5455) models.
If the truth be told, many of us easily spent what a nicely appointed
laptop computer would have cost while outfitting our iPAQs. I, for one,
definitely let it get out of hand – but my argument was that I was prepared for
any scenario that could possibly come up when I was carrying my iPAQ (or,
"iPAQzilla" as my baby was called). With the right sleeve, I could listen to 5GB
worth of MP3s, put on a power-point presentation, or heck – even use my iPAQ as
a phone! This was pretty
heady stuff, never mind though that when I had these sleeves attached to my iPAQ
it became a virtual brick – weighing almost a pound – which by any
stretch of the imagination definitely took the "Pocket" out of Pocket PC!
Isn't that always the case? Accessorizing begets
hernia? Hey, that's what gear bags are for right? :o) A gadgeteer is always prepared.
Or at least that's what I always tell myself when I drag along a CF sleeve, a
Stowaway keyboard, Ethernet CF card, CF modem, leather case, various CF memory
cards filled with games, MP3s etc, Symbol WiFi CF card, etc, etc, etc…

Of course, there were times when I chose not to carry all the additional
bulk. I just wanted to take my "nekkid"  iPAQ along to consult my schedule,
contacts, read an eBook, or play a game. This was when it really hit me that the
32MB RAM was too limiting. Fortunately, Mack Baggette of
Times2Tech was offering
64MB memory upgrades. Of
course, once you have a taste of something good, it's never enough: you have to
have more. That's why when he came out with his
128MB memory upgrade I
jumped all over it. Being able to load MP3s, programs and eBooks on my iPAQ
without the additional bulk of a sleeve gave me even more reason to love my
PDA…but there was still something missing.
Yup, an actual memory card slot like everyone else
had…
The introduction of the 3800
series in Fall 2001 was a big deal for almost all iPAQ owners, myself included.
Not only did Compaq give their popular PDA a facelift – they remained true to
its loyal users by designing the 3800 so that it could still fit all of the
expansion sleeves that we had bought in legion. Compaq also scored points by
including 32MB of Flash ROM, 64MB RAM, and a handy new feature called the iPAQ
File Store that allowed you to use the extra ROM (6.59MBs worth) that the PPC OS
didn't use for storing programs and files. But of course, the best feature was
that Compaq had finally integrated a memory slot into the iPAQ's design. Granted
– it wasn't a Compact Flash slot like I would have liked, but an SD/MMC slot
which was, and still is, better than nothing.
At the time, SD memory cards were very expensive
when compared to CF cards of the same capacity. I for one was not happy that
Compaq went with SD cards for their new PDA model. But as before, the iPAQ
Pocket PC was always a little bit ahead of its time… Today SD cards, while
still more expensive than CF, are approaching the level of pricing that makes
them attainable to everyone.
Sometime during this last year I got disillusioned with my iPAQ, mainly because of
its size when various sleeves were added and also because I was ready for
something new. So, the love affair was put on hiatus…indefinitely.
I dabbled with other PDAs, both of the Palm and Pocket PC variety, looking
for one that would capture my heart like the iPAQ once had. Truth be told, I had
pretty much given up on the iPAQ. In fact, when the 3900 series came out I
didn't even buy one, even though I heard such positive hype about it's beautiful
screen – the iPAQ just didn't excite me any longer.
I felt the same way. The 3900 series was just a
small blip on my PDA lust meter.  It seemed as if Compaq had forgotten
their prime directive to go where no PDA had gone before. Yes, there was the new
transflective display, and yes there was a version with built-in Bluetooth. 
While both of those features were somewhat enticing, they were not exciting
enough for me to actually buy one.
Now here we are a year later, and once again the iPAQ has gone through
another metamorphosis. The Compaq marquee has given way to that of
Hewlett-Packard, and the model number has
jumped substantially. We are no longer in the 3000 series, we have entered the
era of the

5400 series. Even though it has gone through yet another facelift, this iPAQ
is still able to fit the expansion sleeves that date back to the earliest
models. Memory has been improved (in some ways), yet again: There is now 48MB of
Flash ROM which allows for an incredible 21.71MB of free space in the
iPAQ File Store utility, but RAM has stayed the same with 64MB. The 5400 also
offers expanded functionality with the addition of not only Bluetooth (first
introduced in the 3870) but also built-in WiFi, allowing all of us that have
access to 802.11b networks to hook right up without the bulk of a sleeve. There
is built-in biometric security allowing us to keep our information protected – yet
quickly accessible with just the swipe of a finger. To top things off, there is
a removable battery allowing a user to hot-swap batteries without losing data
when the charge gets low. Finally, an iPAQ that could once again capture
my imagination. It was offering all of the above in a package that was basically
the same size and form factor as my original iPAQ back in the day. Amazing!
Impulsively, I ordered one and in the back of my mind I was hopeful. I wanted
to fall in love with an iPAQ again, and it sounded like the 5400 might actually
be worthy of my affection. I placed an order with
Mobile Planet, as they were the only
company that could give a "soon-enough" date for delivery. Not caring whether I
wound up with a 5450 or 5455 (essentially the same model – the 5455 just
includes a trial edition of
PeaceMaker Pro), I placed the order and settled in for the wait.
The 5400 seemed like feature overload. It was the
Swiss Army knife of PDAs! But with all of those incredible features, came an
equally incredible price tag! $700 for a PDA?! That's totally insane! Of course,
I had to have one too and ordered one about 12hrs after Judie did! Ha!
A few days later FedEx rang my doorbell.
I had to wait a couple days longer…
Excitement was rampant when I took it the iPAQ 5455 of the box. While I don't
have any set ritual when I receive a new PDA like Julie does, there is a certain
feeling I get that only comes when I am looking at a new PDA with a style
and feature list that catches my imagination and believe me, the 5455 that I
received easily achieved that.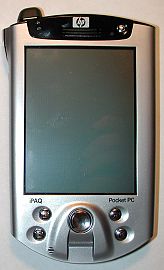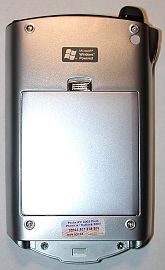 Yes, I'll admit that I'm a freak… I will not
'play' with a new PDA until its batteries have been fully charged in its cradle.
If it powers on as soon as I plug it in, I quickly turn it off and wait in
anticipation as its charger LED blinks at me. It's a luck thing. Just like a
baseball player might not wash his socks before a game for fear that it might
somehow change the outcome of the game… I feel like it's bad luck to use a PDA
before it is ready. Unfortunately, I think I may need to change my ritual as it
did not work out for me on this occasion <pout>
In all honesty, I was so ready to love this PDA that I was all set to make it
my "daily driver" even as I was charging it for the first time – before having
actually used it. I was already switching all of my programs and files over to
it as it sat in the cradle charging – in fact, I resurrected the "iPAQzilla" name
and assigned it to the 5455. Heck, I had just dropped $700 and change on
this new iPAQ, and I was expecting it to live up to the hype! I pulled out my
long idle Silver Slider 5 and put a new plastic swing cover on it – since my old
one had scratches and cracks from age. I inserted a custom stylus in the silo, and I
waited for my newly dubbed iPAQzilla to charge – eager to start using it.
Since I hadn't used an iPAQ in awhile, I searched
through my drawers looking for leather cases that might work with this new
version. I also pulled out all the sleeves and accessories that I would need to
carry with me in my gear bag as I made the 5400 my main PDA (at least through
the 2 week review period).
What we will recount here has happened in the last couple weeks and consists
of our own
personal experiences. Although Julie's and my experiences with our 5455s may have been slightly different
from each others, I suspect that every person that has bought a 5400 in the last month
will recognize different things that have happened to us, both good and bad.
Has the 5400 lived up to our expectations? Do we love the convenience of WiFi
and Bluetooth without an additional sleeve?  Are we loving the convenience of
keeping our data secure through the use of biometrics? Read on…
Let's start as always with the hardware specs…
Hardware Specifications
Operating System: Microsoft Pocket PC 2002
Processor: 400MHz Intel XScale
Memory: 64 MB RAM, 48 MB ROM
Display Type: 16 bit, 64K color, 240 x 320, .24mm Dot Pitch, 3.8" diagonal / 96mm, Transflective TFT liquid crystal display
Expansion: SD Memory Slot (Supports SD/MMC, SDIO
type standard), Optional expansion packs
Wireless Connectivity: Built in Bluetooth (1.1 compliant) and 802.11b
Audio: 3.5mm Stereo Mini Jack
Security: Biometric fingerprint reader
Battery: lithium-polymer removable/rechargeable 1250 mAh
Dimensions: (H x W x D): 5.20 x 3.32 x 0.62 in (133 x 84.2 x 15.9 mm)
Weight: 7.26 oz (206 g)
Along with the iPAQ itself, in the box you will also find a removable 1250mAh
battery, an AC Adapter, a cradle that has the dual (serial and USB) connection
ports we first saw with the 3800 series, a slip on charging adapter (so that you
can use the charger without the cradle), a CD that includes Active-sync 3.5
(which is odd since you can download 3.6 from Microsoft's Pocket PC

site),
Outlook XP, additional software, and the iPAQ manual. There are also beaucoup
reading materials covering everything from the integrated WiFi to the integrated
Biometrics. I am not ashamed to say that I stopped and read the pamphlets. I
wanted to make sure I got everything set up correctly.
I hate reading manuals! And as a result, hadn't even
cracked them open until last night. I finally needed help with a WiFi and
Bluetooth problem. Unfortunately, the manuals didn't help… More on that later.
Hey – I hate reading manuals too! It's almost a point of pride that I seldom
do…but biometrics is too new for me to be able to "fake it 'til I make it."
Style-wise, there's no question that the 5400 is
an iPAQ. Of course, the logo silk-screened on the front is now an HP instead of
Compaq…
Yes, this took me a little while to get used to.
This new unit retains the same body shape as the
original model which as mentioned above, allows it to be compatible with all
expansion sleeves that have been released thus far.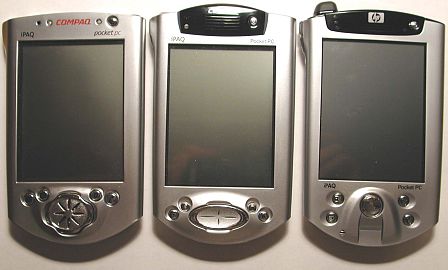 [Left to right: 3600, 3800 and 5400]
So it would appear that HP is honoring the promise Compaq made last year (I
believe) that they would keep the form factor of the iPAQs as such so that the
sleeves could be used for the next 5 years…or was it generations. I honestly
can't remember…but hey – at least they are honoring it! :0)
The silver finish appears to be identical in look
and feel to my 3800. Actually, there are really only three main major visible
differences between the 5400 and 38/3900 models. The antenna nub at the top, the
D-pad / biometric scanner, and the removable battery on the backside.
Although the 5400 is very similar to the 38/3900,
those of you that are upgrading from these older iPAQs, will not be happy to
find out that your PDA case is probably no longer compatible with your new iPAQ.
Well, unless you were using a slip-cover case like the
Avoglio, that is…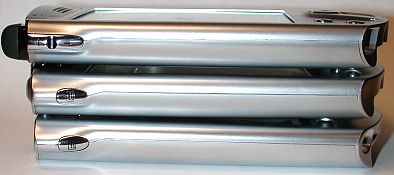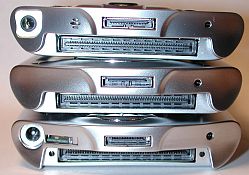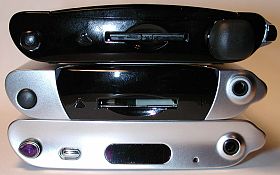 [Top to bottom: 5400, 3800, 3600]
Besides the obvious addition of the antenna nub,
there's the new hardware button arrangement to deal with. Luckily, the 5400
comes with the same plastic sleeve / screen cover case that the 38/3900 comes
with. At least it will tide you over until your favorite case manufacturer
releases a 5400 series specific case.
Just remember that the included cover-paq will not protect your PDA from
falls. It also leaves the black plastic "hump" at the top of the iPAQ exposed. I
found out with my 3850 that this plastic is easily scratched…which brings me
to the fact that the cover-paq itself left a nice set of light scratches or
"grooves" on either
side of my iPAQ in the first couple days I had it. If you decide to use yours,
might I suggest that you rub its inner edges with a fine-grit sandpaper first –
just to make sure that your iPAQ doesn't get abused.
The 5455 is very solid. It's actually a little
heavier (0.7 oz) than the 3800. It feels good in my hand and has absolutely no
creaking or cracking when you squeeze the sides. Shaking it yields just a very
slight rattling of the stylus in the silo.
The weight of the 5455 does not bother me in the least. Since it feels long
and thin without a sleeve, it appeals to me that it has a bit of heft to it.
At the top of the unit you have the black 'hat' that
houses the WiFi antenna, IR port, SD slot, stylus silo, speaker grill, and
status LEDs and power button. Wow, there's a lot going on up there! The antenna
is a short stub that sticks out of the top of the PDA by about 3/8th of an inch.
Just enough to make all your slipper style cases incompatible. We'll go into
greater detail about WiFi, Bluetooth, and the IR port features later.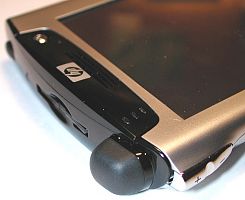 The antenna will be the first thing that people notice when you pull your new
iPAQ out. I have had a couple people ask me if it was a phone…which makes me
wonder if that might be next.
The 5400 stylus is amazingly enough, exactly the
same was the 38/3900 versions! Yay!
This is good news for those of us that like to use an after-market stylus.
:0)
The speaker volume loudness on the 5455 as compared to the 3800
is not as loud. I was very surprised when listening to the same MP3 song on both
unit side by side, that the 3800 sounded quite a bit better. Clearer and
definitely much louder. That doesn't mean that the 5455 is quiet, it just isn't
as loud. It is still loud enough (for at least me), to be used as an alarm
clock, or to alert me to a meeting even when I'm in the next room (in a quiet
environment).
Listening to MP3s through any PDA's speaker is never high on my list of
priorities – simply because music never sounds that great when you do it that
way. Of course, there are some PDAs that make the experience more enjoyable than
others. In the case of the 5455, there are a couple features that make it better
than some. First of all, there is the iPAQ Audio application that allows you to
adjust the Bass and Amp settings.
Then there is the way that you can adjust the media players volume with the
up/down rocker on the side of the iPAQ. While I will warn you now that there
will be a short rant directed at the rocker a little bit later in this review –
the rocker is handy when you want to adjust the volume setting while listening
to MP3s. Of course, the same thing can be accomplished by tapping the on-screen
volume slider or by assigning buttons under tools/settings/buttons.
With all of that said, the sound produced by the iPAQ's little speaker
is adequate for most personal listening in an environment that isn't too noisy.
For those times when you do not want your alarms to
disturb others, the 5455 also has a vibrate feature.
I would be interested in knowing how many people actually use this feature…
The 5400 sure has its share of status LEDs! Below
the power button is the alarm / charger LED. For alarms, it blinks green. While
charging it blinks amber, and when fully charged glows a steady amber. On the
left side is the WiFi status LED which flashes green while connected and amber
when not connected by powered on. Below it is the Bluetooth status LED. It
blinks blue while connected and glows a steady blue when powered on but not
connected.
Also located on the front of the PDA are the four
hardware application buttons, Dpad and fingerprint scanner. The voice recorder
button still exists on the top left edge of the unit. But, it's morphed into a
rocker style button that when pressed in, activates the recorder, and rocked up
and down, changes the volume level. All of these buttons have great tactile
feedback. You definitely know when you've pressed one correctly. Well, all
except the Dpad (directional pad, joypad, navigation pad, or whatever you like
to call it).
The joypad (ironically named, if anything ever was) is probably one of the
biggest disappointments that I had, hardware-wise, with the 5455. I am not a big
gamer, so the fact that it is only a 5-way (up/down/right/left/in) was not
upsetting to me. My problem stems from the fact that the joypad, at least on
my 5455, is hard and unresponsive. Reading eBooks would be so
much better if this thing would loosen up! I have read 3 or 4 Peanut novels in
the weeks since I received my iPAQ, and I keep expecting the joypad to get with
the program. Unfortunately, it hasn't happened yet, and it can take 2 or 3
clicks before a page will turn like it is supposed to.
You have absolutely no argument from me. I also hate
the Dpad! I actually thought mine was broken as I could never get it to page
down. I finally realized that I had to really be forceful with it to get it to
work. If I have to press buttons twice to see a result, it pretty much irritates
the crap out of me. I don't have much patience with problems like these when
I've paid $700 for a device. It really had me wishing for the original iPAQ Dpad…
or even the 38/3900 style pad which I never really liked all that well!
I wonder if that is something that could be fixed with a patch? I ask that
because we went through something similar with an earlier iPAQ, and a software
patch took care of the problem. I hope it's that simple to fix…
In any case, the substandard joypad  has me longing for the responsive pad on my Tungsten | T, which is not a
good feeling when you just dropped this kind of money on anything…which brings
me to my rocker rant.
<rant>Why, why, why did HP not make it possible to map the up/down
rocker
button to anything other than volume? If they were going to make such a lame
joypad, then at the very least they could have given us a map-able rocker
button! I
would be more than happy to use the rocker for flipping eBook pages or going
between applications, had that option been available to me! But nooooo….</rant>
I didn't even realize that the rocker could adjust
the volume until just the other day. I happened to be testing the rocker while I
had an MP3 playing thru headphones (that were not on my head at the time). I
pressed the rocker up and down and didn't see any results on the media player
volume selector. You can press the rocker as much as you want, but it will never
change the selector. Even when you exit out and come back in to Media Player…
It changes the volume level, just not the visible indicator for it.
That seems like a software oversight to me.
Directly below the Dpad is a thin 'bar'. This bar is
the fingerprint scanner that can be used instead or in addition to a regular
password for securing the data on your PDA.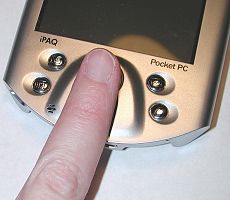 The finger swipe mechanism that conceals the biometrics was a little bit
surprising to me. Realize that my only prior experience with biometrics has
consisted of giving a full thumbprint on a black touch-screen at the DMV, while
getting my driver's license renewed. Therefore, the little sliver that you are
supposed to glide your finger across was a pleasant surprise. Starting at the
joypad, you just swipe your finger in a downward motion, which creates a really
nifty thermal imprint of your fingerprint.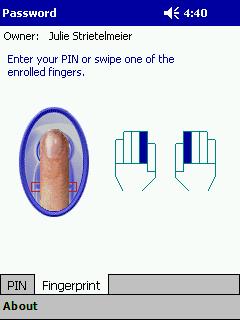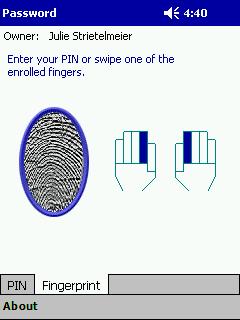 It actually reads the temperature differences
between the ridges of your print. As it does so, it displays your print on the
screen. There is a bit of training required before you can start using it. You
have the ability to 'enroll' all 10 of your fingers if you so desire. Training
the scanner to recognize your prints is easy enough. It prompts you to swipe
whichever finger you are training a number of times before it is enrolled. Once
you have your prints on file, you can start using the reader. It's very cool…
when it works, and was a big hit at my day job. Everyone wanted to see it in
action. I set things up so that I was prompted for a print or a PIN # every time
I powered on the PDA.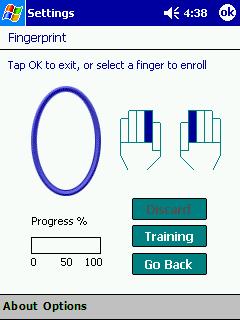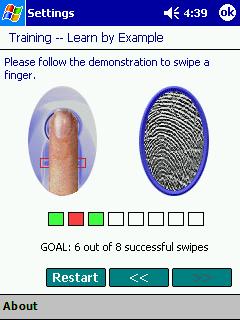 I did mine the same way, because even though the biometrics seemed to be
working perfectly, the idea that if I entered an improper swipe 7 times (the
number I set it for) would cause my iPAQ to hard rest just scared me. I liked the
idea of having the four digit PIN# for a backup.
At first it worked fine for me… even when my hands
were cold. But then, time after time it would fail or require me to try 2, 3,
even 4 times to get it to fully read my print and recognize a match. As a result
I got impatient and would often ended up tapping in my PIN number instead of
using the scanner.
The same thing happened to me – but I noticed it even more after I switched
from using a simple four digit PIN to the better encrypted, nine digit long,
complicated, upper/lower case with numeric and punctuation password that I
decided to try out.
I've come to the conclusion that at least for
myself, that a fingerprint scanner is a feature I could care less about. It's
nifty, but I don't need it. I'd MUCH rather have a better Dpad any day!
Ditto!
The screen on the 5455 is truly remarkable. It is beautiful, bright,
and with the exception of the single dead pixel in the middle of my screen, very
clear. I do not have any dust whatsoever in my screen. For those of you that
have been with iPAQ from the beginning, I know you will appreciate that.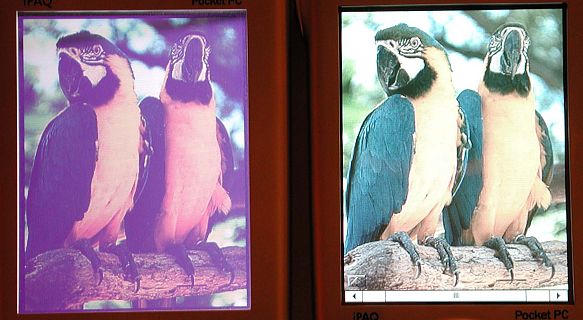 [Left to right: 3800 iPAQ on full bright, 5455 iPAQ full bright]
I agree! It's gorgeous and big (3.8 diagonal)!
Definitely the best color PDA screen available to date! My screen is free of
dead pixels and dust… I'm not sure how it compares to the 3900, but it makes
the 3800 look very dim and anemic. I usually run my Pocket PCs on the full bore
brightness setting. With the 5455, I run it on half bright, and it's still quite
a bit brighter than my 3800 at full bright! The colors are vivid, making the
screen very comfortable to view for long periods of time.
There is just one thing missing, in regards to the beautiful screen:
higher resolution. I am the first to admit that I was spoiled by the 320×480
resolution on my CLIÉ, and the 320×320 on my Tungsten | T is nothing to sneeze
at either. I think that it is about time that Pocket PC offered 320×420.
Instead, it offers 320×240, which is in a word: Pitiful! Pocket PC – we
deserve better by now!
I can live with 320 x 240… What I want is a rotate
option! Why can't we rotate the screen when we want too? It would make some
applications so much nicer… for example Pocket Excel, Pocket IE, Pocket
Word…. heck, practically every application could benefit from this feature!
Yes, I agree – rotation would be great…hey, how about better resolution
coupled with rotation? That would be a dream come true!
The bottom of the 5455 is pretty much the same as
the earlier iPAQs except that the microphone and earphone connector is now
located in that area.
Is this a hint that the next version might be a phone? I just had to throw
that in there, since we have been asking that with every version's revisions
since the 3600. ;0)
The back of the PDA now has a removable battery
pack. This is a great new addition as you can buy a spare battery and / or a
higher capacity pack.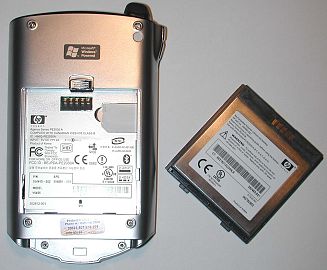 One of the immediately obvious benefits of getting this particular iPAQ is
knowing that you can switch out the included battery when it gets low with a
battery of either the same or a larger charge. You can replace your low battery
with either another standard 1240 mAh

Slim battery or a whopping 2480 mAh

Extended battery. Both easily snap onto the rear of the iPAQ to extend
battery life.
I did a test to see what kind of battery life I could expect when playing
MP3s (backlight off). As you can see, I got almost 6 hours, which is
respectable.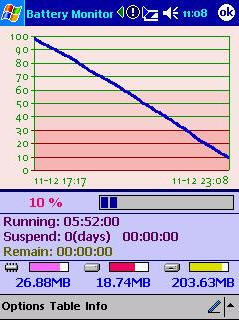 Wireless is another story of course. Both Julie and I got just under 2 hours
using WiFi constantly. You would definitely need the extended battery if
constant WiFi access was important to you.
The cradle is very similar to the one that came with the 3800 series. Of
course, there is a HP logo in its center which is a major change, but otherwise,
the styling is similar. You can still detach the power cord from the cradle and
use the iPAQ with it's included power adapter on the go. You can also store up
to two styli in the holes on the front of the cradle.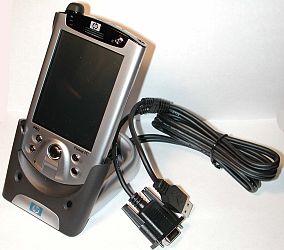 A new feature of the 5455 is the ability to charge
the PDA via USB. That means you can disconnect the power from the cradle and
still charge the batteries. The only gotcha is that it appears that the
batteries only charge when the PDA is turned off… at least that is the only
time that the charger LED flashes.
This iPAQ is the first Pocket PC to have both WiFi
and Bluetooth built in. This is great because you don't need any extra
peripherals to get these features. It's not great because it really drains your
battery quickly. Setup with WiFi wasn't that difficult, I was surfing the web
from my couch after a few minutes of configuring. Surfing isn't super fast, but
it's useable. It really depends on your internet connection. Judie and I did a
few tests to compare our speeds on our desktops and via WiFi. You can see the
results below.
 

iBIZ
review


Waterfield Bag review

Jabra
Headsets review
Direcway Satellite / Desktop PC
4 seconds
7 seconds
5 seconds
Direcway Satellite / WiFi iPAQ
50 seconds
78 seconds
37 seconds
Verizon DSL / Notebook PC
3 seconds
5 seconds
2 seconds
Verizon DSL / WiFi iPAQ
24 seconds
38 seconds
26 seconds
I tried to get ActiveSync to work with WiFi and had
no luck. I am able to initiate the sync on the Pocket PC, it pops up on my
desktop PC, but they never actually get connected. They just sit there trying to
connect forever. I'm not sure what is wrong, but I tried about everything I
could think of.
At least you got your desktop to try…mine just basically sat there and
laughed in my face. :0(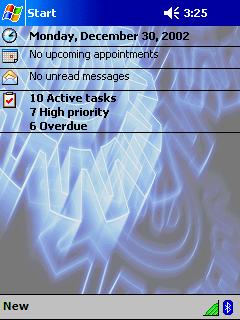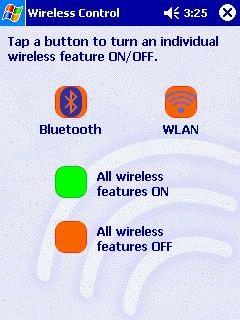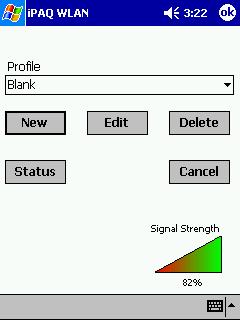 As for Bluetooth, I had even less luck getting it to
work. I have a Mitsumi USB Bluetooth adapter on my PC. It has allowed me to
hotsync just fine with my Tungsten T, but I can't get it to work with the 5455.
I can pair the devices and that's all… As a result, we were unable to test the
Bluetooth features. Neither Judie or myself have a Bluetooth mobile phone…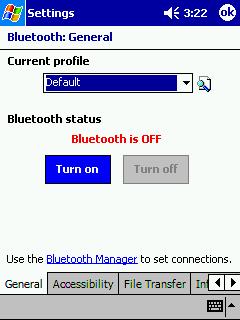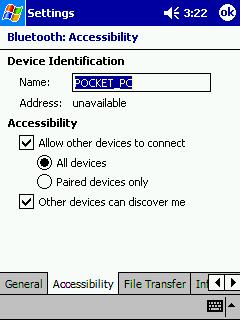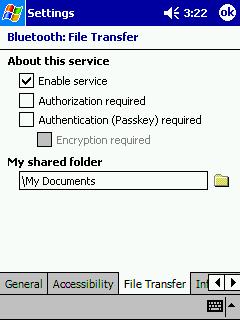 I did get my 5455 to recognize my Tungsten | T…but obviously I couldn't do
much else with the incompatible OSs.
What about overall system speed? Truthfully, the
5455 feels no faster to me than my 3800. You still get pausing between apps
loading, pausing between screen taps, etc. There's still that Pocket PC lag that
we all experience.
Exactly! We all bought into the hype that XScale devices were going to be
faster and better…but guess what? My Pocket PC Phone Edition seems to be just
as fast opening applications as the 5455 is, and it is definitely not an XScale
device.
Let's face it, Pocket PCs still are not as snappy as
a Palm device. Yeah, it's apples and oranges, but it's true. The user experience
on my Tungsten T is that I have no lags between regular operations. It always
feels to be running at the same speed. On a Pocket PC, it can be snappy one
minute and then dog slow the next…
Nowhere is this more evident than opening up a new book in
PalmReader. On my Palm, it is
instantaneous, but even on my 5455 I still have to look at a formatting bar…<sigh>
On to the software….
Software Specifications:
Software Included in ROM:
Pocket Outlook – This is your PIM (Personal Information Manager) Suite of
applications. You get Contacts, Calendar, Tasks, Notes, and Inbox. All of these
applications will sync directly to Outlook on your desktop PC. Inbox can
now sync multiple folders!
Pocket Internet Explorer – Web browser.
Pocket Word – View and edit Word documents.
Pocket Excel – View and edit Excel documents.
Microsoft Reader 2.0 for Pocket PC – Read electronic books.
Windows Media Player 8 for Pocket PC – Listen to digital music and watch movies.
MSN Messenger – Instant Messaging client just like the one on your desktop.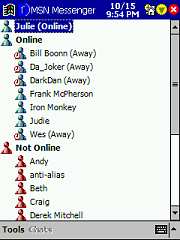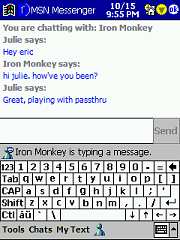 Microsoft Transcriber – Handwriting recognition input method. This is now part
of the ROM instead of an optional installation.
Block Recognizer – Graffiti clone input method. If you have a Palm OS PDA and
know Graffiti, then you'll be right at home with this input method.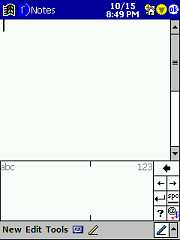 Terminal Services Client – With the terminal services client a Pocket PC user
can access Windows Terminal Servers and run Windows applications. It only works
with Windows Terminal Servers, which run on NT 4 servers and Windows 2000. It
does not work with 95, 98, or ME.
Spellchecker – Available for use in Word, and Inbox. Unfortunately, it's not
available in the Notes application.
Voice Recorder, Calculator, Solitaire
iPAQ File Store – Similar to the HP 565's Safe Store, the iPAQ File Store
gives you a 21.71MB of nonvolatile ROM space where you can store files or
applications. The benefit of this block of memory is that even after a hard
reset, the programs and files will still be stored in this area and will be
ready to use. File Store basically shows up as an extra drive.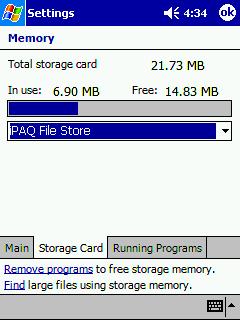 Backlight Adjuster – 32 different incremental variations, from off to
super-duper bright!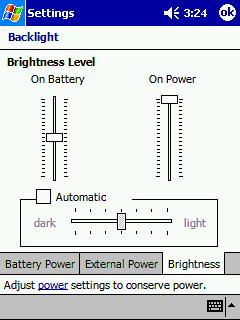 iTask – Cool little Launcher application that is associated with the bottom
right hotkey, it allows you to switch between open applications. You can also
close applications and access frequently needed features such as the brightness
controls and other settings.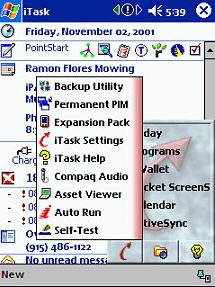 Self-Test – Rudimentary system test application for sound, screen,
reading/writing of files, Infrared, LED, ROM checksum, and key press.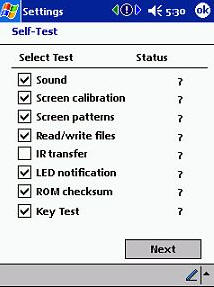 Power Setting – Same as previous version, but now there is an actual
percentage showing, in addition to the bar graph. In addition to the main
battery, the status of the internal backup battery is shown.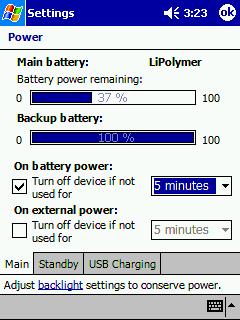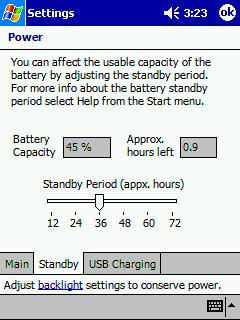 Backup Utility – This utility will allow you to backup, or restore from
backup, all the data in the file system to a storage card or the iPAQ file store
area. You can choose which files to backup, and you can choose where to store
them.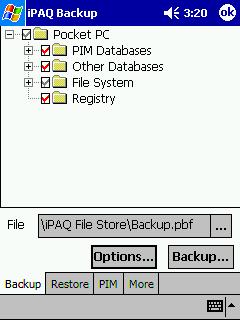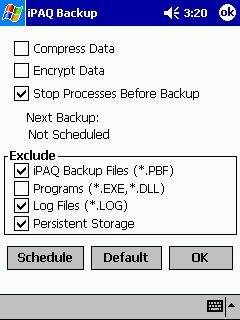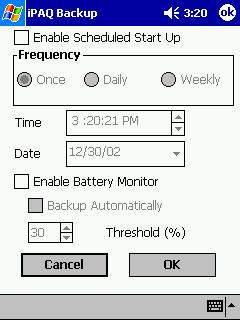 iPAQ Image Viewer – Image viewer, slideshow program.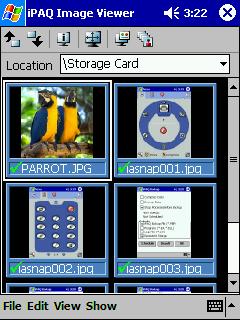 Nevo – A nifty remote control program that you can train to work with just
about any audio/visual component out there. If you can't make it work with the
given codes, don't sweat it – you can train it directly from the soon to be
obsolete remote control. It works great and I was able to control my TV from up
to 15ft away.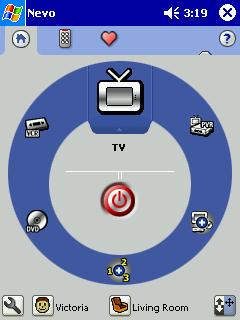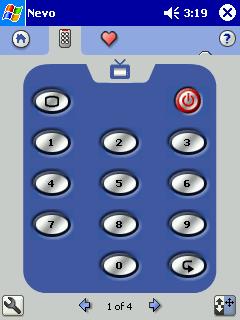 Optional Software to install (included on disk):
Outlook 2000 – Desktop PIM.
ActiveSync 3.5 (note: There is a newer version available online) – Syncing
software.
Microsoft Money for the Pocket PC – Keep your financial accounts organized
and synced with the desktop version.
Macromedia® Flash™ Player – You can enjoy Macromedia Flash animations,
cartoons, and even games right from your PDA.
There are also quite a few trial versions of software like the following:
Avaya™ IP Softphone for Pocket PC (demo) – Use your WiFi network to access
your phone and all its features.
Running Voice IP (demo) – Voice-over-IP (VoIP) application that enables
real-time voice communication between computers using an active Internet
connection.
VTGO (demo) – Another IP phone application.
…and more!
So, Judie and I spent $700 of our own money to buy
the latest and greatest Pocket PC.  Are we happy with our purchases?
Ummmmmmm, let me think…………………. NO!
Definitely not! :0(
Ok, that might sound a little harsh, but that's the
way I personally feel at the moment. I was all set to hop from my Tungsten T to
the 5455, but that won't be happening now for a variety of reasons. These are my
reasons, Judie's may or may not be different. With that in mind, I
will just comment and add to Julie's:
1. I don't need Bluetooth. I don't need
it, either. One of these days, Sprint PCS
will offer a Bluetooth phone – when that happens, my attitude will most likely
change.
2. I don't care that much about WiFi on my Pocket PC. If I want to surf while
sitting in front of the TV, I'll just use my Fuji notebook. It has a much bigger
screen and a full keyboard. I like having the WiFi, and I think it is
a nifty feature if you work somewhere that has access points or if you have an
access point in your home. The battery drain is serious when using WiFi – but if
you need it, it's great to have it without needing an additional sleeve..

3. I really don't need fingerprint scanning security on my PDA. I
think every one needs to protect their data. Even if you aren't keeping state
secrets on there, and being able to swipe a finger is an ideal way to keep your
data locked up. I just wish my scanner would work even 75% of the time! Whether
it's because my hands are too cold, or because the software on my 5455 is buggy
– it just doesn't work reliably enough for me to use the scanner regularly.
Bummer.
4. The 5455 isn't any faster than the 3800 that I already have.
Ditto!
5. The Dpad sucks! Definite Ditto…and since you can't remap the
toggle button, the joypad is as good as it gets for navigation!
6. It's $700, which is almost half the price I paid for my Fuji notebook.
This is the worst thing of all! By the time I add a case, any sleeves,
peripherals, or any other upgrades to this thing –  it will be on
the far side of $1000. Jeez – I mean, I think it is time to stop the madness!
Has inflation gotten so out of hand that we are willing to accept this? Is our
economy so great that this is just a drop in the bucket to most PDA users? Okay,
maybe I wouldn't be so upset if everything worked as advertised…but at least
on my 5455, it doesn't. I am out $700 and I am bummed about it!
One last thing I would like to mention is that twice (in 2 weeks), my WiFi has
stopped working for no reason at all. I have tried resetting, removing the
battery, everything I could think of – and then finally broken down and done a
hard reset. The confusing thing is that it is not the fault of
aftermarket software that I had installed. How do I know this? Because I stopped
and did a full backup each time it quit working, then I did the hard reset, and
then I did a full restore from the saved backup – and both times the WiFi
worked perfectly afterwards! This is simply frustrating.
I've not had this happen to me. WiFi has pretty much
worked flawlessly (although a bit slow for my liking) for me.
Julie also forgot to mention how she found her iPAQ dead on the 21st of this
month. Quoting her diary
entry:  "My 5455 was DEAD this morning! I woke up,
tried to turn it on and wasn't successful. I pressed the reset button and still
nothing. So I thought maybe the battery had died during the night, so I put it
in the charger. The charge light would not come on. I tried pluging the AC in
directly thru the small adapter dongle thing, nothing happened. I took the
battery off the back, put it back on, nothing. Finally I tried a hard reset per
Judie's suggestion. This time when I pressed the reset switch, I saw the screen
flash for a split second before turning black again. I placed it in the cradle
and the screen came on and it started syncing and charging."
I think the best features of the 5455 are the
display, replaceable battery and the large file store.
I agree. And to that, I would have to add the availability of a large amount
of aftermarket peripherals that are specific to the iPAQ line.
But at the moment I can't justify the purchase
on those features alone. I'm actually going to
post mine on eBay right after
this review is posted.
I am going to keep mine, mainly so I can do accessory reviews with it. I am
also holding out hope that after I send it in to HP, they will fix my dead
pixel, release a software patch that fixes my main problems, and then perhaps I
will be able to enjoy my iPAQzilla again…until then, I suppose I will go back
to my Tungsten| T.
That's what I've done. The T|T is back on top for
me. At least for now…
Price: $699.99
Includes one year basic warranty

Pros:

Built-in WiFi
Built-in Bluetooth
Awesome display!
Larger file store than previous models
Cons:

Fingerprint scanner is finicky
Memory errors when trying to turn on Bluetooth and /or WiFi
Not significantly faster than previous model
 
Product Information
Price:
699.99
Manufacturer:
Hewlett Packard
Pros:

Built-in WiFi
Built-in Bluetooth
Awesome display!
Larger file store than previous models

Cons:

Fingerprint scanner is finicky
Memory errors when trying to turn on Bluetooth and /or WiFi
Not significantly faster than previous model