We use affiliate links. If you buy something through the links on this page, we may earn a commission at no cost to you. Learn more.
Name: Matthew Miller
Location: Puyallup, Washington
I was in the U.S. Coast Guard for 7 years when I started working at the Marine Safety Center in Washington, D.C. as a salvage engineer tasked with responding to maritime casualties. (I have my degrees in Naval Architecture from the U.S. Coast Guard Academy and Berkeley.) I found that it was critical to have my contact information on hand when flying on scene to a casualty and also a way to take notes and ensure they wouldn't get lost or wet. I then discovered the U.S. Robotics Pilot 1000 and U.S. Robotics sent a couple to me to use on the Salvage Team. Thus began my adventure into the world of handheld computers.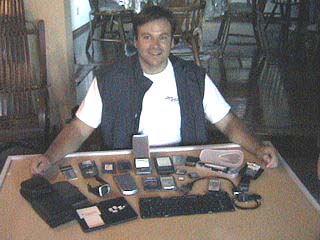 I then bought myself a Palm III and kept it for about 6 months before upgrading to a Palm IIIx. I added an axxpac Smart Media expansion slot to the IIIx and made it another year and a half before moving to a Palm IIIc for a short while. I then left the Coast Guard in early 2001 and moved home to Washington State where I found a job at a marine consulting company. My PDA needs changed and I found a serious deal on a HP Jornada 548 ($350 including a Stowaway keyboard). After my initial investment I was pretty much able to upgrade with very little additional cost because I always bought units that were about 4-6 months old and ebay is a great place to sell old handhelds. I was blown away by the things I could do with my 548, discussed below. I won an iPaq 3600 device from a PDABuzz photo contest, but after getting it and seeing all the dust under the screen and holding the slick, sexy looking device I sold it on ebay to buy accessories for my Jornada. I kept the 548 until October 2001 when I found another deal ($450 from Dell) on a Jornada 567. I loved the speed increase, the removeable battery and the expansion options and my wife was kept happy because she inherited my 548. This was the first time that I ever was able to buy a newly released device and I was excited! I did make a short step back to the Palm OS world when I bought a Palm Vx (for $90) in January 2002 and kept it for about 3 days before selling it on ebay because it couldn't meet my new needs and expectations.
So what are these needs/desires I keep mentioning? Well, as I said I am a Naval Architect (ship designer) and I use my 548/568 for taking photos with my HP Pocket Camera while on shipchecks. With the voice recorder I can attach a note so I can later tell what is in the photo since so many parts of a ships structure look the same and are repeated throughout the vessel. I use the Margi Presenter-to-Go card on the road to give presentations to clients. I take my Stowaway on the plane to write up reports of my trips and keep expense reports. I use Pocket Excel for engineering calculations and wish they would give me the ability to plot my values. I ride the bus to and from Seattle everyday for about 2.5 hours and read a ton of ebooks, read Mazingo and AvantGo sites (downloaded with my CF modem or Orinoco WiFi card), listen to MP3s, watch movies and TV shows stored on my 2GB Kingston PC drive, play games, check email and surf sites wirelessly with my Socket digital phone card and Kyocera cell phone, type emails using my Pocket Keyboard, track the bus driver's speed and route using my Pretec CompactGPS with Mapopolis maps stored on my 64MB MMC card, write and then store my engineering calculations using the InkLink device, review software, and give demos to fellow bus riders.
I feel I am technically gifted and pick up things quickly, although I do not have a formal background in computers or programming. I am our church geek and web master and am always asked by friends and family to help them out with their computer problems. I have encouraged quite a few people to purchase PDAs and I wanted to contribute back to the online PDA community while expressing my enthusiasm for these devices. I applied for and was selected as a
PDAGeek writer in August of 2001. I then applied for and was offered the job (no pay involved) as a reviewer for
Pocket PC Life. I started out doing software reviews, but have been able to get some accessories and am seeking hardware to review in the future. I pride myself on creating very detailed and unbiased reviews and love trying out new things. I was recently selected as a member of the Pocket PC Magazine Board of Experts to judge software for the 2002 Awards and was extremely excited to be involved and went crazy judging several categories. I am also pretty active on the PDA discussion forums and am known online as "palmsolo." I love palm sized PDAs, I am a huge Star Wars fan and Han Solo was my favorite character, thus palmsolo was born.
I stay very busy with my second life as a PDA freak while spending tons of time with my three young daughters (8, 6, and 3 years old) and my wonderful, supportive wife. I feel I am truly a well-rounded Gadgeteer and my dream would be to have a full time job in the PDA world where I could keep up with all the latest and greatest and let everyone know how a PDA can benefit them in their daily lives!