We use affiliate links. If you buy something through the links on this page, we may earn a commission at no cost to you. Learn more.
Product Requirements:
Device:
Sony CLIÉ NR 60 / 70
As most of you probably know by now, the Sony CLIÉ NR series comes ensconced
in a wonderful magnesium case. This might raise the question with some as to why
anyone might be interested in putting this PDA inside an additional metal layer.
For me, an obvious reason comes to mind: Protection. Protection from drops,
crushing, and scratches.
Of course, slapping an already generously sized CLIÉ into just any metal case
won't do. The case needs to be one that adds as little possible weight and bulk
to the PDA, and it needs to be a case that manages to look good while doing it.
The Proporta
Aluminum Case
easily accomplishes this and more.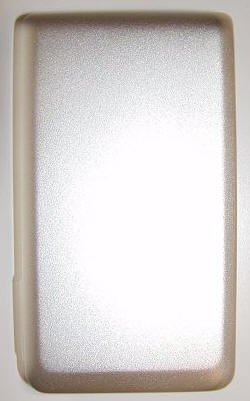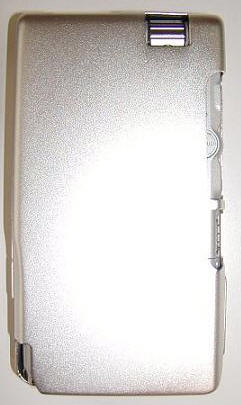 Fashioned in a slightly textured matte finish, the Proporta is devoid of any
insignias or other branding.
The case opens like a backwards book, with its lid lying on
the right side. The Proporta is lined in shock absorbing neoprene.

The CLIÉ is held in place by three aluminum clips that fit into the
corresponding holes on its back. These clips hold the CLIÉ securely, yet are
easy to engage or disengage your PDA from.
A minimum of cutouts are employed, maintaining the integrity of the case.
But, you can easily access the following: the memory stick slot, the Infrared
port, the stylus, the camera button, the lanyard strap attachment, the headphone
jack, jog-dial, back and hold buttons, and the sync/charge port.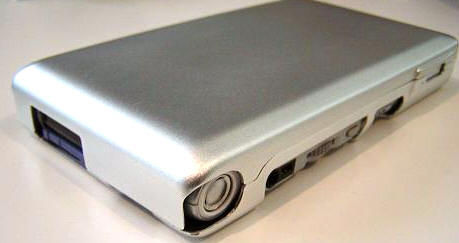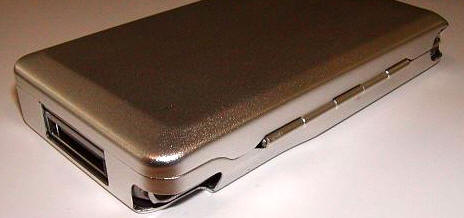 While you can not use its cradle to sync and charge the CLIE while it is in
the Proporta case, you can easily use a sync/charge cable, such as the
Innopocket version I
show here.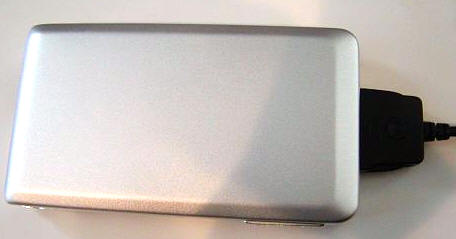 Granted, there is some weight and bulk added to the CLIÉ when it is in the
case, but it is surprisingly little. Judge for yourself…
| | | | | |
| --- | --- | --- | --- | --- |
|   | Weight | Height | Width | Thickness |
| Naked CLIÉ NR 70V | 7.2 ounces (206g) | 5.4" (13.6cm) | 2.9" (7.2cm) | 0.65" (1.6cm) |
| NR70V in Proporta Case | 10.1 ounces (287g) | 5.5" (13.9cm) | 3.1" (7.8cm) | 0.9" (2.3cm) |
One of the great things about the Proporta case is that you can either keep
your CLIÉ's screen either flipped up or flipped down in whichever method feels
more comfortable to you. Either way, when the case is closed your screen will be
protected.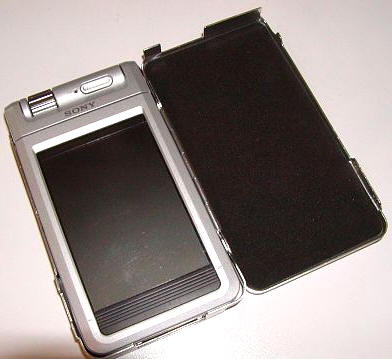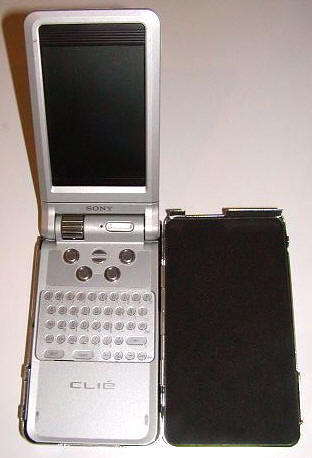 I have come to the conclusion that at least for me, Vaja is to leather cases
as Proporta is to metal. By that I mean that if you are looking for a
beautifully designed, sturdy metal case with the smallest possible form factor,
then there is no need to look any further.

This case is also available from the
Innopocket web store.
Price: $38.25

Pros:

Stylish, sturdy, and reasonably priced
Cons:

None
Product Information
| | |
| --- | --- |
| Price: | 38.25 |
| Manufacturer: | Proporta |
| Pros: | Stylish, sturdy, and reasonably priced |
| Cons: | |