We use affiliate links. If you buy something through the links on this page, we may earn a commission at no cost to you. Learn more.
Product Requirements:
Device:
AT&T SX56 Pocket PC Phone, O2/XDA Pocket PC Phone,
T-Mobile Pocket PC Phone, HP iPAQ 3800/3900 series, Palm m500 series, Sony CLIÉ
NR/NX/SJ20/SJ30/T series, Toshiba e310/e330/e740
One of the first things I do when I get a new PDA is look for accessories that
will make my mobile computing experience more convenient and personal. While a
new case is always the first item on my list, accessories like travel chargers
and new styli will run a close second.
My Pocket PC du jour is the T-Mobile Phone Edition (albeit the unbranded
version). I thought that I was fortunate to get the travel charger and cord with
the phone (instead of the regular cradle), but when I saw the
miniSync by
BoxWave, I suddenly realized that my
syncing and charging arrangements weren't nearly as convenient as I had thought.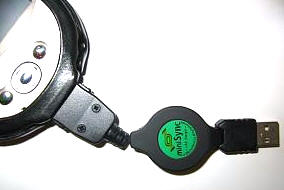 The miniSync is tiny! Weighing in at just 0.8 ounces (23g), it is only 4.75"
long and at it's widest, 1". Bear in mind that I have the Phone edition version.
So, depending on the connector that your particular PDA needs, the length and
weight of this gadget may vary slightly.
5" long might sound inadequate to some – especially if the USB ports on the
your computer are on the back-side. With that in mind, gaze on in wonder…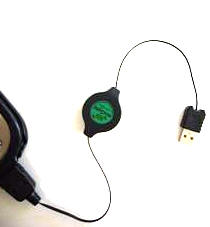 That's right! The miniSync will extend out a full 35". When you are ready,
you can pull both ends, which will cause the miniSync to retract back into
itself – sort of like a measuring tape will do. What this means for all of you
road warriors is no more tangled syncing and charging cords, no bulky cradle to
carry, and no extra weight…meaning you can pack even more "stuff."
This product has earned a permanent place in my gear bag…now I just need to
pick one up for my Tungsten | T!
 
Price: $24.95
If you have a PDA that is not listed and you would like to see a miniSync made
for it, then let BoxWave

know.

Pros:

Tiny form factor – incredibly portable
Cuts down on desk clutter caused by a PDA's cradle
Convenient
Cons:

None
Product Information
Price:
24.95
Manufacturer:
Adapture
Pros:

Tiny form factor - incredibly portable
Cuts down on desk clutter caused by a PDA's cradle
Convenient

Cons: