We use affiliate links. If you buy something through the links on this page, we may earn a commission at no cost to you. Learn more.
Product Requirements:
A person that carries many credit
cards and wants to keep them organized
It would be kind to say that my mom is not a very organized person. She keeps her credit cards loose in a pocket of her purse, amidst receipts and various denominations of bills. She'll have me order things for her on the internet, and when I ask her for her credit card number, it always takes her a while to find the one she wants to use. I can only imagine what it is like when she pulls a credit card out at a store, but this is not something I have witnessed firsthand.
This year, for Christmas, I am going to give her a Auto Card Manager, or ACM as it is called for short. The ACM is made of brushed aluminum, and appears to be well made and of very good quality. I suspect that with regular use, it should last for many years.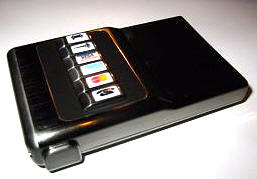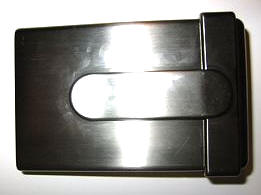 While this gadget probably won't appeal to someone that has never experienced the frustration of not being able to find their driver's license or phone card immediately; I think it will be a godsend to someone like my mom.
The ACM holds six 3.4″ (8.5cm) x  2.1″ (5.4cm) cards. This is the typical size of every credit card, driver's license, debit card, phone card, and plastic insurance card out there.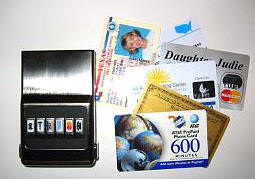 Little sliding buttons on the top of the ACM designate what card will be extracted when you engage them.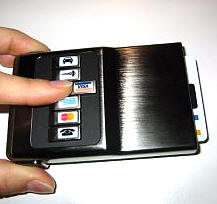 I did notice that the order of the sliders on the top of the ACM is not necessarily the order that you will need to load the cards, so a few adjustments may be necessary to make sure that your Visa doesn't pop out when you slide your phone card button.
A red instruction card comes with the ACM that includes extra rubber buttons so you can personalize the sliders to your specific needs. If you prefer not to have card designations spelling out what credit cards you are carrying, you can even use colored tabs instead.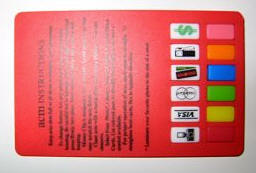 The back of the ACM has a removable money clip. This is also perfect for people like my mom that have loose bills or receipts floating in their pockets. If you prefer your ACM to be sleeker, you can also remove the clip.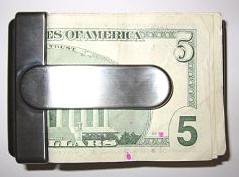 While the clip might possibly be usable on your belt, I wouldn't recommend it. Your cards would then be pointed to the ground, and it doesn't appear as if the clip was really designed to take being attached to a belt.
The ACM measures 4″ (10.3cm) tall x 2.6″ (6.6cm) wide x 1″ (2.6cm) thick with the money clip installed. It weighs 3.1 ounces (90g) with 6 cards installed.
Though some people might think it is a little bit large for pant's pockets, I think it will be perfect in a coat, briefcase, or the bottom of a purse. In fact, a secondary use for the money clip might be to slide onto an interior pocket of a purse or briefcase. There is also a vinyl pouch included, for those that prefer to store their ACM in one.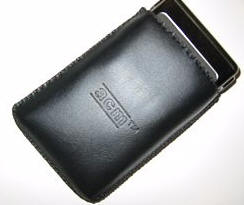 While the ACM is not an item that I would personally use, I can really appreciate its value for people like my mom. Hopefully, it will help her to stay a little bit more organized!
You can purchase the Auto Card Manager directly from their website, as well as from other retailers.
Price: $19.95

Pros:
Almost instant organization for those that need it Customizable buttons
Metal case that should last forever with proper care
Cons:
None
Product Information
Price:
19.95
Manufacturer:
ACM
Pros:

Almost instant organization for those that need it
Customizable buttons
Metal case that should last forever with proper care

Cons: