We use affiliate links. If you buy something through the links on this page, we may earn a commission at no cost to you. Learn more.
Device:
Available for
Palm, Handspring Visor, HP
Jornada, Compaq iPAQ, Sony CLIÉ, Casio, Sharp Zaurus, Toshiba, as well as the
Samsung, Kyocera and Visor PDA/phones and Newton handhelds
By now, every Gadgeteer reader knows that I am a firm believer in PDA screen
protection. If you have read some of my previous reviews on this subject, then
you also know that there are basically two types of protection available: the
type that sticks to your screen by the use of varying strengths of adhesive, and
the type protector that slides under the case edges bordering your PDA's screen.
It is inevitable that everybody that tries each type of protection will
decide upon a favorite style; mine happens to be the non-adhesive type.
NuShield is the latest company to
bring a non-adhesive style screen protector to the market. Similar to the
G2 protectors I reviewed last
year, they are made of a  tough, scratch-resistant material. Like the G2s,
you can expect the NuShields to last much longer than most of the softer
adhesive protectors that are available.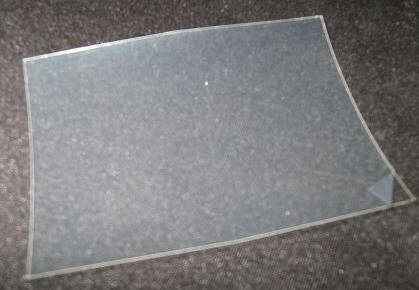 Unlike the G2, which is more of a rectangle shape, the NuShield is slightly
"bowed" out in the middle. As you probably noticed in the picture above, there
is a thin film that must be peeled off before you can use the NuShield. This
film covers the glossy writing surface of the protector. The other, "rougher"
side must be installed facing the PDA's screen.
For this review, I was sent protectors that were made to fit the iPAQ. A
sticker on the packaging also stated that the same protector would fit the CLIÉ.
While I had no trouble installing the NuShield on my iPAQ 3650, it was near
impossible to get it to fit properly on my CLIÉ NR70V. But when I tried it on my
CLIÉ N710C, it fit perfectly.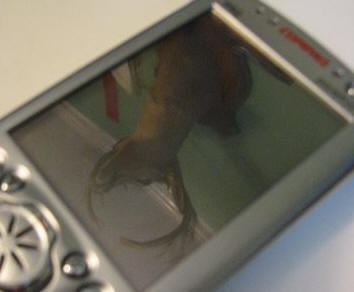 As you can see in this picture, the NuShield is very clear. It does not have
the milky appearance that I don't like (unlike some of the other screen
protectors I have reviewed). This protector also provides a smooth, glossy
writing surface for your stylus.
A common problem encountered while installing any screen protector involves
dust; specifically the dust that can become trapped on the PDA's screen under
the protector. To ensure that you start with a squeaky clean screen, NuShield
also offers Kleer Screen and Kleer Kloth combo packages.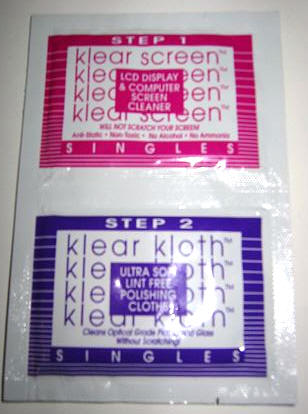 These are similar to other screen cleaners I have reviewed in the past (CompanionLink
and Tech Media), in that they are
a two step cleaning process involving a wet towel followed by a dry lint-free
one. I found that these products worked quite well, and did not leave any lint
on my screens.
If you are looking for a non-adhesive screen protector, then you might want
to give the NuShield a try. Be sure to get the screen cleaners while you are at
it.
Price: $14.99
Includes three NuShields, which should last for one year. Add three Klear Screen
and Klear Kloth combo packages for $1.99
Pros:

Economical
Does not show scratches under "normal" usage
Can be removed for cleaning, then reinstalled
Cons:

Must completely clean screen before application, or you will be able to see
trapped dust
Product Information
Price:
14.99
Manufacturer:
NuShield
Pros:

Economical
Does not show scratches under "normal" usage
Can be removed for cleaning, then reinstalled

Cons:

Must completely clean screen before application, or you will be able to see
trapped dust