We use affiliate links. If you buy something through the links on this page, we may earn a commission at no cost to you. Learn more.
Product Requirements:
Device:
Any touch screen device
The Troika Design ROY 4 Point Pen Stylus is yet another multi-pen stylus for
those of you still searching for your perfect PDA / paper writing instrument combo. Available from
StylusCentral and other online
retailers, this particular pen is all metal and is available in 4 colors: Green,
Red, Gold and Turquoise. The metal finish feels very smooth to the touch and has
a brilliant sheen.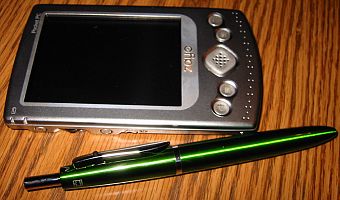 Size-wise, the Troika is 5.69in / 144.53mm in length and .523 in / 13.28mm in
diameter at its thickest part. The pen also has a nice weight of 1.1oz / 32g and
good balance. Even though the pen might be considered large, it is comfortable
to hold and write with either as a stylus or as a regular pen.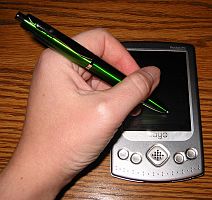 With 4 tips, this stylus / pen combo should have almost all bases covered
when it comes to standard writing and PDA use. Included are a white nylon stylus tip, a
black ballpoint pen tip, a red ballpoint pen tip and a .5mm pencil tip.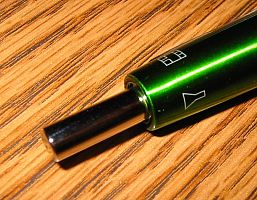 The tips are extended using the popular gravity method whereby you rotate the
pen until you see the desired tip's silk-screened icon on top. You then press
the plunger and the chosen tip will extend. To retract the tip, you press the small
black plastic button on the pocket clip. This method works well and I seldom
extended the wrong tip.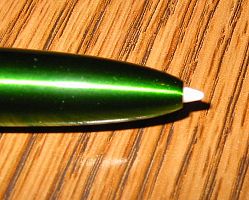 The stylus tip is a bright white, pointy tip that worked fine on every PDA
screen that I tried it on. I found both ballpoint pen tips to write smoothly
without skipping. The pencil tip also worked just fine. The only feature lacking
with this pen is an eraser under the plunger cap.
Although I liked this pen and used it for several days, there is one thing
about it that drove me nuts… it rattles… A LOT. It is worse when there no tips are
extended, but there is still a slight rattle even while a tip is in use. I know
I'm being picky, but it just makes the pen sound cheap even if it doesn't really
feel cheap. Other than that main gripe, this is a nice looking multi-pen that
will get the job done whether the job is with your PDA or on paper.
Price: $29.95
Pros:
4 tips
Eye catching
Cons:
No eraser
Rattles