We use affiliate links. If you buy something through the links on this page, we may earn a commission at no cost to you. Learn more.
A Razor Zayo Pocket PC evaluation unit arrived in my mailbox yesterday! This is the smallest Pocket PC to date! I'm falling in love with the size and metal case! Click on the thumbprint images below to see fullsize pics.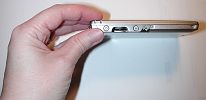 Review to follow soon. Hopefully a Julie and Judie dually.