We use affiliate links. If you buy something through the links on this page, we may earn a commission at no cost to you. Learn more.
Product Requirements:
Device:
Various PDAs and mobile phones
I really appreciate products that have been designed to be functional as well
as innovative. The power charging products that I'm about to review from
Seidio show true ingenuity.
As a Gadgeteer, I have quite a few Palm and Pocket PC PDAs. When I travel, I
always take at least one Pocket PC and one Palm device with me. I also have to
bring along the respective AC adapter and / or cradle for each one. This can
be a big pain in the rear as it makes packing light almost impossible. Not to
mention the tangle of wires that I always wind up with at the bottom of my
travel bag.
Case in point… On my last trip, I wanted to take both my Compaq iPAQ 3800 and
my Sony CLIÉ NR70V along with me. I wasn't concerned at all with syncing the
devices while I was on this trip, I was only concerned with the ability to keep
the batteries charged while I was away. The picture below shows the items I had
to pack for this task.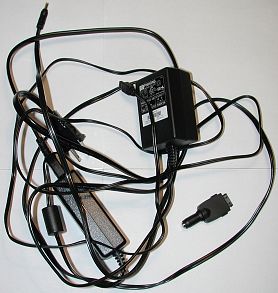 [Sony CLIÉ NR charger, iPAQ charger
and adapter]
But of course, there is always a better way to do things, and Seido is the
one with the perfect solution. Check out the picture below which shows the items
needed to keep both the iPAQ and CLIÉ charged. Wow, now that's what I call
efficiency.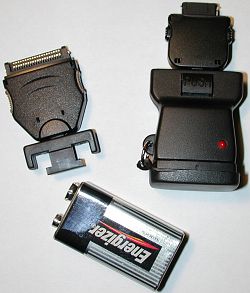 [Sony CLIÉ NR connector, Emergency
Power Charger module with the iPAQ 3800 connector, 9V battery]
The secret behind their charging products is with their Emergency Power Charger
module. It has an interchangeable connector that allows you to use the same
module with all of your PDAs and mobile phones (that they support). You can
remove one connector and snap in another when you need to charge a different PDA
or phone.
The module is made of light weight black plastic. The top has the port in
which the interchangeable connectors fit securely into. The bottom of the module
has an LED indicator and a covered 9 Volt battery connector. A plastic cover
for the 9 Volt connector is attached to the side of the module. I'm not really sure why this cover is
needed though, so if it gets in your way, you can just clip it off.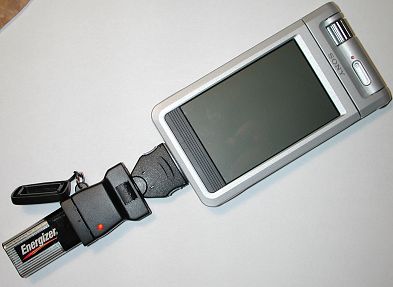 I tested the 9 Volt battery charging method with my 3800 series iPAQ. I let
the iPAQ battery run down to 0%. It wasn't quite dead as I could still turn the
unit on. I connected the Seidio charger to it at 9:10am and finished at 12 noon
at 80%. At that point the battery didn't have any juice left.
The cool thing about the 9 Volt connector is the fact that you can attach
other charging accessories (purchased separately) to this module besides just a
standard alkaline 9 Volt battery.
Airplane adapters, Car cigarette lighter adapters, and even a regular AC adapter are all available
through Seidio.
All of these accessories have the mating connector for the 9 Volt connector on
them, so you just snap them in place at the bottom of the Emergency charger
module, and away you go.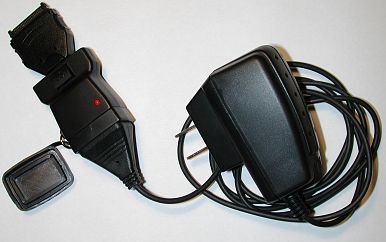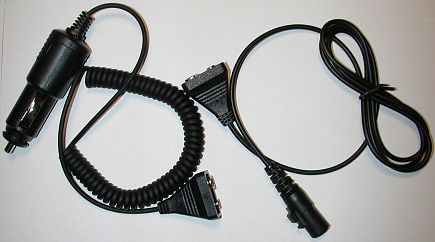 I ran the same test as above, but using the AC adapter cable instead of the 9
Volt battery. I started the test at 2:46pm finished at 9pm.
Not sure why it took such a long time, but afterwards, the battery was at 100%
charged.
What's great about the Seidio module is its small go-anywhere size. You can
throw it in a gear bag or purse and not notice a difference in weight or bulk.
And the fact that you can find 9V batteries at any gas station, airport or drug
store is a real plus. You'll never be without a power or charging source again
for your PDA or mobile phone. The Emergency Power Charger module has a permanent
place in my gear bag from now on!
 
Price: $19.95 Emergency Power Charger with one
connector ($10.95 separate connectors), Various kits with different charging
cables are also available.
 
Pros:
Versatile
Small
Charges devices with a standard 9V battery
Other charging cables (car, plane, AC) also available
Cons:
None
Product Information
Price:
19.95
Manufacturer:
Seidio
Pros:

Versatile
Small
Charges devices with a standard 9V battery
Other charging cables (car, plane, AC) also available

Cons: