We use affiliate links. If you buy something through the links on this page, we may earn a commission at no cost to you. Learn more.
Judie just turned me on to one of the coolest programs I've seen in awhile. It's called WeatherBug. It puts your local temperature in the Win XP taskbar.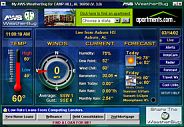 But, it also gives you all kinds of other weather info including humidity, wind direction, forcasts, radar images, etc. It's even skinnable. You must check this out!