We use affiliate links. If you buy something through the links on this page, we may earn a commission at no cost to you. Learn more.
Product Requirements:
Device:
Sony CLIÉ
T615C

Extreme Limit Body Suit for
CLIÉ T615C Horizontal Model
I remember complaining a few scant months ago about a lack of cases for the T-Series
CLIÉ models.
I no longer have anything to whine about…at least, T-Series case-wise…
Seems that every case manufacturer in the world was tooled up quickly for this PDA, and

Extreme Limit was no exception. This Japanese case manufacturer has become well known for their durable cases with the contrasting stitching. This was my first hands-on time with any of their products…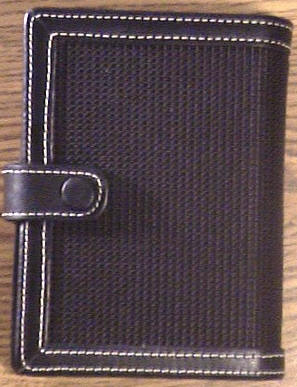 The Horizontal Body Suit is a pretty typical book-style case in general operation. The edges
are made of leather, with a broad-weave ballistic nylon inserts on the front and back. Inside, there
is a soft nylon lining with more of the leather. The case is very well made and there were no signs of fraying or tearing after my test drive.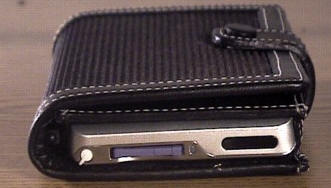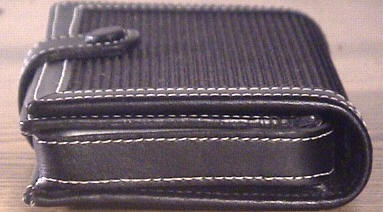 The CLIÉ is inserted through the top of the case. Here is where I was really impressed with
Extreme Limit. It has been my experience that cases either allow for easy insertion/and don't hold the PDA very well, or are a pain to get in (and especially out) but hold the device without worries.
Never miss one of our posts again. Sent MON, WED, and FRI with the latest gadget reviews and news!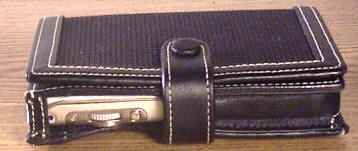 This case gives the best of both worlds.
Insertion of the CLIÉ is not hard, sliding in with minimal effort. Once in place, I could not make my handheld fall out of the case, yet a simple shove from the
Velcro strip (more on that later) got it right out of there.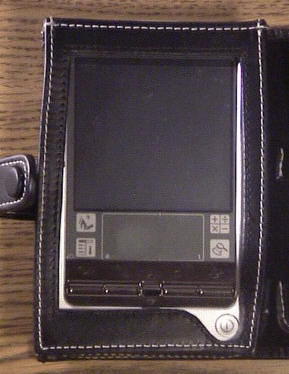 The buttons and screen are all open within the Body Suit, there are no straps to get in the way. An oblong cutout extends down to the power button, allowing excellent access and virtually no chance that it will be pressed accidentally.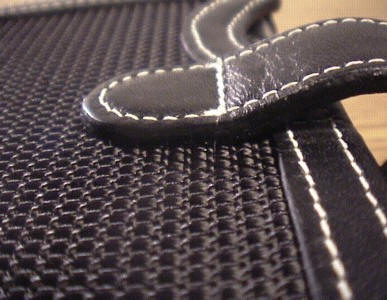 A simple strap with a snap holds the case closed, and that little thing is working overtime! I actually found it a little difficult to close the snap, as it is very, very tight. I emptied everything (stylus and cards) from the case with no difference. However, once it is closed, nothing will fall from the case or likely get inside of it.
Perhaps this situation will lessen over time, but in the week that I used this case there seemed to be no give on the part of this strap.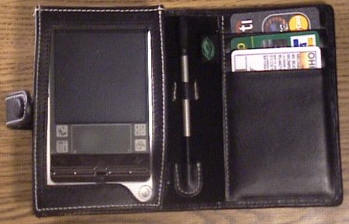 inside are accommodations for a stylus and three business/credit cards. I was a little disappointed that there was no provision for MS storage, but it was hardly as issue for me as I only own
one.
Memory Sticks can easily be inserted into the card slots if you happen to have more media than I.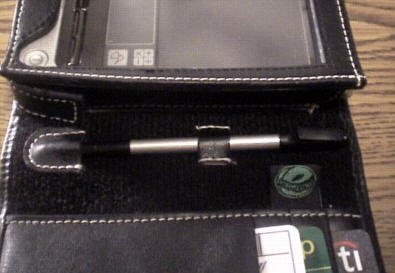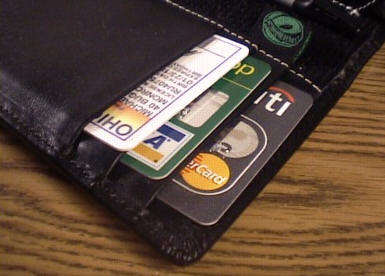 Initially, I was really excited bout the stylus holder. I doubt there are many folks out there swearing that the T615 stylus is the greatest ever created, and I do like my
Chameleon quite a bit. The Stylus is held with a strap at the top and a cup arrangement for the tip. This method was not good for holding my aftermarket stylus, as the tip continually came dislodged from the cup. I assume that the holder was designed with the stock
CLIÉ stylus in mind, but accessing it from within the case is not difficult at all.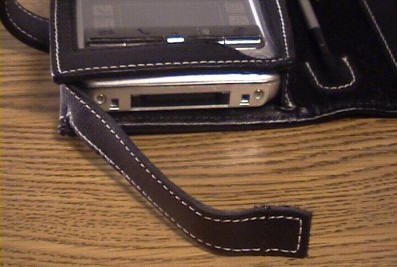 A leather strap is stitched on one side and Velcroed to the other of the bottom of the case. A rip of the
Velcro and the sync port is revealed. The opening will accommodate the charge/sync cable readily enough, but will not operate in conjunction with the cradle. As the
CLIÉ is so easily removed from the case, this issue was not much of a concern at all. I am a night-charger (use my PDA as an alarm clock) and can get it out of the case and into the cradle in darkness with minimal fussin' and cussin' (my cell phone is a different matter entirely…)
The Extreme Limit Horizontal Body Suit is an excellent quality book-style case that, with some small problems, will fit in with just about any atmosphere and under any conditions…
Price: JYEN 6450/ $53.96 US
Pros:
Excellent Fit
Easy in/out of PDA without sacrificing hold
Cons:
Stylus Holder unreliable with aftermarket styli
No dedicated MS storage
Very tight fit for snap-strap


Extreme Limit Body Suit for CLIÉ T615C
The CLIÉ is a flipper, no use in fighting it…
When a PDA comes with it's very-own "Beam me up…" flip cover from the manufacturer, the fate of the handheld is somewhat sealed in the case department.
The situation is fine for those who love to flip, but there are some of us out there…a special kind of folk who never know if the should grab in front or behind the cover when open, who have had their cases blown shut by a gust of wind, or who had whacked themselves (or others) when trying to be Captain Kirk…
The answer is down my friends, not up.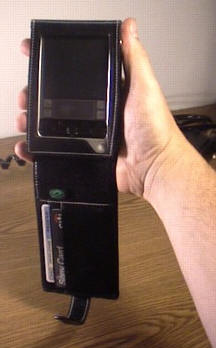 Sure, when the Extreme Limit Body Suit For CLIÉ T615C came across my desk, I thought it was the goofiest thing I'd ever seen…
But first, on to basics. Much like its horizontal sibling, the Body suit is made of ballistic nylon inserts mated by leather trip with the contrasting stitching that makes the ExLim cases so identifiable. The case opens downwards and the main flap is held in place with a leather tab.


First complaint: in the week that I test drove this case, the stitching on that tab started to fray. Functionality was still fine, and I am a little hard on cases, but it is worth mentioning…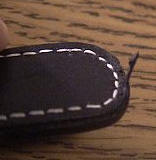 Your CLIÉ slides right into the case easily, and won't come out for nuthin' (see Horizontal Body Suit Review) even if you open the case upside-down, which I did on more than a few
occasions…the case takes a little getting used to.
All right, so what is so dat-blamed great about this thing?
The CLIÉ is a great PDA. It looks very sleek and small, but holding it in your hand just leaves something to be desired. I always feel as though the thing is going to slip through my hands and fall to the ground.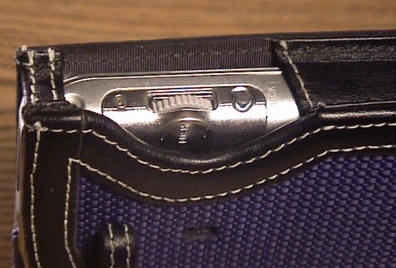 This case makes holding your hand-held a little more natural. No matter how much your palms sweat, there is always a firm grip on the PDA.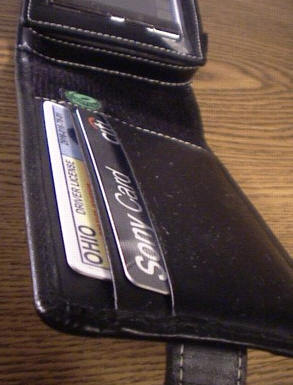 Okay, enough of the grippy stuff. Opening the case reveals a leather interior with two card slots – but they are for business/credit cards, not for
Memory Sticks: Second (and final) Complaint. This case also features the Velcro strip for syncing with cable, but not cradle.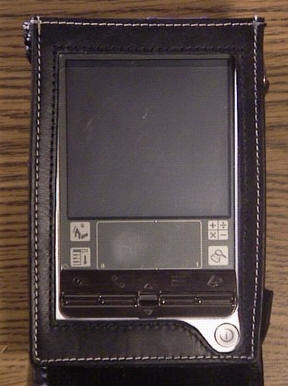 All buttons are easily accessible from this case, as is the stock stylus slot. A side-benefit of the "backwards" design is the ability to insert the tab with the flap bent back around, making a kind of easel arrangement for nice desktop usage.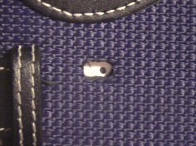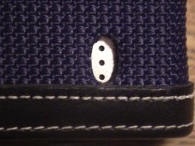 The down-folding operation of the case was quite awkward at first, I would always open it the standard flip-up way and risk dropping my
CLIÉ. To the credit of this case it never fell.
The only other drawback to this case is the added bulk that it creates. I can jam just about anything into my breast pocket, but this just would not fit.
Sure, this case is an odd-ball, but so am I. Sometimes going 180º from everyone else is the perfect solution.
Price: JYEN 6050/ $50.60 US
Pros:
Excellent Fit
Easy in/out of PDA without sacrificing hold
Cons:
No dedicated MS storage
Some fraying of strap
Adds bulk to PDA