We use affiliate links. If you buy something through the links on this page, we may earn a commission at no cost to you. Learn more.
One of the joys of being mobile is that you can just pick up your stuff and
go. Having a gear bag that can comfortably and efficiently carry everything you
need to be effective while mobile can be one of the more difficult decisions
that you will need to make.
Crumpler, a company that doesn't
seem to take itself too seriously, has an extensive line of bags that are well
made, hard working, durable, and extremely versatile. The Crumpler bags that
Julie and I will be looking at today are both made of Dupont Cordura Plus and
lined with rip-stop nylon. The zippers are huge and heavy-duty, the straps are
made of the same material as car seat-belts, and instead of a cheesy buckle on
that strap, there is a huge plastic monster-buckle. Expecting that their
customers will be tech-savvy and electronics equipped, Crumpler even makes some
of their bags with a cord/head-phone hole that has been reinforced with an
industrial strength metal eyelet. This is not your typical gearbag – but is it
worthy of all the hype and funky attitude that the Crumpler site dishes out?
Let's take a look…
 


The "Gent"
This bag is huge! The first thing I thought when I pulled the "Gent" from it's
shipping carton was "What am I going to fill this behemoth with?" It actually
wasn't that hard to do once I got going, though. But first, let me back up for a
minute and tell you about the bag itself.
The "Gent" is fashioned of black Cordura with a two-toned blue racing stripe
circling it. Measuring 16" (40.5cm) tall x 18" (45.5cm) wide x 8" (20.3cm) thick
at the bottom, the Crumpler web site says that you can fit a laptop with up to a
15.1" (38.2cm) screen inside.
My laptop measures 13.5" (34.3cm) straight across the screen and has a
edge-to-edge diagonal measurement of 17" (43.2cm). It's a tight fit – but my
laptop does slide in.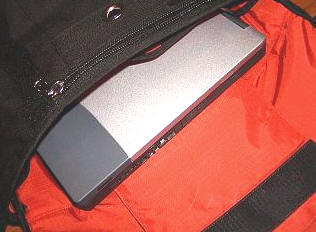 The asymmetrical front flap closes with both a huge strip of Velcro and solid
plastic clippy. There is an irreverent Crumpler "little man" logo on the front
of the bag and on the shoulder strap pad.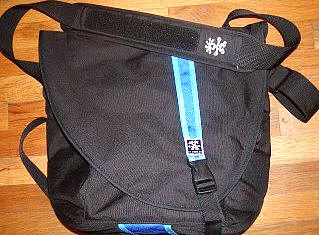 A "third-leg" strap makes the bag lay securely against your back when you
want to carry the "Gent" bandolier style, but I didn't much care for this
method. I'm not a bicycle messenger, and it felt too confining to have that
strap going across my chest in that manner.
Never miss one of our posts again. Sent MON, WED, and FRI with the latest gadget reviews and news!
When you lift the front flap, the first pocket you will find is a spacious
cavern that zips closed and has this large metal eyelet staring at you. I have
to admit that when I first saw it, I thought – "Okay, it's stylish – but what's
it for?" Later, I realized that it was to run cords through. Doh!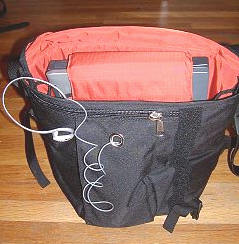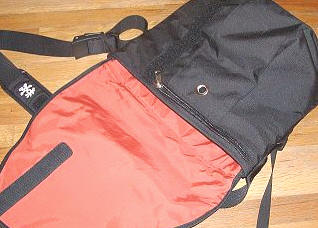 The only problem is that none of the electronics I carry are big enough to
comfortably put in this pocket without worrying about them rattling around. If I
could suggest an improvement, I would ask that Crumpler keep this pocket the
same size, but add a smaller padded inner-pocket that could hold a cell-phone,
Pocket PC, Mini-Disc player, or whatever.
Opening the "Gent" reveals a University of Texas burnt orange interior with
plenty of cubbyholes to hide your gear. Each one of these pockets closes with a
strip of Velcro to prevent your stuff from tumbling out. I would like to have
seen business card and pen specific pockets, but there are none.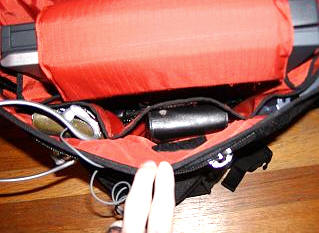 A large padded pocket with a padded Velcro-closing flap holds your laptop
securely.
It is very easy to fit your laptop, its power cord, auto charger, two or
three PDAs, their charging cords, a cradle or two, a camera, a candy bar and
various other small items in this bag without it feeling overstuffed; however,
there is one problem: The "Gent" weighs 2.34 pounds (995g) which doesn't seem
too bad – unless like me you have a laptop that weighs in at 9+ pounds…in that
case it can be a real shoulder breaker when you are carrying everything
mentioned for an extended period of time, as I found out when I carried this bag
on my Hawaii vacation.
While the bag does have a very adequately padded shoulder strap, when you are
toting this kind of weight, nothing is going to make you very happy about
carrying it.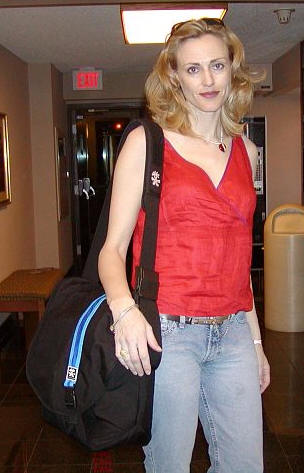 The one thing that you may feel this bag is missing is a cellular phone case.
Well, if like me this is a necessity for you, then you can order the
NAD sac
separately.
The "Gent" is an extremely well-made gear bag. If you need versatile and
abundant space in a virtually indestructible package – then this bag may be
just what you are looking for.
Price: $104.95

Pros:

Fun, bright colors without looking completely unprofessional
Extremely well made
Can carry a ton of gear
Cons:

Expensive
Electronics pocket is a bit too "cavernous"
No business card or pen specific pockets
Like the bag that Judie reviewed above, the "Roll-O-Notes" (gotta love the
names they've chosen for these bags!), is an extremely well made gear bag.
Incase you are wondering about the material that it is constructed of, it is
Dupont Cordura Plus. According to the tag that I removed from the bag, this
material is "2x as tough as regular nylon, 3x tougher polyester, 4x tougher than
polypropylene, 14x tougher than cotton and 600x tougher than the skinny bit at
the bottom of your underwear." So, I guess you can say that this bag is pretty
freaking tough! :o)
Available in red/blue, blue/orange, black/blue, brown/yellow and green/blue,
there is a color combo that should satisfy most people. I was sent the red/blue
version, which I think looks pretty spiffy but might not appeal to everyone.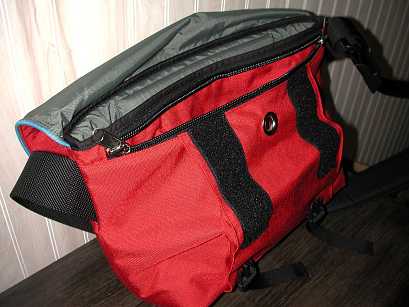 The "Roll-O-Notes" is pretty similar to the "Gent" in that it has one large
dual zippered pocket under the main flap in the front. This pocket has a metal
eyelet for any wires (earphones) that you might want to feed thru it.
The main compartment is comprised of a padded laptop sleeve that is attached
to the back wall of the bag and two deep pockets are attached to the front wall
of the bag. All of the pockets as well as the bag's main flap, employ Velcro to
keep them closed. To me, this is sort of Velcro overload as the main flap also
has dual plastic buckles. I really hate hearing that rrrrrrrrrrrrrrrrrrrrrrrrip
noise every time I want to get into the bag.
At 10" (25.4cm) tall x 14" (35.56cm) wide x 5" (12.7cm) thick at the bottom,
the "Roll-O-Notes" is touted as a medium sized laptop bag. I can vouch for that
title as my friend's large Dell Inspiron which measures 13" x 11" would not fit.
I could slide it into the interior padded sleeve, but as you can see from the
picture below, it stuck out quite a bit. The padded sleeve is 12" x 9" x 2.5"
(30.48cm x 22.86cm x 6.35cm). So be sure to check your laptop's size before
buying this bag..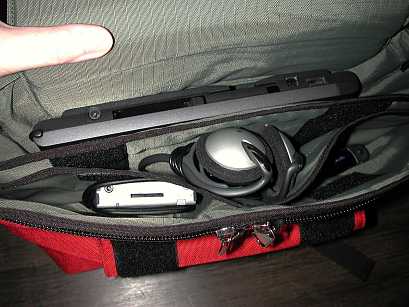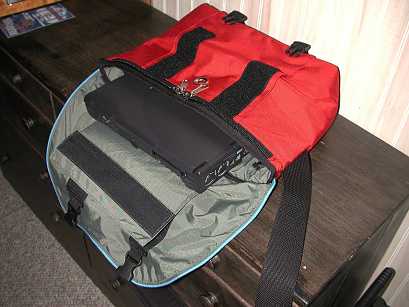 Although I like this bag, I wish it had more separate pockets on the outside
and inside.
I also found the shoulder strap to be stiff and a little uncomfortable when
compared to my everyday
SunDog gearbag.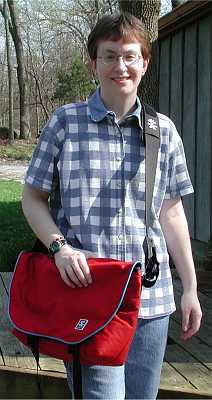 If you have a medium sized laptop, this bag is a convenient size and will
carry your gear in style and security.
Price: $94.95
Pros:
Extremely durable
Padded laptop sleeve
Cons:
Too much Velcro on main flap
Needs more pockets
These Crumpler bags and many other styles are available at
Laptop Travel
and other retailers.
 
Product Information
Price:
94.95
Manufacturer:
Crumpler
Pros:

Extremely durable
Padded laptop sleeve

Cons:

Too much Velcro on main flap
Needs more pockets
These Crumpler bags and many other styles are available at
Laptop Travel
and other retailers.