The new Palm m130 is the first m1xx series handheld to have a color screen. It comes with a color transflective 12 bit screen (4096 simultaneous colors / 58,621 dithered colors), 8 MB RAM, 4 MB ROM, SD/MMC expansion slot, Palm OS® 4.1 and a Universal connector. All that for $279 with a street price of less than $250. It isn't the most advanced Palm handheld, the last title was given to the m515 last month. However, it is probably the cheapest color handheld around, making it an excellent choice for those of us who want the newest Palm OS handheld at an affordable price.

Hardware Specs:
Operating System: Palm OS version 4.1
Processor: 33 MHz Motorola Dragon ball VZ
Memory: 8 MB RAM + 4 MB ROM
Display: 160×160 pixel color transflective display (65,000+ colors)
Size: 4.8 x 3.1 x 0.9 in. (11.38 x 7.70 x 1.27cm)
Weight: 5.4 oz (157g)
IrDA port
Expansion Slot compatible with SD and MMC cards
Battery: Internal Lithium Polymer Rechargeable
AC Adapter: Input: 120VAC 60Hz 11W, Output: 5.0VDC 1.0A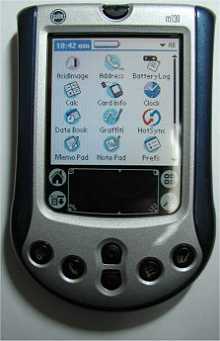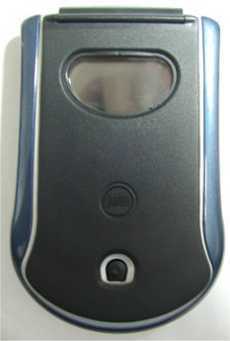 The best way to describe the new m130 is to take the m125, add a color screen and a new rechargeable internal lithium ion battery. In fact, the new m130 looks just like
the m125 only it is slightly heavier, because of the battery. The m130 is slightly longer, thicker and heavier than the m515.
It fits nicely in the palm of your hand, but if
you usually keep your handheld in your shirt pocket (like the Edge/V/Vx/m505/m515), it won't be the case with the m130, since it has the same curvy design of the m1xx series. Palm m130 users may find it better to take the handheld in a bag, pouch or special
case than to keep it in one of the pockets.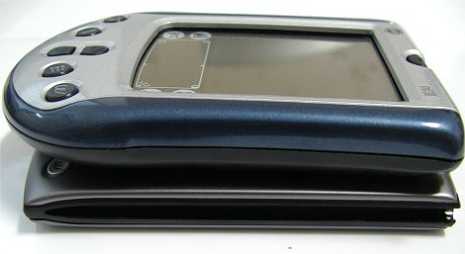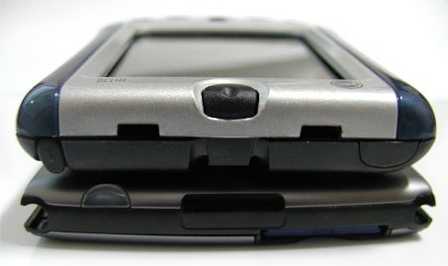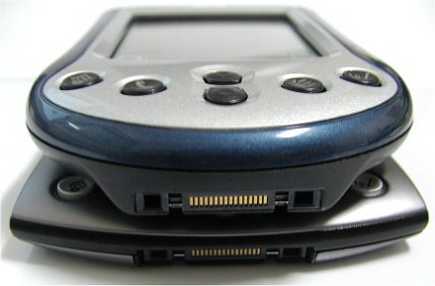 The Palm m130 comes with a new two-tone faceplate in Sonic Silver and Dark Blue and a flexible flip-lid made of elastomer. The new flip-lid protects the plastic screen well enough to save you the extra money you usually spend on
a case. The m130 just doesn't need it. It is one of the stiffest Palm handhelds ever,
so you may place it in a bag, and it won't open, scratch or break. One of the reasons is the plastic screen instead of a glass one in other Palm handhelds, so it is much harder to crack. I would like to give the faceplate a second thought. Some people may see it a little vulgar, since it is the first time a Palm
OS. handheld comes with a casing that is not matte (Forgive me for not counting in the American Cranberry
and Blue Navy m505 special edition). I don't think it is a problem, many fine companies such as TechMedia or even Palm have more than enough faceplates for the m1xx series which will fit the m130.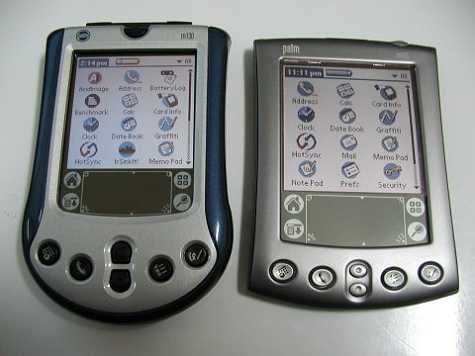 On the left – m130 (Backlight High). On the right – m515 (Backlight High).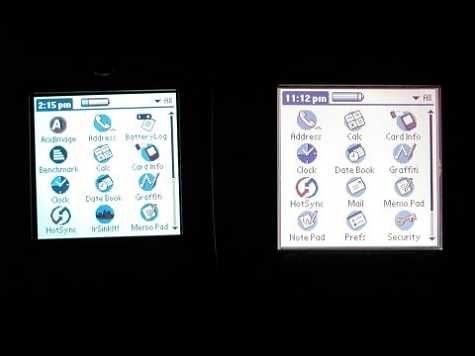 On the left – m130 (Backlight High). On the right – m515 (Backlight High).
The Palm m130 has a transflective (STN) color LCD display, 160 x 160 pixel resolution, with backlight. There are two settings which can be changed, the contrast and the backlight density. The user may change the contrast by tapping the contrast icon on the Graffiti area. I prefer working with levels starting in the middle and up to the right. However, it truly depends on the angle between the m130 and your eyes, even more than on the lights around.
Since the m130 belongs to the m1xx series, it has a smaller screen than the usual Palm handheld. The screen is 25-27% smaller than the usual Palm handheld screen, that depends on whether you measure the active screen area or the full screen including the graffiti area. The m1xx screen is often misjudged for being smaller, but I truly stopped noticing the difference after having the m130 as my primary Palm
OS. handheld for a week. I even love the smaller area, since the resolution stayed the same, the pixels became smaller
so the picture is less grainy. If you wish longer battery life, you may turn the backlight dim by holding the power button for 2 seconds. The battery last twice as much when the backlight is dim. I have to inform you that there is no way working without
a backlight with the m130.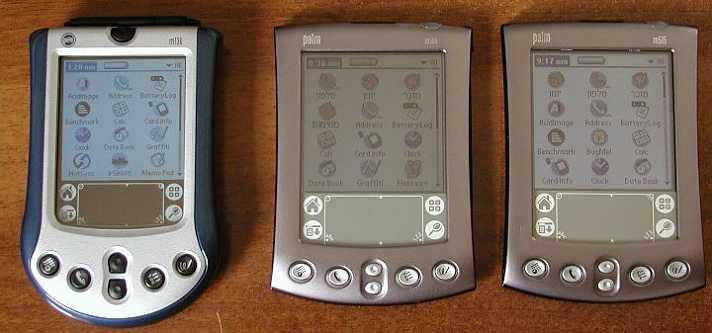 I would add that the m130 "white" screen has some bluish tint, it doesn't have a totally white color. Indoors, the screen looks very nice. In fact, I like it much better than the screen of my old m505. On the outside, the situation is far from being perfect. I live in south Israel, where we don't have many cloudy days (the summer lasts here for 10 months, but that is another story ;). When you go out with the m130 on a shiny day, you can hardly see a thing on the screen without finding a shadow. Most of us usually use the handheld indoors, and the only time
we open the handheld outdoors is to update ourselves with today's meetings or search for a phone number. If it is a cloudy day, you won't have a problem. Otherwise you would have to find or make an artificial shadow with your hand in order to read something. If you often use your palm for reading E-books or playing games on the beach, stand up and forget about the m130. Those of you who remained sitting won't have a problem. However, before buying the m130, I would recommend you go out
and see the m130 outside yourself.
I was really glad to see the m130 has a Universal Connector, though I didn't even think it would be different. Palm made a promise when launching the m505, and it keeps it. My ThinkOutside Keyboard was a perfect fit for the m130, so was the cradle of the m515, an
Electric Fuel charging cable and what was most funny, the m515 stylus was a perfect fit, it had still a small piece outside, but even when I
shook the m130 it didn't fall out. I kept using the m515 stylus with the m130 since the native m130 stylus doesn't have a reset pin and it is too light for me.
Palm really deserves a good word for having the Universal Connector in each of its currently manufactured handhelds. I am pleased to know that I may have one keyboard for all my Palm
handhelds, one cradle for them all, one USB charging cable for them all and one travel kit (Guess I stopped just about time, since it really sounded like
Lord of the rings < 😉 LOL…). It's time to mention the SD/MMC expansion slot which is placed on the left side of the handheld, not the usual place you look for expansion slots, if you ask me. Once you get an SD/MMC card inside, it sits well. I didn't have the opportunity to check the m130 with the Palm SD
Bluetooth, since the last protocol is banned in Israel (IDF burocracy). In the future I think it might be a problem to have a GPS SD card stuck out of the left side of the m130.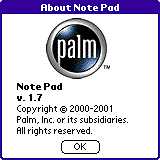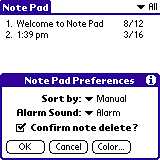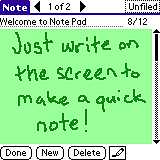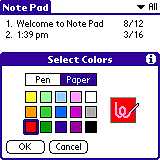 The m130 comes with Palm OS® 4.1, which is mainly an upgrade of Palm OS 4.0. The new operating system supports multiple FAT (File Allocation Table) file systems on SD cards and
SD Input/Output. A new Note Pad (version 1.7) in color is also one of the highlights, which now allows the user choose and change the font\background colors for all notes. Note that the OS is placed in
ROM memory, which can't be upgraded. Since Palm launches OS 5.0 for ARM processors in July, and it won't work anyway on the Motorola
Dragon Ball, we won't probably see a major upgrade to OS 4.1 until then. So forget you have 1.7 MB there which could be stuffed with
programs you use on a regular basis (as in the m515).
One more thing I loved about the m130 is the battery. Since we have 2 backlight levels, we now have 2 options to drain the battery. I've checked the battery in debug mode, when
it was always ON. When Backlight ON, the battery lasts for five and a half hours till the units powers off. When the backlight is in its lower setting, we have a winner. 11 (!) hours passed till the m130 powered itself off, it is more than enough even for the non-average user. If you are a Vx user who wants to tell me that his Vx battery lasts for two weeks, please notice that
the m130 comes with a color screen, and not a bad one.
Bonus Software included on CD:

DataViz Documents To Go® 4.0 – Allows users view and edit Word and Excel documents, view PowerPoint presentations. Includes a desktop application which is used to transfer files to the handheld. Files are automatically updated with each
synchronization. Allows font formatting both bold, italics and underline,
Paragraph justification, indentation and numbering.
MGI PhotoSuite® Mobile Edition 2.23 – Shows your favorite photos and plays
video clips on your handheld. Full support of SD/MMC. Supported formats include: .JPG .TIF .GIF .PNG .BMP .MOV
.AVI .WMV. The included PhotoView application (PC only) enables instant display of .JPG images taken by digital cameras on an SD card or MultiMediaCard.

Palm™ Reader – Read eBooks on your Palm™ handheld. Two e-book titles are included, "The Empty Chair" and "STSCE4 Interphase" in English. Other eBooks can be found at www.palm.com/eBooks.

AvantGo™ 4.0 Mobile Internet Service – AvantGo users can access web content wirelessly or via desktop
synchronization, select from over 650 optimized content channels for up-to-date news, stock quotes, flight schedules, movie listings, restaurant reviews, maps, weather and much more.
Supports 16-bit color.
powerOne personal calculator – An improved version of Palm OS. original calculator.
The following programs are also included on the CD: Pocket Mirror, Palm™ HotSync® Mail, MultiMail® SE, Palm™ Mobile Connectivity software, SMS 4.0 and Neomar WAP browser.
The m130 is one of the most attractive handhelds I've met. Its price ($279) along with its characteristics make it a perfect companion for a newborn in the
handhelds world. Don't get me wrong, even OLD Vx users will love this small cute
handheld when they see it.
Palm made it clear once again, you don't need to pay $600 (Pocket PC) or $400 (m515) for a color
handheld, you may pay only $279 and get your love from first sight. Well I'm in love, maybe that's why I don't care about the small screen, the bad outdoors view and the 8 extra MB I would be glad to add to the m130.
Well I guess If it had the m515 screen and 16 RAM it could be compared to the perfect woman < 😉
Price: $279
Pros:
Price
Improved color screen with adjustable backlight\contrast
Lithium-ion rechargeable long lasting battery
SD/MMC Expansion Slot
Universal Connector
Cons:
Screen is problematic outside
Graffiti area lacks backlight
Only 8MB
Small screen
Support The Gadgeteer
:
We may earn a small affiliate commission from purchases made from buying through links on our site. As an Amazon Associate I earn from qualifying purchases. Learn more.
Product Information
Price:
279.0
Manufacturer:
Palm
Pros:

 
Price
Improved color screen with adjustable backlight\contrast
Lithium-ion rechargeable long lasting battery
SD/MMC Expansion Slot
Universal Connector

Cons:

 
Screen is problematic outside
Graffiti area lacks backlight
Only 8MB
Small screen