We use affiliate links. If you buy something through the links on this page, we may earn a commission at no cost to you. Learn more.
Product Requirements:
Device:
Palm m500, 505 requires 24K of RAM
The Targus ThumbPad is a clever little device which, at 1.2 oz is barely
noticeable in your trouser pocket, yet it provides the full functionality of much
larger, heavier and more expensive keyboard via the standard universal Palm
connector.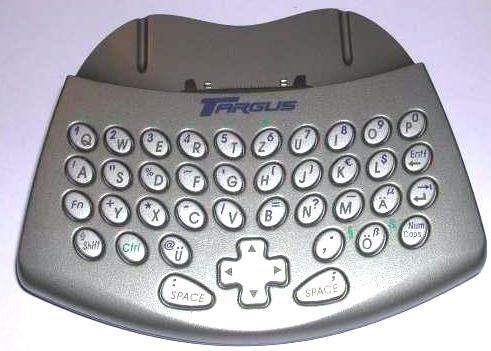 Featuring 38 keys in standard QWERTY / QWERTZ layout (available localized for
German speaking markets) plus a navipad cursor or "cross" key. Most, if not all,
functions required during text input are readily accessible.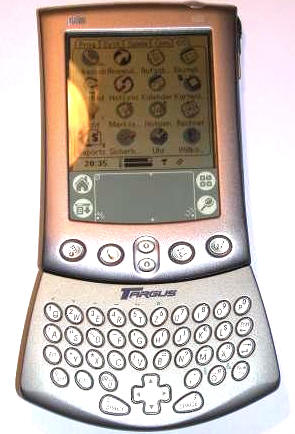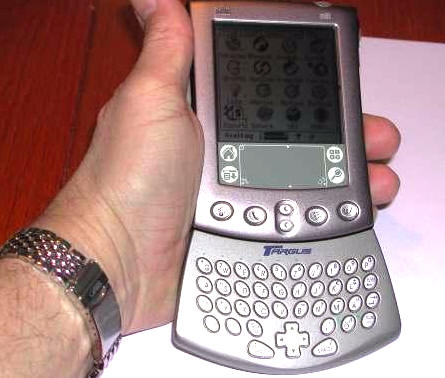 The Thumbpad's CD driver is requires 24K and is not FlashROM compatible.
After being installed, your Palm will immediately recognize the ThumbPad. The
driver disables/enables automatically. However, hot-syncs will take some time to
start when the driver is enabled. It seems as if the Palm has to sort out
exactly what is attached to the connector before it decides "yes Sir, that's my
cradle" and starts the syncing process.
When the driver is enabled, the keyboard can be used to send SMS via
infrared. In essence, the driver is "always on", keyboard attached or not
(unless you manually disable it).
Although small, the tactile feedback, metallic keys
are sufficiently spaced to allow error-free typing even for those of us with
wider thumbs – and you will have to use your thumbs as it is extremely difficult to use any
other finger for input since they are all are busy holding your PDA. Holding the
Palm is fairly
easy but tiresome for extended periods of time, since the keyboard has to compromise
ergonomics for size, after all.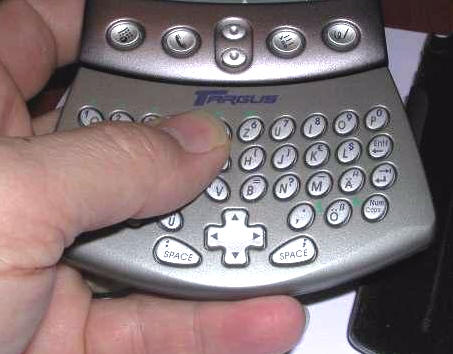 You hold the combo by the keyboard – unless you've got an "acrobatic thumb",
that is. It is impossible to put it on a table and type because the Palm is top
heavy, which lifts the board off the table surface. When held in the hand, the
ThumbPad is amazingly comfortable. There is no squeaking, due to its solid
casing.
The ThumbPad is not "hard case compatible", even a leather sleeve case will make it
awkward to use: the optimum balance is achieved with a bare naked Palm. When the
ThumbPad is attached, it feels like it won't stay on your Palm – but it does,
and quite well. The keyboard extends to 1/2 in under/behind the Palm, and the
connection/support is quite solid.
I should also mention that
the keyboard driver does not like ShiftHack at all. Caps functionality is provided,
but using "all caps" or "all numbers / special characters" is impossible when ShiftHack
is activated.
Input is, all things considered, quite comfortable and fast. I did not use a speed
check program, but this review was written with the ThumbPad, and writing it was
considerably faster than would have been possible with Graffiti. An added bonus
is that the
mistake rate is extremely low using this keyboard. Even experienced Graffiti
writers know their personal "enemies", characters that simply are hard to get
right every time, anytime – but they are no problem with the ThumbPad.

Price: $39.90
Pros:
Extremely lightweight
Easy input
Good tactile feedback
Cons:
Driver incompatible with at least one Hack
Slight hot-sync delays when driver is activated