We use affiliate links. If you buy something through the links on this page, we may earn a commission at no cost to you. Learn more.
Product Requirements:
Device:
Almost any Laptop Computer
Last year I made the decision that it was time to go completely mobile. This was
a decision that was a long time in the making, but I felt that the time had come after
taking so many trips
over the last couple of years and feeling completely cut off from my virtual
life while I was on the road. It just made sense that moving to a PC replacement laptop was the next
logical thing for me to do.
Because I know that there are those of you that also enjoy this freedom of being able
to pack up everything and go at the drop of a hat, I am always eager to take a
look at products that are supposed to enhance our mobile existence. For people like
us, there appears to be a never-ending supply of mobility solutions: everything
from laptop bags to microscopic mice. In any case, I know that other laptop
owners will recognize the fact that there are a couple inherent difficulties
that must be overcome when you are using a portable PC on a regular basis.
One of the bigger obstacles is the fact that it can be uncomfortable to type
on a laptop keyboard for any length of time. Although it is very easy to adjust
the screen on these computers to a comfortable angle, the keyboard will
generally just lie there. A product that would allow the laptop user to control
the tilt of their keyboard would be a valuable tool.
Another built-in problem is the fact that most laptops tend to get incredibly
hot on their undersides. It only stands to reason that a product that would open
this area up to increased airflow might be a good thing.
Enter the Roadtools
CoolPad Podium. This gadget
really doesn't look like much when you first encounter it: Two trapezoidal slabs
of plastic that swivel against each other and several rubber-tipped plastic
columns that resemble round Lego stacks.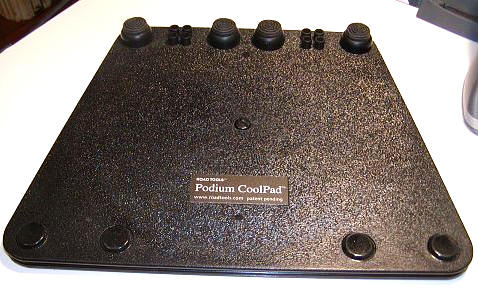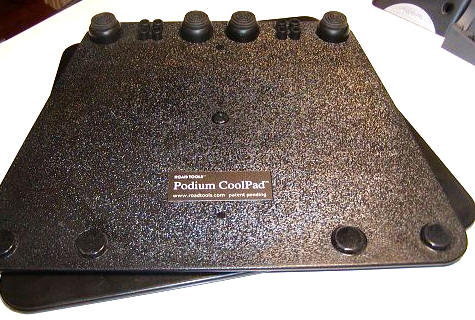 It is when you place your laptop on the Podium that the
CoolPad's function becomes readily apparent. Suddenly, your flat laptop
keyboard is raised to a whole new level. These pictures, taken from the Road
Tolls website, shows all of the different heights that the CoolPad Podium is
capable of.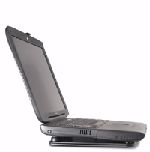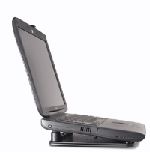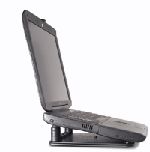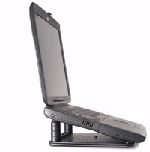 Pictures courtesy of the
CoolPad website
You control at what angle your laptop will sit, and you decide what is
comfortable for you. The stacking "risers" allow you to adjust the keyboard's
incline by 1/2" at a time. The rubber "stoppers" at the top of each column keep
your laptop from sliding anywhere.
The rubber stoppers easily lift off of the plastic, so if
you are a serious typist, one of those that just hammers away at your keys,
you might want to use a little bit of rubber cement – just to make sure that
there is no chance of losing a stopper.
Because the laptop's underside is no longer resting on your desk, but is
instead exposed to air, your computer should runcooler – which we all know is
important when you are talking about electronics.
The only immediate "Con" that I can find to the CoolPad, is that it is near
impossible to comfortably use a desktop docking system while your laptop is on
the Podium. Since I use a dock on my desktop, this actually seemed like a major
con to me at first – until I tried using the CoolPad backwards.
The CoolPad site mentions that accomplished touch typists
might like the feel of using the Podium backwards, as it creates a negative
incline. Well, I am certainly not a touch-typist, but I did find this way of
typing amazingly comfortable. How comfortable? So comfortable that I will
most likely keep my laptop in this negatively-inclined state permanently.
Depending on the size of your gearbag, you should be able to easily carry the
CoolPad Podium with you when you travel. If you have a larger sized gearbag, you
might like the combination of the Podium and the
Lapstation Pro I reviewed late last year.
The products work together very well.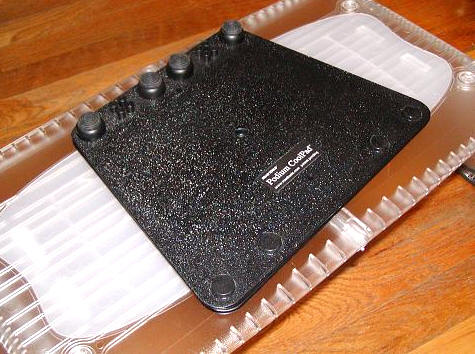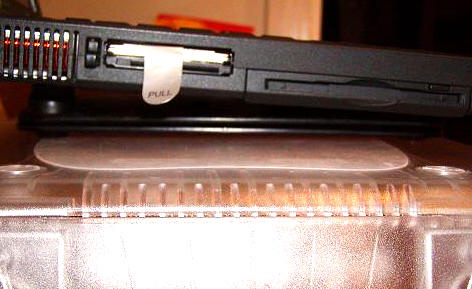 Those of you that have to do presentations from your laptops
will like the fact that the Podium can spin 360º.
This should make it possible to include almost anyone in a mobile
presentation, for those of you that need such an option.
For those of you that don't have a lot of gearbag room, you might want to
take a look at another Road Tools product, the
Laptop CoolPad, a more pared
down "travel" version of the Podium.
The CoolPad Podium has earned a permanent place on my desk – and since my
desk-space comes at a premium, that is just about the highest recommendation I
could possibly give a product.
Price: $29.95
30 day money-back guarantee, and the CoolPad is guaranteed for life. According
to their website: "They are hard to break but if you
find a way we'll fix or replace it, even if your dog eats it."

Pros:

Allows laptop keyboard to be adjusted to comfortable level and tilt
Allows airflow to vent on bottom of laptop – more efficient cooling
Can be turned around, and used as a negative keyboard lift for skilled
touch-typists
Sturdy and stable base for serious typists
Allows 360º pivot of laptop
Excellent warranty

Cons:

Can't easily be used with desktop docking system, unless installed with
negative tilt
Product Information
Price:
29.95
Manufacturer:
Road Tools
Pros:

Allows laptop keyboard to be adjusted to comfortable level and tilt
Allows airflow to vent on bottom of laptop - more efficient cooling
Can be turned around, and used as a negative keyboard lift for skilled
touch-typists
Sturdy and stable base for serious typists
Allows 360º pivot of laptop
Excellent warranty

Cons:

Can't easily be used with desktop docking system, unless installed with
negative tilt