Product Requirements:
Device:
Compaq iPAQ 3800 series
The #881 is another great Compaq iPAQ case from Vaja
the renowned Argentine leather
crafters. This particular model is
made specifically for the 3800 series iPAQ without any expansion sleeves
attached.  It is available in 4 color variations (Black Floater, Green
Floater, Vitelino Chocolate, and Vitelino Azabache) and with or without a belt
clip.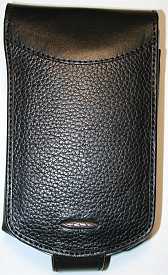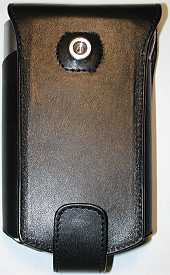 I was sent the Black Floater belt clip version for review. This version has a
pebbly texture on the screen cover while the rest of the case has an almost
matte finished texture. The interior of the case is lined in a soft tan leather.
The iPAQ slides securely into the holster part of this case with no fear of
it sliding out accidentally. While in the case, you have access to the Record,
Power, Application and Joy pad. Unlike their 3600 series cases, this case has a
leather bar that separates the button area from the screen. This is the only
part of the case that I wish were different. I think it is possible that this
bar could be removed and as such, the top two application buttons (Contacts and
Mail) would feel less restricted.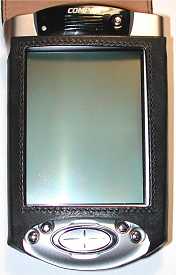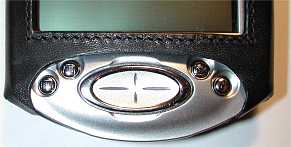 Although the bottom of the case is open, the #881 is not a sync-able case. It
almost works, but not quite. I could get the port on the PDA and the cradle to
make contact long enough for ActiveSync on my PC to launch. But the contact
wasn't good enough for it work consistently. I should also point out that the
leather around the serial port almost covers the reset hole which makes it
difficult to activate.


The screen cover has 2 regular sized card slots with a larger slot behind
them. The cover is reinforced with an ABS plastic insert that keeps the cover
rigid to protect against the usual abuse that we inflict on our PDA in an
average day. The cover is held closed with a snap. I found that the leather
strip with the snap seemed to be slightly too long causing the cover to wobble
back and forth just a little more than necessary.

The belt clip version of this case has a metal stud that sticks out of the
back side of the case. This stud is larger than the ones previously used on Vaja
cases. It is also keyed so that the clip can only fit on it when turned in a
specific orientation.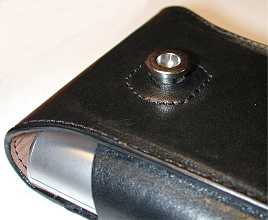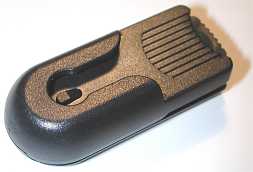 Like every case that I've had the opportunity to review from Vaja, this case
is made entirely of quality leather. The craftsmanship is excellent. I could
find nothing wrong in its construction. I really like the  #881 a lot and
at the moment, it is the case I use with my 3835. For a quality case that looks
great and feels comfortable in your hand, you can't go wrong with this one.
Price: $42.90 – $52.90 ($46.90 – $56.90 with belt
clip)
Pros:
Vaja quality construction
Cons:
Reset hole partially covered
Can't sync or charge in cradle
Main button cutout feels a little cramped
 
Product Information
Price:
42.9
Manufacturer:
Vaja
Pros:

Vaja quality construction

Cons:

Reset hole partially covered
Can't sync or charge in cradle
Main button cutout feels a little cramped