We use affiliate links. If you buy something through the links on this page, we may earn a commission at no cost to you. Learn more.
Product Requirements:
Device:
Any PDA smaller than 5.3" (13.5cm) tall x 3.4"
(8.7cm) x .7" (1.7cm)
Updated 02/05/02 to reflect the addition of the
new m500 series case. All new comments appear in RED.
Are you looking for a case that really protects your PDA, but doesn't look
like an industrial by-product? Have you been looking for a case that is as
individual as you are, but that doesn't cost an arm or a leg? If so, then you might want to check out the line of
PDA cases from
SmarterCase.
These cases are very simple, yet extremely functional. Underneath a fabric or
leather covering, lies a steel clamshell case that should be strong enough to
protect your PDA from just about anything short of intentional crushing. A
sturdy piano hinge holds the two halves of the clamshell  together, and
allows the case to open flat when you need to access your PDA. The case is held
shut with a faux leather tab that snaps securely from the rear of the case to
the front.
I was presented with three different universal SmarterCase styles for this review: the
fuzzy Bobcat, the Dark Green Leather, and the Woods Camouflage.
When ordering, these are referred to as the 146 series
cases.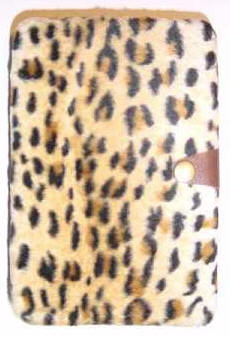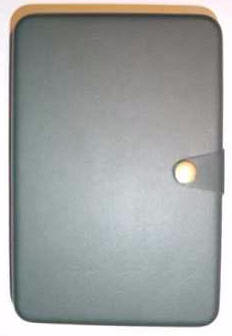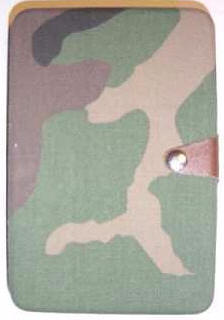 I have also just received a smaller
version of the SmarterCase made specifically for the Palm V and m500 series
PDAs. These cases are referred to as the 126 series when ordering.
This case is shorter, thinner, and weighs a bit less than the universal
case, which is in keeping with the smaller size of that particular PDA
series. This case is also available with various covers, for this review I
was presented with the black leather.
Each case is lined in black velour, and includes a small white pad of paper
on the side opposite where you would mount your PDA. It should be easy to find a
replacement pad when this one runs out, as it appears that the slot will hold a
variety of sizes.
In the 146 series cases, your PDA is held in place by two very small patches of
Velcro. As you all know by now, Velcro is high on my hit list, but I have to
give the SmarterCase folks kudos for keeping the Velcro pieces that actually
attach to the PDA to a minimum.

There is a small elastic loop to hold an
extra stylus located on the far left side of the notepad,


 
The 126 series features four SD/MMC
slots on the left side. These cards are no where near your PDA's screen when
the case is closed, so there is no fear that they will wither scratch your
screen or accidentally turn your Palm on.

In
the center of the slots is an elastic look to hold your stylus, which is
good because your PDA silo is inaccessible while in this case.

Never miss one of our posts again. Sent MON, WED, and FRI with the latest gadget reviews and news!

This is my Palm m505 in the 126 series. There is no
Velcro holding it in place, simply friction between the Palm and the cases
lining.

While I certainly don't suggest that you walk
around shaking your Palm upside down to see if the case will hold it, I will
tell you that I feel confident that it probably would. The fit is snug, and
it is not easy to pull the Palm from its resting place, at least for the
first week or two that you use the SmarterCase.
There are so many different choices in available cover fabrics, that you
might be tempted to get a couple different styles to match your ever changing 
moods. Some of the other available styles included even more animal prints,
denim, various patriotic prints, and several other pleasing fabrics. I have to
say that the SmarterCases are some of the most reasonably priced I have seen for
this level of protection.
I certainly don't recommend trying this with your own PDA inside, but I
actually stood on top of one of my 146 samples, and bounced for a second or
two. I weigh 143 pounds, and the SmarterCase didn't crush a bit. While I doubt
that you could drive a car over this case without seriously damaging it and your
PDA; you can still be confident that when using this case, should someone
accidentally sit on it you wouldn't need to replace an expensive PDA screen – if
you were lucky and that was all that was damaged.
While this case appears to be virtually crushproof, I don't feel that it is
insulated quite enough to save your PDA should it fall from a great distance. I
would imagine that a couple feet might be okay – such as if you were to knock it
from your desk, for example.
This case will add a bit of bulk to your PDA. I will feature the dimensions
of the fuzzier case, as it weighs just a couple more tenths of an ounce than the
smooth fabric and leather cases. With this information, you can decide if your
PDA will still be "pocketable" enough for you:
| | | | | |
| --- | --- | --- | --- | --- |
|   | Weight | Height | Width | Thickness |
| Empty Fuzzy 146 series SmarterCase | 7.2oz (206g) | 6.1" (15.4cm) | 4.2" (10.6cm) | 1.2" (2.9cm) |
| Empty Leather 126 series SmarterCase | 4.9oz (141g) | 5" (12.7cm) | 3.5" (8.9cm) | 1.2" (2.9cm) |
I tried the 146 series case with the HP 565, Palm IIIc, Sony Clie
N710c, a naked iPAQ 3850, a Handspring Visor Deluxe, and the Casio EM-500.
Every single PDA fit perfectly. Here is the new iPAQ 3850 in the SmarterCase.
These cases are simple, protective, and fun. They don't feature any logos or
other designer marks, so if you prefer to not be a company's billboard the
SmarterCase should be right up your ally.
Price:  $19.99 for the 146 series, and $18.99
for the 126 series
Pros:

Inexpensive
Offer excellent protection from everyday shocks
Various covers allow you to pick a more personalized style
The 126 series for the Palm does not use Velcro
Cons:

The 146 series use Velcro – although they manage to keep it to a minimum
Must remove PDA from case to sync
Adds a bit of bulk – will seem worse for smaller PDAs