We use affiliate links. If you buy something through the links on this page, we may earn a commission at no cost to you. Learn more.
Product Requirements:
Device:
Palm m500 series PDAs
If you are a Palm m500 series PDA owner looking to merge your wallet and PDA
case into one slim solution, you need to take a look at the
Semsons & Co. Inc. m500 series wallet case.
This is a leather case which is available in Black, Brown, Ivory and Burgundy
colors. I was sent the very classy Burgundy version which looks more like a
blood red to me.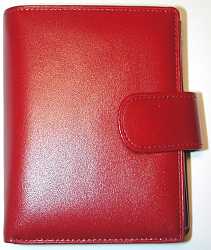 The m500 is held in this case by the left silo. A metal rail with a rubber O
ring is sewn into the middle of the case interior. This rail slides into the
silo on the m500. It fits pretty securely, but it does extend out of the top of
the silo slightly which looks a bit tacky.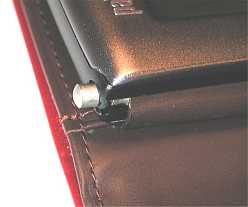 The interior of the case is made of a matte brown leather that looks more
like vinyl or plastic. I guess I just don't care for matte finished leathers all
that much. They tend to show scuff marks and grease easier than glossy finishes.
The wallet part of the case is lined with a brown satin material. It is a deep
pocket and can accommodate unfolded currency. On the left side of the case there
are 4 SD card slots with 2 business card slots above them, and one large slot
underneath.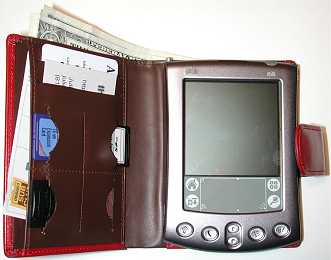 Although the SD cards slots are a great addition to this case, I think it
would be much better if they were located behind the PDA. As is, the cards
actually touch the screen on the m500 when the cover is closed which could cause
potential scratches to occur.
Regarding the business card slots, you don't want to store credit cards with
magnetic strips in these slots due to the closure mechanism used on this case. A
magnetic snap button like those found on some purses is used to hold the cover
closed. It clicks into
place and has a really strong hold. I really like this closure mechanism after
having used it for a few days. It feels much more secure than the type of
magnetic closure solutions used on most other PDA cases that I've reviewed in
the past.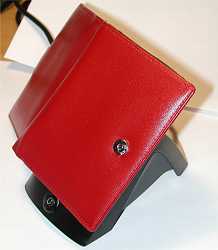 While the PDA is in this case, you have access to all the buttons, and ports.
You can even sync with the cradle while in the case.
The only problem with wallet cases such as this one is that they can become
pretty bulky depending on how much 'stuff' you load them down with. Fortunately,
the strap that holds the cover closed is long enough to accommodate a moderately
full wallet.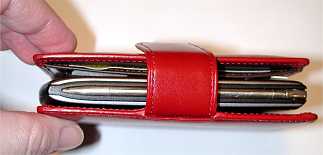 Even though this is a 'wallet' case, don't think that you can put it in your
back pocket and sit down. This case won't keep the PDA from flexing or twisting,
so sitting on it is a really bad idea.
The workmanship on this case is very good. The leather is smooth and the
stitching is even. I could not find any defects at all. The features, color
selection and price, make this case a good buy. If you need a wallet case and
don't mind the location of the SD card slots, this just might become your next
favorite Palm case.
Price: $21.99
Pros:
Attractive
Ample storage for cards and currency
Cons:

SD cards in slots touch PDA screen
Product Information
Price:
21.99
Manufacturer:
Semson's & Co. Inc.
Pros:

Attractive
Ample storage for cards and currency

Cons:

SD cards in slots touch PDA screen