We use affiliate links. If you buy something through the links on this page, we may earn a commission at no cost to you. Learn more.
Product Requirements:
Device:
Palm m100 series PDA
When Franklin sent out their "Back
to School" e-mail catalog last August, this binder was one of the objects that
caught my attention, and I figured that I ought to take a closer look. For those of
you that like to combine a paper binder with your PDA, this case may be just
what you have been waiting for.

The Pocket Performance Sport Binder is made of a tough, stain-resistant,
tightly woven fabric that covers a padded book-style case. All of this Frankie's trim is
done in black.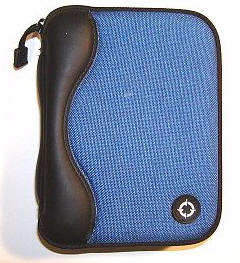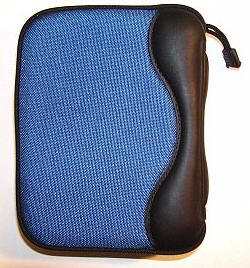 The spine of the Sport Binder is made of a black rubbery yoke that is perfect
for gripping. The zipper has a black lanyard attached to it, which adds to the
binder's sporty feel.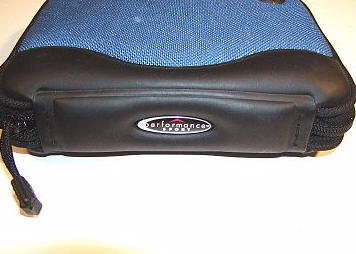 The  Sport Binder measures 7.12" (18.1cm) tall x 5.4" (13.7cm) wide x
1.8" (4.7cm) thick, and it accepts "Pocket" sized refills (3.5" x 6").
Because of the the curves inherent to the rubber yoke, the binder just lends
itself to nestling in your hand comfortably. If you are always running from
meeting to meeting – you might want to consider this binder just for the fact
that it is so easy to handle. If the cobalt blue is too casual for your
office, then you could get this same binder in black with black trim.
This Franklin is available for a variety of handhelds, but the binder I will
be evaluating today is made specifically for the Palm m100. What sets it apart
form the other similarly styled Franklin PDA binders is the use of a molded
plastic holster that fits across the m100's bottom and is positioned on
the left side of the open binder.
Never miss one of our posts again. Sent MON, WED, and FRI with the latest gadget reviews and news!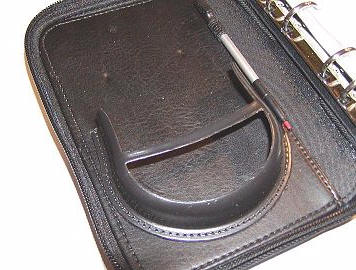 The m100 will simply slide into this holster, where it is then held quite
securely. I am very impressed with this system, and not just because it forgoes
the use of Velcro – although that is a big accomplishment in my book.
Actually, I am even more impressed with the fact that the holster doesn't
attempt to cover up the entire PDA. It is a minimalist approach that works very
well.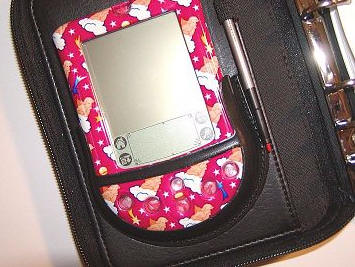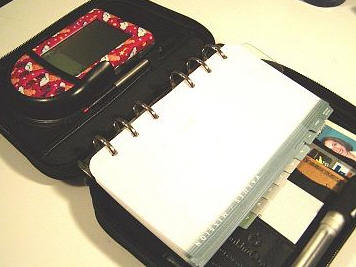 There is an elastic stylus loop next to where the m100 is held, and a deep
slash pocket runs the length of the case vertically behind the PDA.
A ¾" metal binder holds a series of blank
"Notes" pages that you can arrange behind numbered tabs, should you desire to do
so. Behind the paper section is a small organizer section that can hold three ID
or credit cards, business cards, as well as bills or receipts in the long
vertical slash pocket. A wide elastic pen loop will hold your favorite writing
implement.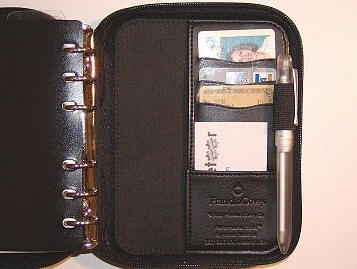 You will have to remove your PDA from the binder for syncing, but you should
do just fine by leaving it in for other day to day operations.
I think that this binder is a very good choice for those that still need a
paper pad handy, but that are married to their PDA.
Price: $59.95
Available in cobalt blue and black
Pros:

Molded yoke holds m100 securely
Rubber yoke adds eye appeal and provides a comfortable grip
Addition of paper binder makes this a great choice for "note-takers"
Cons:

Expensive
Product Information
Price:
59.95
Manufacturer:
Franklin Covey
Pros:

Molded yoke holds m100 securely
Rubber yoke adds eye appeal and provides a comfortable grip
Addition of paper binder makes this a great choice for "note-takers"

Cons: