We use affiliate links. If you buy something through the links on this page, we may earn a commission at no cost to you. Learn more.
After purchasing an iPAQ 12 months ago, my long daily commute with this Pocket
PC and Avantgo left me with a feeling of wanting "something more." Not wanting
to spend a lot of additional money, I avoided the cost, bulk, and wait for
wireless networking alternatives, such as the now defunct Ricochet. These
solutions typically require a PC card adapter, the wireless card itself, and
hefty monthly subscription fees.
Fast forward 1 year later – I'm still loving every minute with my little buddy.
But today, I successfully connected my iPAQ to my shiny new cell phone. The
result? True mobile internet access, at the cost of my regular air time (my plan
has 300 peak minutes, and 3,200 off peak), at a speed of 14.4k. What does this
mean in English? With the purchase of the connecting cables, I now have internet access
through my cell phone provider (Verizon)
for the cost of a regular cell phone call.
The Nitty Gritty
You have two choices for connecting your cell phone to your iPAQ:
One way is to cobble together a cable and various adapters. I already had a
serial autosync cable from the days when I used my little buddy to control my
computerized telescope (fodder for another article here!).  As I recall, I
paid something like $30 for the cable. In addition to the serial autosync cable
(forget about using USB – it won't work), you will need a null modem adapter (I
didn't say dull, I said null), and a gender changer. I found a nice compact
gender changer at Radio Shack for a few dollars which lets everything fit
together nicely.
-or-
You can buy a Compaq (the iPAQ's daddy) cable created just for the purpose
you want. It is a RS-232 serial connection cable, Part Number 236251-B21,
available from Compaq for $26 clams plus their shipping and handling (which
might be close to an additional $26 based on my experience with Compaq). The
link is here:

http://www.compaq.com/products/handhelds/pocketpc/options/pc_connectivity.html.
This $26 cable should remove the need for the null modem adapter, the gender
changer, and a rubber band to hold approximately 4 or so feet of extra cable.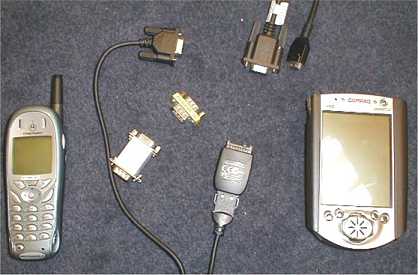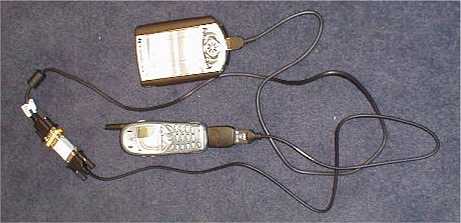 Whether you go with my hodge-podge autosync and adapters route, or the smarter
Compaq cable method, you will still need a serial cable for your phone, and of
course the service from your provider. You will be using the cell phone as a
wireless modem, so you need to make sure your phone has this feature. If your
phone has a serial cable as an option, and your provider allows it, you should
be in business. In my instance, my phone is a fancy-schmancy Motorola 270c –
which means I basically overpaid, as the free phone with my wife's plan (the
LG-TM510) also has the capability. For Verizon, you can check
http://www.verizonwireless.com. For
the other providers, well, I wouldn't know where to send you, but checking their
home page would be a good place to start.
Next, you need to have digital service in your area. Nowadays, most of these
phones switch to analog as a fallback if digital is unavailable or in a fringe
area. If you allow your phone to fall back to analog, you'll lose your internet
connection for that outing. I guess there are worse things in life… But, if
you have a critical connection you'll probably want to switch the phone to
digital only, at least for that session.
The service from Verizon is called Mobile Office. They offer various "kits" for
several phones which include a phone specific serial cable, and a null modem
adapter. The kit differs from the loose cable in that software is included. They
did not have a kit for my phone (the price of getting the latest and greatest).
That's okay – you knew your little buddy didn't need a driver for this, right?
The Verizon page has a great .pdf file for installation to a Windows CE device –
I upgraded my 3630 to Pocket PC 2002 (regrets galore, but that would be yet
another article), and although there were few differences, it all worked out in
the end. I must concede that I did have a tad bit of trouble getting the
connection to work. I had configured my CF modem without much effort, but for
some reason my phone kept displaying 111 instead of 777 (for Verizon, your
system may differ). I called Verizon, and about 10 minutes later I was running
(ok, jogging) at full speed. The problem seemed to be that I needed to create a
new connection, rather than rehashing the existing ones. I had also tried
setting the iPAQ to dial my ISP, however that is no longer necessary.
Configuration is required for e-mailing – basically you just copy the settings
from your desktop.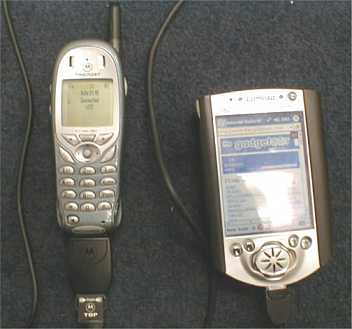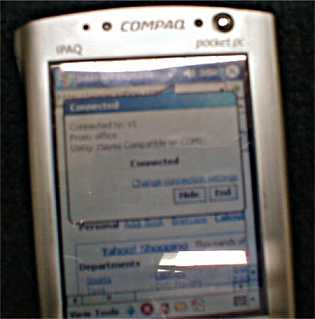 I have not used instant messaging wirelessly, though I have tried it with the CF
modem. It should work without incident.
So, what were the costs, and was it worth it? The cable for the phone ran $41
(but actually closer to $60 with phone-configuring software which allows a
primitive contacts manager and scheduler – Outlook does a much better job). I
already had the autosync cable and adapters, so they were free, otherwise they
would have likely cost around $50 – which is roughly double the cost of the
shorter, more intelligent Compaq RS232 serial cable. So for about $65 plus the
cost of your normal phone calls, you can have wireless internet access on your
iPAQ via Verizon. As with all things in life, your mileage may vary. For roughly
$65, I can have "emergency" internet access on my iPAQ. I wouldn't post any
e-bay ads, download files, or run graphic intensive web pages, if I could help
it.
I can, however:
a) fax as necessary – not sure exactly how, but Verizon says I can and I believe
them.
b) take digital photos, go presto-chango, pop em into the cf sleeve (or add the
appropriate adapter of your choice), and e-mail my photos on the spot.
c) if I get this faxing thing figured out, I can print documents by sending to a
fax machine.
d) I can pay bills, order things on-line, etc. while on the go
e) I can use http://www.mapblast.com or
the various other mapping sites to get directions. NOW – the old way, with
Avantgo, did not make for real time mapping. (Yes, I'm a gadgeteer, and I
already ordered my next car with satellite navigation).
f) I can get or send that important e-mail now!
The Future of Wireless
Bluetooth is coming. It's been slow in the U.S., but rest assured it is on
it's way, and will likely make quite the splash in the next few years, as it has
in Europe. I'm just sorry I have to wait. What is Bluetooth? In a nutshell, it
is a wireless protocol. With Bluetooth enabled equipment, you can throw out all
those wires within say, a 30 foot range. I overpaid on my Motorola 270c because
of 3 reasons. It has a nifty joystick and a big screen for the wow factor, it
has a built in speaker phone (gadgeteer's delight), and IT IS THE ONLY U.S.
RELEASED CELL PHONE WITH BLUETOOTH CAPABILITY. Sure, that capability will cost
you $300 clams right now, which includes a module that goes on the back of the
phone and requires a larger rear cover (think iPAQ expansion sleeve), and it
includes a PCMCIA Bluetooth card for your notebook. Jump ahead to the
forthcoming iPAQ 3870 with Bluetooth built in, and you can start to see where
we're heading – Bluetooth phone, Bluetooth iPAQ, and with the included PCMCIA
card, you have a Bluetooth computer connection – the wires are quickly
disappearing. (Sony has a Bluetooth video camera for Europe, not released in the
U.S. – that would mean bluetoothing to your iPAQ, computer, or internet (via
Bluetooth phone) – can you start to see the possibilities?
In a nutshell, connecting your iPAQ to the internet via a cell phone is an
inexpensive way to surf or make transactions on the net. Though it is slow, you
no longer need to lug a notebook as an internet gateway, and it increases the
functionality of the already incredibly versatile iPAQ.
Pros:
Inexpensive true internet access
Cons:
Slooooooow – 14.4k, 1/4 the speed of CF card 56k modem
Lots of cables – jump rope anyone?
Can't use Stowaway keyboard or other "bottom connected" accessories at same time