We use affiliate links. If you buy something through the links on this page, we may earn a commission at no cost to you. Learn more.
Product Requirements:
Device:
Palm Vx, V, m500, m505
Isn't it crazy how time flies?! It seems like only yesterday when I wrote my
review of the Rhinoskin Titanium Cockpit case.
But in fact, it has been close to 3yrs. The Cockpit was the case that launched
Rhinoskin into the extreme PDA protection biz. It was also the grand daddy of
the Slider cases that we know today, and was the first hard case for the Palm.
Next came the Ti-Slider case, also
constructed of Titanium and still available today. People really love these
cases for their obvious protective benefits. But, at the same time, they are
expensive and heavy. As a solution to these two problems,
Rhinoskin created the same case in
aluminum which made it both lighter weight and less expensive.  This slider
case is available in the original 'boxy' style and now for those who might want
their case to have a little more pizzazz, a molded style.
The Molded Aluminum Slider Case is made of aircraft grade aluminum with a
brushed scratch resistant finish. I like aluminum much better than titanium due
to the fact that the brushed aluminum doesn't show finger smudges and prints
like the titanium finish. Of course, titanium is much stronger and more crush
resistant than aluminum. Having said that, I find this aluminum slider case to
be very sturdy and rigid. I would have no worries about putting it in my back
pocket and sitting on it.
The front and back of the case are both molded with wide ribs that makes it
look similar to Zero Halliburton
attaché cases. You might even say that the ribs allow you to keep a better grip
on the case. They also give the case that really cool industrial look.
Size-wise, the aluminum slider is identical to the titanium version. But, you
can definitely feel a difference in the weight. Here's how they compare:
| | | |
| --- | --- | --- |
|   | Size | Weight |
| Molded Aluminum Slider | 4.7 x 3.3 x 0.6 in | 2.6 oz |
| Titanium Slider | 4.7 x 3.3 x 0.6 in | 4.7 oz |
As its name implies, this is a slider case. As such, the cover opens from
right to left like a book, but then can slide completely underneath the right
half of the case. This makes it quite compact and easy to handle while using the
PDA inside it. That's really the main advantage that this case has over other
book style hard cases. I've always found the others a little awkward to hold and
use.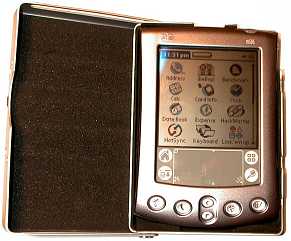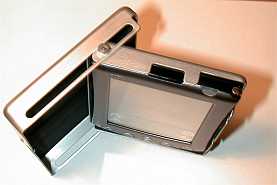 The cover is held closed with two dimples on the bottom half of the case that
press fit into two small circular cutouts in the cover. This method feels really
secure and I don't think the case would pop open on it's own. One thing that I
have noticed is that while the cover is closed, it tends to rattle a bit. Things
like that tend to drive me nuts, but then I'm super picky. That said, I do think
this closure method is better than what Rhinoskin is using on their
molded hard cases.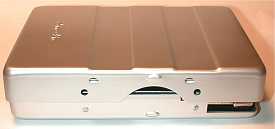 Instead of using a stylus rail to hold the PDA in this case, there are thick
bumpers of neoprene at the bottom of the right side shell that you press the PDA
into. I tested this case with my Palm V and m505, and both fit fine.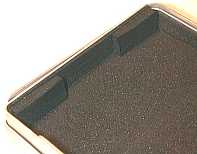 The neoprene is a shock absorber that helps protect your PDA if you happen to
knock it about or even drop it. I'm not really sure how much protection this
lining will give you if you drop the case from more than a couple of feet
though because it is really thin and doesn't seem to offer much padding at all.
The only other concern that I have is that the neoprene lining and bumpers
(which appear to be stuck to the case with adhesive) might peel away after
repeated insertion and removal of the PDA from the case.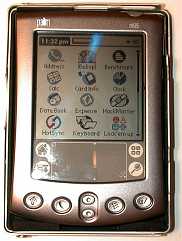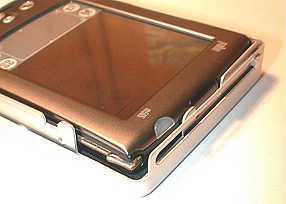 When the PDA is in the case, you have access to all buttons, IR port, and
right stylus silo. On the other hand, what you don't have access to is:
Palm V/Vx – Contrast button, hotsync port, left silo, and reset switch
Palm m500,m505 – SD card slot, hotsync port, left silo, and reset switch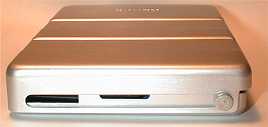 (top
view)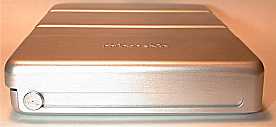 (bottom view)


(hinge view)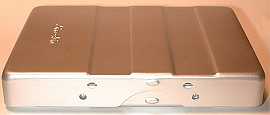 (closure view)
Overall, the Molded Aluminum Slider is a nice case. It combines good looks
with ease of use, and offers good protection. If you can't afford a titanium
slider, check out this case at half the price. It might just be the one for you.
Price: $49.95
Pros:
Good looks
Cover slides under case for small footprint
Cons:
Have to remove PDA to sync with cradle or cable
Cover rattles when closed
Product Information
Price:
49.95
Manufacturer:
Rhinoskin
Pros:

Good looks
Cover slides under case for small footprint

Cons:

Have to remove PDA to sync with cradle or cable
Cover rattles when closed