We use affiliate links. If you buy something through the links on this page, we may earn a commission at no cost to you. Learn more.
Product Requirements:
System:
Macintosh:
At least one available USB port, Mac OS 8.0 or greater
Windows: At least one
available USB port, Windows 98/Me/2000/XP or greater
Linux: At least
one available USB port, Linux 2.4.1 or greater
Device:
Laptop with a USB port
I admit it. When Julie told me that she was sending me the
Keyspan
Mini 4-Port USB Hub, I
did a Happy Dance! If you have a special someone in your life that uses a
laptop on a regular basis, then you can watch them do that same happy
dance when you give them one of these!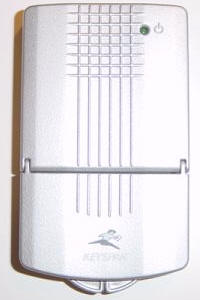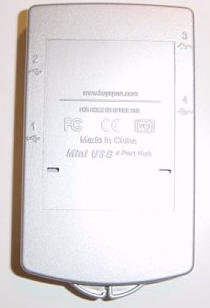 Look, it is a known fact that you can never have too many USB ports on
your computer, and most laptops only come with two – if you're lucky. By
the time you have hooked up a PDA (never mind 2 or more), your digital camera,
and/or any other peripherals that you may have that take advantage of USB's fast
transfer rates – you can easily find yourself singing the "cord-swapping blues."
Hey, it's still close to the Holidays – I am allowed to be slightly corny! ;0)
This mini hub is teeny-tiny! I find it amazing that Keyspan was
able to fit four functioning USB ports in such a slim form factor.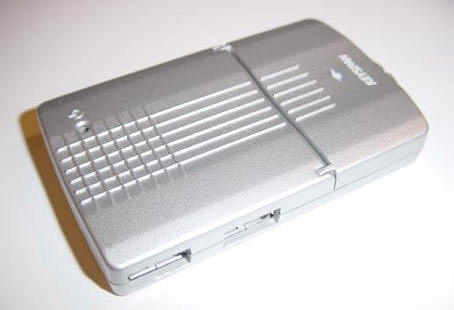 Measuring an almost microscopic 3.5" (9cm) long x 2" (5cm) wide x 7/16" (1cm)
thick, it is totally portable and easy to tuck into any gearbag –
even the most frugal. The USB attachment tucks into a small compartment on the
end of the hub – making this a truly self-contained and efficient unit.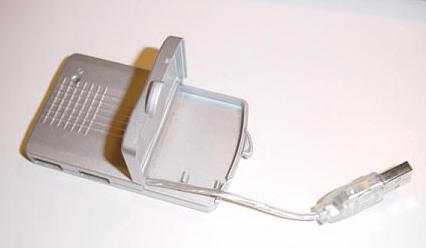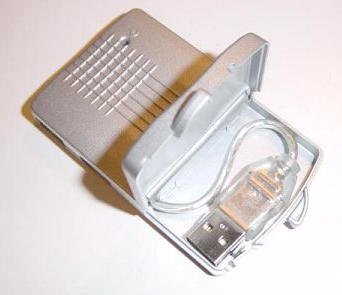 Never miss one of our posts again. Sent MON, WED, and FRI with the latest gadget reviews and news!
The Keyspan is a true "plug and play" device. By this I mean that there aren't
any
included drivers to load at all – you simply plug the mini hub  in to your
laptop, and watch it work! Worst case scenario: If for some reason it isn't
immediately recognized by your computer, you might have to run your Windows CD
so it can find the necessary drivers there. I did not have to do this on either
of the computers I use this with, but I am just letting you know that it could
occur.
According to the Keyspan website, the
mini hub "offers four 12 Mbps USB 1.1 ports, supports both bus-powered and
self-powered modes, and features a low power consumption design which uses up to
95% less power than hubs made by other companies."
What this means for you is that if you
are traveling and you don't bring along the included power adapter, you can
still use this mini hub because it will draw the power that it needs from your
laptop's USB port. Ingenious!
I admit that the majority of the time I used the power
adapter with the mini hub because I was using my laptop at my desk, and it just
seemed like the prudent thing to do. However, at Julie's request, I tested the
Keyspan in bus-power (USB port powered) mode, just to to see if it could still
do the deed. I plugged two different iPAQs, an HP 565 and my Sony Digital camera
into the Keyspan, and I was able to sync with each device in turn. The Keyspan
passed this test with flying colors!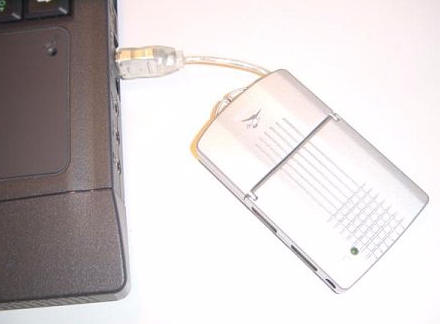 I have been using the Keyspan for the
last 3 months. Ordinarily, I would never take so long before I wrote a
review about an electronic device – but this is one of those times I felt it
would be prudent to be cautious.
I mean, how many times have you bought
a device that promised to do something terrific, and then it totally petered out
on you the minute it was no longer possible to return it to the place of
purchase? I am thinking specifically of the D-Link that I recently bought, and
gritting my teeth as I write this – but that's another story – we won't go there!
My honest fear was that if I wrote a positive review
during the first month that I had the product, then the minute those mythical
thirty days were up, the mini hub would completely die on me. I would then have
had to go back into the review and update it negatively – not exactly my idea of
fun.
Needless to say, I have had nothing but a good
experience with this mini hub. Keyspan "got it right" when they made this
product. It is easy to use, practical, and won't break the bank. As a gift for
someone or for yourself,  I think you can't go wrong with this product
– you certainly won't be able to separate me from mine!
Price: $49
Available in Silver and Black
Pros:

Compact and extremely portable
Can draw power from USB port or from included power adapter
Easy to use – almost totally goof-proof
Completely plug and play, no extra drivers needed
Cons:

None
Product Information
Price:
49.0
Manufacturer:
Keyspan
Pros:

Compact and extremely portable
Can draw power from USB port or from included power adapter
Easy to use - almost totally goof-proof
Completely plug and play, no extra drivers needed

Cons: