We use affiliate links. If you buy something through the links on this page, we may earn a commission at no cost to you. Learn more.
Product Requirements:
Device:
Any PDA with a touch-screen
Are you looking for a last minute gift for an office mate that has almost
everything? Or perhaps you drew a co-worker's name for a "secret-Santa" gift,
and you haven't got a clue about what they might like – and the gift is
supposed to be $10 or less…ACK! What do you do?
As long as the person you have in mind carries a PDA and isn't bothered by a
bright cheerful splash of color in the dead of winter, then they should be quite
happy with the
Cross Solo
Digital Writer. This stylus is available in transparent red, green, blue,
and orange.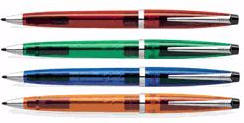 Bright see-through iMac colored plastic showcases the inner mechanisms of
this one-tip stylus. Chrome accents on the tip, band, and pocket-clip dress the
pen up slightly, and keep it from being too casual.

Like other Cross pens, the logo is discreetly etched on the end of the
pocket-clip.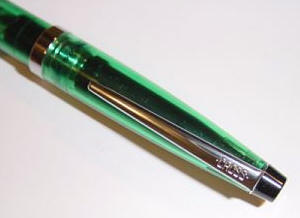 The Solo is not overly heavy, weighing in at 0.6oz (18g), but it definitely
has a comfortable feel to it when being held. Measuring 5.5" (14cm) long, and
0.42" (1.1cm) around the grip, this is a stylus that you can take copious notes
with, before feeling signs of "writer's cramp."
The stylus tip itself is made to simulate the feeling you get when writing on
paper. This is not my favorite sensation when using a stylus, but that is
totally a matter of preference. I did find that either with or without a
screen protector, the black, slightly pointy stylus tip wrote equally well –
smoothly and without skipping.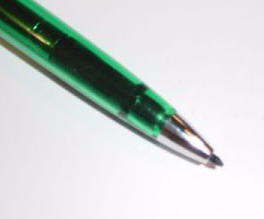 Granted, only having one tip is a limitation, but the good thing is that
should you give it to someone who would prefer to use it as a pen, they can
simply substitute the stylus cartridge with the Cross ball-point ink refill of
their choice.
One thing that should make all of you office Santas happy is the fact that
after you remove the plastic bubble-pack that surrounds this stylus, there is
actually a rather nice Cross presentation box inside – just waiting to be
wrapped up and given.
The Cross Solo Digital Writer is available from Stylus Central, and
other fine retailers.
Price: $9.99
Available in red, green, blue, and orange
Pros:

Fun, bright iMac colors
Inexpensive
Can switch stylus out for ink refill, if you would rather carry as a pen

Cons:

Only one tip available
Product Information
Price:
9.99
Manufacturer:
Cross
Pros:

Fun, bright iMac colors
Inexpensive
Can switch stylus out for ink refill, if you would rather carry as a pen

Cons: