We use affiliate links. If you buy something through the links on this page, we may earn a commission at no cost to you. Learn more.
Product Requirements:
Device:
Any corded mouse
Are you rolling your eyes thinking "oh boy, this is
the dumbest thing I've ever heard of"… Well, I don't blame you, because I
thought the same thing when Directcase.com
sent me a sample and
asked if I wanted to do a review of the
Mouse Bungee. I looked at it, smirked at it, shrugged my shoulders at it,
and then said "oh well, what the heck".
What is the Mouse Bungee you ask? It is a plastic and metal device that keeps
the cord on your mouse free from dragging, and snagging which in turn makes it
easier for you to use the mouse. The base is made of plastic and comes in a
variety of colors including: Black, White, Red, Green, Orange, Purple and Blue.
The 4.5 x 3.5in base is weighted with a large silver ball bearing which keeps
the device from sliding around on your desktop. 3 rubber feet also help
accomplish this task.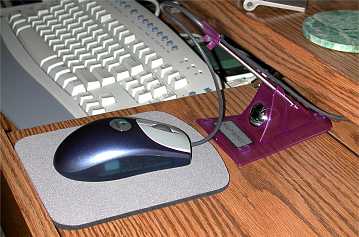 The actual 'bungee' part of the device is comprised of 2 long springs which
extend out of the base. A plastic clip at the end holds the two springs
together. This clip also has the job of holding the actual mouse cord. You pinch
the ends of the clip so that you can slide the cord into the middle of the clip.
Next, you pull
about 12 inches or so of the cord thru the clip, place the Mouse Bungee in front
of your mouse pad, and you're all set!
For an item which I thought was just going to be a novelty, I was very
surprised… This doo-dad is actually so useful that I don't think I want to use
my mouse now without it! I'm serious! After I set this up, I now realize how
many times I used to pull the mouse cord because it was too tight or dragging
across my desk. With the mouse bungee, the cord is always slack and can't get
snagged on anything. I know it's crazy, but it feels like my mouse has lost
weight because it is so much easier to move around on the pad!
The Mouse Bungee is an inexpensive computer peripheral that makes a great gift
for anyone that uses a mouse. It's one of those little things that looks silly,
but once you try it, you will wonder how you got along without it for so long!
Price: $12.95
Pros:
Ingenious device that makes mousing easier
Never miss one of our posts again. Sent MON, WED, and FRI with the latest gadget reviews and news!
Cons:
Takes up some room on your desktop
Product Information
| | |
| --- | --- |
| Price: | 12.95 |
| Manufacturer: | Mouse Bungee |
| Pros: | Ingenious device that makes mousing easier |
| Cons: | Takes up some room on your desktop |