We use affiliate links. If you buy something through the links on this page, we may earn a commission at no cost to you. Learn more.
Product Requirements:
Device:
Compaq iPAQ 3100, 3600 series
What do you get when you take a popular custom iPAQ accessory and combine it
with an equally popular case manufacture's iPAQ case? You get one must-have iPAQ item! What am I talking about? I'm talking about merging the
Whitney CompactFlash sleeve mod with a sync-able
Vaja iPAQ case. The combination
results in the absolute slimmest CF solution yet for the Compaq iPAQ Pocket PC.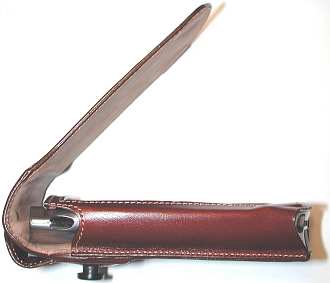 If you're an iPAQ maniac, you'll already be aware of several different
alternatives to the stock CF sleeve bulk. First there was the
SilverSlider by
George Mosquera This was a modification performed on the stock CF expansion sleeve that involved
cutting out the sides and thinning down the back to make the sleeve much
thinner. It eventually evolved into a very thin solution that could be used
without a case, or with special cases made by Vaja and others.
Next came the Whitney CF / Vaja case mod. This modification performed by
Whitney LuBean was unusual in that Whitney took a CF sleeve, pulled out the guts
and then implanted them into a Vaja case.
Then came Whitney's CF and PC Card
BackPacks which were extremely slimmed
down versions of original CF and PC Card expansion sleeves covered in
leather.
Now we have Whitney's latest product: the Whitney CF Sleeve Case. This is
actually a totally revamped version of Whitney's first Vaja case mod. But,
instead of having to do all of the leather case modification work on his own,
Whitney has teamed up with Vaja and they have designed an iPAQ case that makes
using a CF card a total joy! This case marries a form fitting leather slipper
case with the Compact Flash sleeve essentials into a very slim solution.
You can buy this case directly from Whitney, or from Vaja. You will
actually get a much better price if you order thru Whitney. But, you won't get as
big of a selection of case colors and options. At this time, the cases are
available in the following colors directly from Whitney: Palermo black, Vitelino Olive, Vitelino Azabache,
and Palermo Brown. These cases come with the following options: a magnetic closure, CF access without
a cover, slim screen cover without credit card
slots, and a belt clip.




When you order the case directly from Vaja, you will not receive a complete
Whitney CF Sleeve case. You will just get the Vaja case sans electronics… The CF sleeve guts are
inserted by Whitney. That is why it is probably a better idea to just order the
complete product from Whitney. I was sent the Vitelino Olive and Palermo Brown cases for review.
The only difference between the two cases is that the Palermo Brown has a snap
cover over the CF slot while the Vitelino Olive case does not.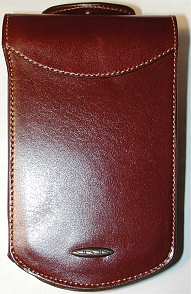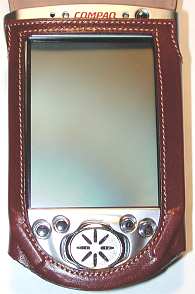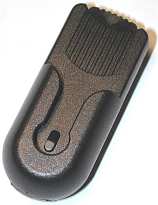 These cases are your typical Vaja quality cases. They have been made
with excellent
leather materials, construction, and stitching. I was unable to find any
workmanship defects on either case I was given to evaluate.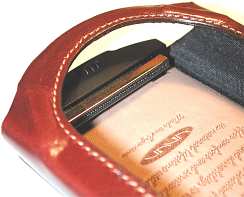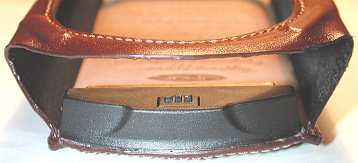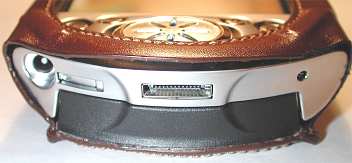 The cases look like your regular Vaja slipper style case. But, when you look
at the bottom, you'll see that it has been entirely cut out and that there is a
connector that the iPAQ expansion port connects to. This connector was
originally part of a CF sleeve. Whitney has dismantled such a sleeve to remove
all the necessary parts. When he receives the cases from Vaja, he inserts the
expertly thinned down CF sleeve, into the back of the case and is left with a
remarkably thin CF sleeve. Actually, it is so thin and light that you might not
even realize that it is more than just a case. I took one of my regular Vaja
iPAQ Sync-able cases with a belt clip and one of these new Whitney cases and
weighted them. The Whitney case only weighed 2oz. more than the regular case.
Inserting your iPAQ into this case is a simple matter of sliding it in,
lining up and engaging the connectors. Removing the iPAQ from the case is
slightly more difficult due to the fact that it is hard to get a grip on the PDA
in order to disengage it from the connector. It takes a bit of wrestling, but
it's not too bad. Luckily, you really don't need to remove the iPAQ from the
case very often because it can sync with the cradle or a cable very easily.
In the past, I've reviewed and used various Vaja sync-able cases. Quite often
they require some 'breaking in' time where you have to press the PDA into the
cradle in order to stretch the leather so that the connectors make contact.
With this case, a breaking in period is not necessary because the bottom of the case has been
removed. There is nothing to get in the way, you just slide it in the cradle and
it syncs!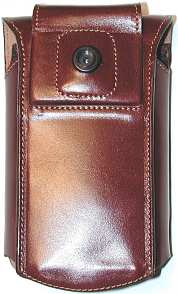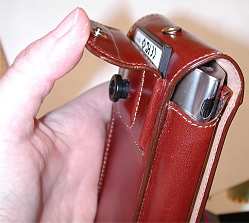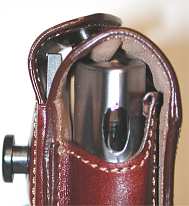 The CF slot is on the back of the case and depending on which style
you buy, it will either be exposed or have a protective snap cover over it. The
snap cover version has a leather flap with one snap that secures to the top of
the screen cover flap. Snapping and unsnapping the cover is easy, as is inserting
and removing CF cards. The only bad thing about this cover is that sometimes
when you open the screen cover to far, it will cause the cover to unsnap. You
also can't fold the screen cover completely back behind the PDA with this
version.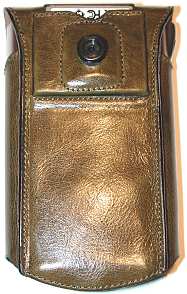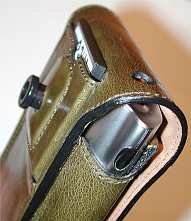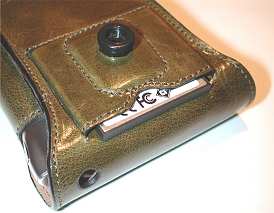 In my opinion, the version without the flap looks nicer and is easier to use.
The CF card does stick out a bit, but I don't see this as a problem. You can
even open the screen cover and completely fold it back behind the PDA if you
desire.
Both versions of this case give you the same result: A protective, great looking
leather case that just happens to give you the ability to use CF cards with your
Compaq iPAQ PDA.
There were no surprises in actually using CF cards in this sleeve. I never had
an access problems or any other types of problems with it.
I know this product is expensive… But, if you were already thinking about
getting a Vaja case for your iPAQ, then I would definitely go ahead and spring
for this version. You won't regret it.
Price: $169 ($69 if you send a Custom Vaja case and
CF sleeve) $10 extra for Vitalino cases
Pros:
Slimmest CF solution yet
Syncs easily with cradle
Cons:
Expensive
CF slot cover version comes unsnapped semi-easily
Product Information
Price:
169.0
Manufacturer:
Whitney LuBean
Pros:

Slimmest CF solution yet
Syncs easily with cradle

Cons:

Expensive
CF slot cover version comes unsnapped semi-easily